From the Cagsawa Ruins, we again boarded our van for the short drive to the Bicol Adventure ATV compound where we were to experience the thrill of riding an all-terrain vehicle towards the Lava Wall of Mt. Mayon, the world's most perfect coned volcano.  I have seen the beauty of the Mayon Volcano only from the fringes of Legaspi City and Tabaco City and towns of Camalig, Daraga, Malilipot and Sto. Domingo but, today, we were to appreciate its beauty up close via this more thrilling option.
The units available for our use are 150cc, 500cc (CFMoto Terralander 500) and 625 side by side variants. Virtually no prior experience on riding four wheeled ATVs is required. Everything is on the right handle – press a ledge to accelerate and retract another to brake.  The engine doesn't turn off, even at full stop. However, we were all given a short briefing on the safety rules that have to be heeded:
A safe distance of at least 2 m. from each other's vehicle must be maintained.
Never go crazy on the speed even with the off-road vehicle's maneuverability's capability to hit marks of up to 82kmph.
Never panic when tackling a steep uphill or downhill slope maneuver to avoid the ATV from toppling over yourselves or tilting sideways unnecessarily.
Then, we donned our helmets and were allowed a 5-10-min. practice ride on a mock trail along a rocky river track to allow first timers to get used to the ignition, throttle, brakes and direction.
The ATV was easy to maneuver as the tires were of a wide cross-section and it was designed for woods patrol and off-road exploration. It's pretty stable too, unless you hit on a big rock.
Still, in the end, we all decided to let our guides drive our ATVs as we weren't familiar with the trail and, with the sun now low in the sky, we were hoping to catch the sunset.
Together with our drivers, Lito and Euden and Star and Oliver rode in pairs while Ida, Leony and Nestor (who drove most of the way) where in a bigger ATV.  Boyet and I rode at the back of our respective drivers.
There are countless paths and trails that Mayon Volcano offers and the trail pathfinders of Bicol Adventure ATV are continuously looking for new sites to develop. One of the trails they developed is the challenging Green Lava Wall Trail.
The trail is a 7 km. (14 km. total trail) long river, sand and rock adventure challenge.  It would take us around 2.5-3 hours to and from the 1968 lava wall located 2,500-3,000 ft. above sea level in Brgy. Miisi, Daraga. We all rode on ATVs that are powerful enough to manage this trail. We left by 5 PM.
Our ATV ride wasn't short of excitement as we travelled a landscape dotted with big lava rocks ejected by the explosion of Mayon Volcano more than 100 years ago. From the bleak gray, the scenery turned green as we entered and drove through a forest.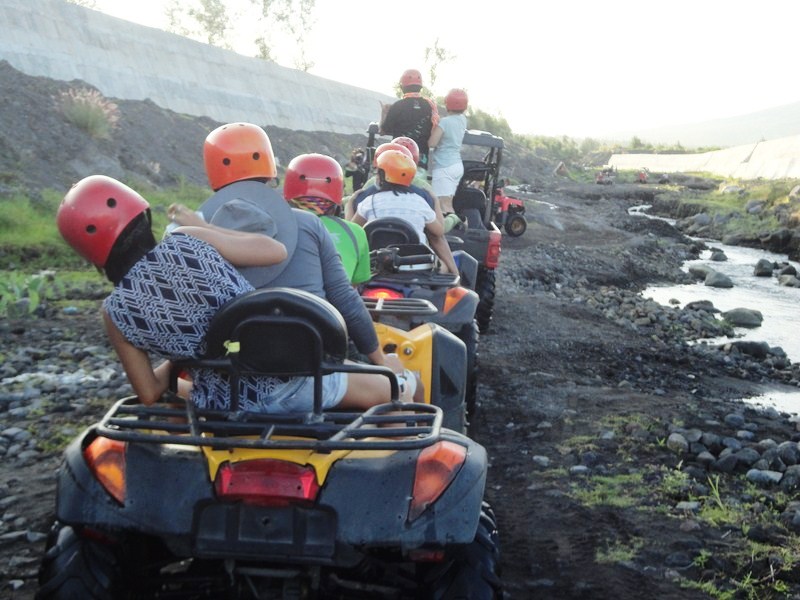 The trees that surrounded us were a welcome relief from the heat and the breeze was cooler. The forest trail, however, produced more dust. The last part of the trail was the uphill climb to the Green Lava Wall along a much narrower and bumpier road with plenty of sharp curves.
By 5:45 PM, we reached the end of the trail, the now vegetated bed of lava that Mayon Volcano spewed during its 1968 eruption. When we alighted and saw ourselves, we all looked like we came out of a coal mine.  The now cloud-free summit of Mayon Volcano can be clearly seen, something Euden (a first-time visitor to Albay who was leaving for Manila the next day) had failed to see during the past two days.
From this vantage point, we had an exhilarating view of Albay Gulf, Misibis Bay, Legazpi City, the 3rd district of Albay in the west and, in the distance, the peak of Mt. Bulusan in Sorsogon.  While enjoying the very cool wind, we also saw the dramatic sunset we were hoping for.  What more can you ask for?
The return drive, even if it was now downhill, was no less shorter as we had maneuver carefully down the trail.  Besides, darkness now set in and, with headlights on, we had to be on the lookout for large rocks.  It was almost 7 PM when we arrived at our starting point and, with great relief, we wash away the dust, mud and grime from our skin and hair – all proof of our great adventure.
The Bicol Adventure ATV was a truly unforgettable experience, enjoying the thrill of the ATV ride, with all its bumps and curves and, upon arrival at the Lava Wall, enjoying a quiet moment as we viewed the perfect cone of Mayon and dramatic sunset and felt the cool breeze touching our skin.
Bicol Adventure ATV: Belfry – Cagsawa Church Ruins, Daraga, 4500 Albay.  Mobile number: (0917) 571-4357 (Globe) and (0922) 868-2589 (Sun). E-mail: taikee@bicoladventureatv.com.  Website: www.bicoladventureatv.com.
Rates:
Green Lava Wall Trail–PhP1,500 (2.5hours)
Cagsawa Trail–PhP599 (45mins.)
Hoyop Hoyopan Cave–PhP2,000 (3.5hours)
Cagsawa to Lava Front–PhP1,850 (3hours)
Trial Ride–PhP110 (15mins.)