From the DENR Office, it was another 2-hours drive, this time along mostly unpaved roads, to the forest ranger station at Camp Babalac. Along the way are breathtaking views of narrow valleys and vegetable and rice terraces. The ranger station, a place where mountaineers make final preparations, cook, rest and make last minute supply acquisition before the trek, sits near a small village at the base of the trail.  
It being a Chinese New Year holiday, the ranger station was filled with trekkers. Here, I crammed all I needed for the overnight camping in my larger backpack and left the rest of my clothes in the smaller backpack.  We also met our two guides and hired porters (PhP600/round trip) to help carry our backpacks to our designated camping ground at Camp 2. It was to be a 7.5-km./3.5 to 5-hour  hike to Mt. Pulag's summit but we were to do it in stages.
After saying a short prayer for safety around Violet, we started our climb by 10 AM.  At first, the road was well-paved concrete.  After passing by some vegetable terraces, it was all dirt but the view was already breathtaking as we entered the pine forest.   This was also the hardest part of the trail.
At the ranger station, there were already worrying gray clouds ahead that brought about a slight drizzle, necessitating our wearing raincoats.  Sure enough, it began to rain, making the quite steep, uphill/downhill trail wet, muddy and slippery.  We arrived at Camp 1 by noontime.  Here, we rested awhile and ate our packed lunch of rice, chicken adobo and canned tuna.
Leaving Camp 1, the mossy forest soon starts, a stark contrast from the warm sunshine and pine forest we passed a while ago.  At this part of the trail, we were now trekking under the cool shelter of trees that are stunted and bonsai-like.  As the altitude increased, the air was starting to thin and we were making frequent stops to catch our breath, hearing the rapid beats of our own hearts amidst the weird silence.
Continuing on, I began to question myself and my sanity in being here. It was already raining profusely when we reached Camp 2 by 3 PM and we had to slog through the mud just to make it to our already set up dome tents. There were thoughts in my mind of continuing on to the summit in the remaining daylight but, as I was already dead tired, decided against it.  Big mistake.
Violet, Jandy, Maki and I occupied one tent; Almira, Lorelie and her kids in the nearby second tent; and friends Rose, Rayhil and Marceju with Celeste in the third.  As preparation for the cold night ahead, Jandy and I donned thermal underwear and tried to rest.  That night, it rained heavily and the wind picked up, allowing condensation to seep through our tents.
Our sleeping bags, socks, gloves and shoes were drenched as we ate our supper of pork sinigang, lumpiang shanghai and steamed rice.  There were latrines at the edge of the mountain but getting there was an effort due to the sticky mud and extreme cold. I didn't sleep a wink as I shivered all throughout the night, with a temperature that dipped to almost a freezing zero and penetrated through the bones.
Waking up by 3 AM to trek the remaining distance to the summit where, on a clear day, mountaineers usually await the sunrise above a sea of clouds, was out of the question.  Daylight and a warm breakfast of rice, scrambled eggs and hotdog plus hot coffee and chocolate was a welcome relief. It was still drizzling when we broke camp.  As most of our stuff were waterlogged and added to the weight of backpacks, Violet and Almira now hired porters to carry their packs.  As we made our way back down the trail, the weather started to improve and the sun soon shone when we reached Camp 1.
When we arrived, the camp was filled with the tents of trekkers who weren't allowed to proceed to Camp 2 the other day because the camp had reached the maximum number allowed. As it turned out, we were the last batch allowed to proceed.  Here, on a hill above the camp, we had a clear and beautiful panoramic view of Mt. Pulag's so-far unattainable grassy summit as well as surrounding pine-cladded mountains.
As our descent was easy and more leisurely, I had more time to appreciate the mountain's high plant diversity (home to 528 plant species, 42% of which are endemic to the area).  I was also struck by the variation in flora, from tall pine trees that clad the mountain's hillsides.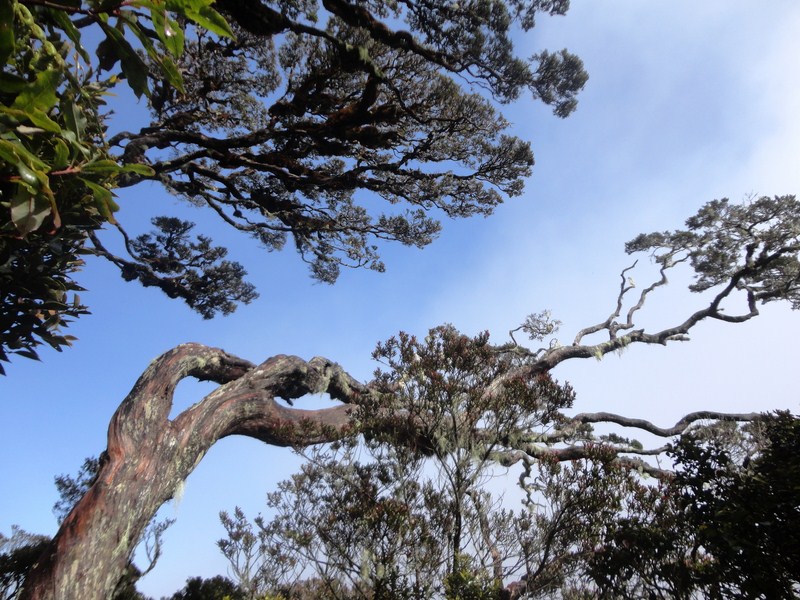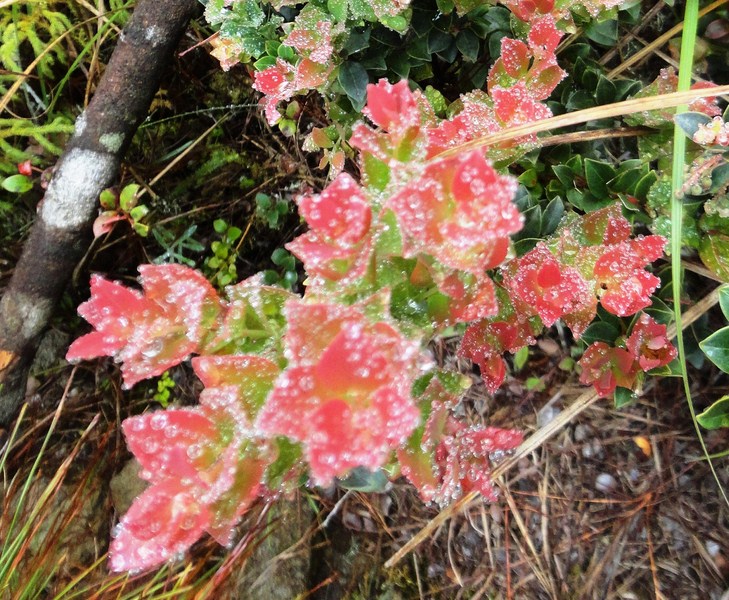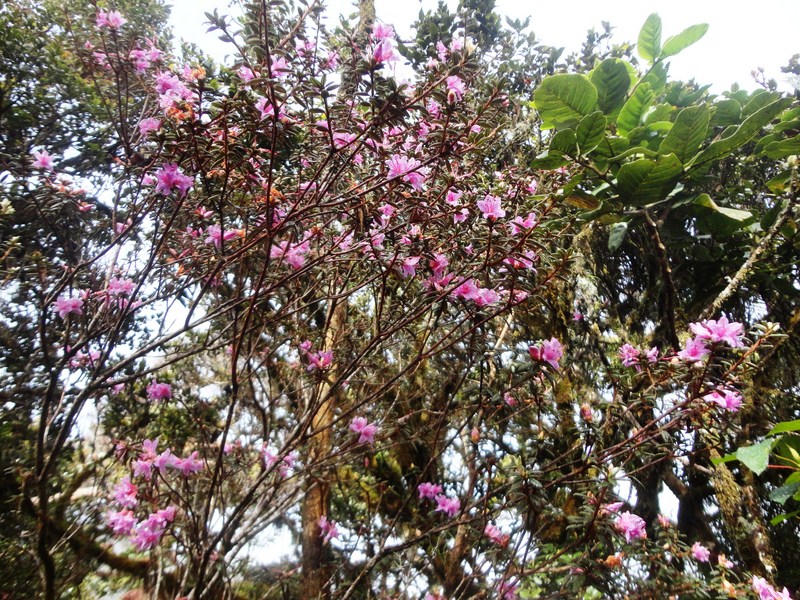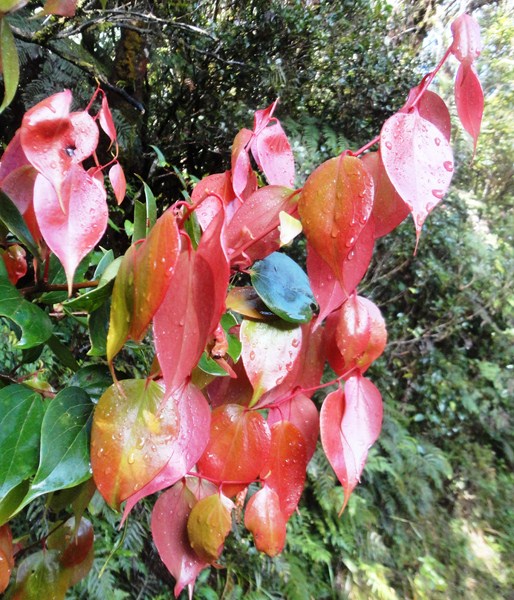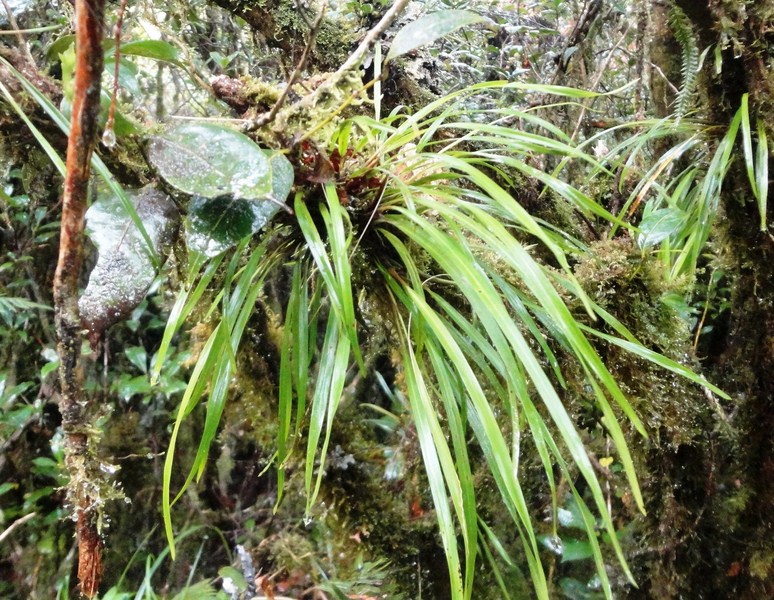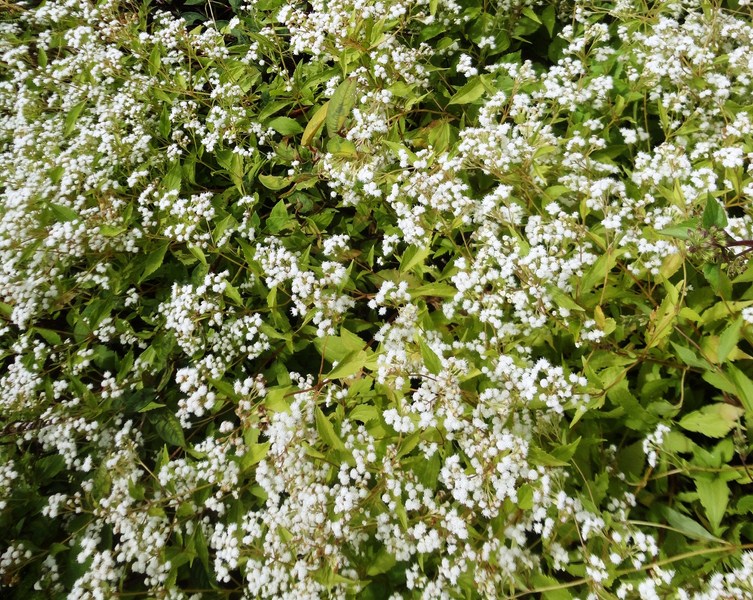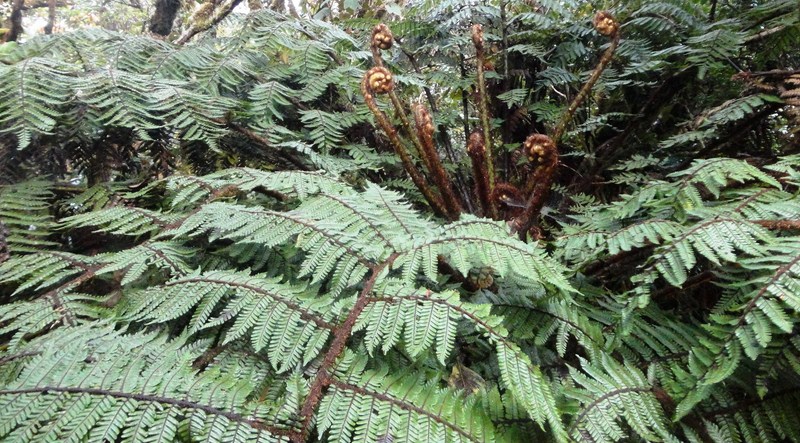 There were wild orchids thriving on its slopes up to the 7,000 ft. level; a 5,877-hectare elfin forest with small stunted oak trees heavily overgrown with ferns, moss and lichen found at the 1,500-2,600-m. (4,900-8,500-ft.) level; and a natural, windswept, 804-hectare montane grassland at the summit.  The beauty of it all more than mitigated my frustration of not making it to the summit.
About 1.5 kms. to the ranger station, I hitched a ride (PhP100) on a habal-habal (motorcycle taxi) to the station.  Jandy was already there waiting for me when I arrived.  After about 20 mins., the others arrived – muddied, haggard and dead tired.   Our chartered jeepney that would bring us back to Baguio City was parked nearby.  After washing up, we retrieved our other belongings, loaded our packs at the jeepney's roof rack and left the ranger station for Country Road Cafe and Restaurant where we were to have lunch.  We never made it to the summit but Mt. Pulag has not seen the last of me. I will definitely be back.
Camp Babalac Ranger Station: Sitio Badalac, Brgy. Bashoy, Kabayan, Benguet. Mobile number: (0930) 139-2246.