The day after my grandson Kyle's 6th birthday, I together with the rest of my family joined employees of E. Ganzon Inc. in distributing relief goods to residents of Sitio Wawa in Rodriguez (formerly Montalban, it was renamed after Eulogio "Amang" Rodriguez Sr., Montalban's first mayor and Senate president, in 1982) in Rizal. Last August 11-13, the area was hit by flash flooding that also destroyed the bridge that connects Sitio Wawa with Sitio Sto. Niño.
This wasn't my first visit to this area.  The first time I was in Wawa was way back in 2004 when I was a guest in a demonstration tour, for teacher representatives from 9 different schools, hosted by Lakbay Kalikasan. At Wawa Gorge, we engaged in the adrenaline-pumping sport of rappelling at the gorge's metal footbridge.
Check out "Rapelling at Wawa Gorge"
Sitio Wawa lies is in between the 426 m. high Mt. Pamitinan and 424 m. high Mt. Binacayan.  Its abandoned reservoir is visited mostly by hikers as the jump-off point for the trek to either beginner-friendly mountain, two of three mountains in the well-loved trilogy hike (the other is 517 m. high Mt. Hapunang Banoi). Guide fee is Php500 per group.
The two mountains form a scenic view that appears like a portal to the sky, hence the name wawa, the Dumagat term for "entrance." Sitio Wawa is a habitat of the Remontado Dumagat, mixed-blood offspring of lowlanders, who fled the Spanish colonizers, and of Negritos, the original setters in the area.
Legend has it that a giant of extraordinary strength named Bernardo Carpio (our version of Hercules or Atlas) who, in olden times, was trapped by an enkanto (enchanted creature) between Mt. Pamitinan and Mt. Binacayan. He caused earthquakes, landslides and flooding in nearby villages every time he struggles to free himself from his chains or keep the boulders from crushing him or from colliding.
José Rizal was said to have made a pilgrimage to Montalban to pay homage to Bernardo Carpio, a versatile symbol of freedom. In recent times, Lavrente "Lav" Diaz has used the legend as organic symbol in his 2016 historical fantasy dram film Hele sa Hiwagang Hapis ("A Lullaby to the Sorrowful Mystery"). The riverbed is said to have a boulder with a hollow that forms what look like a gigantic footprint, attributed by locals to Bernardo Carpio.
Historically, the site was used as a hide out by the revolutionary leader Andres Bonifacio who made one of Pamitinan's caves as the Katipunan's secret headquarters.  Here, Bonifacio and eight of his men entered the cave on Palm Sunday and came out on Good Friday. Here, they declared independence from Spain on April 12, 1895, over a year before the Revolution started.
Some 500 meters of narrow passage away from the mouth of Pamitinan Cave is the bulwagan ("hall"), a cavern over 50 ft. high and about 50 ft. in radius.  Inscribed on the cavern wall, in what looks like charcoal (possibly soot from a torch), are the words Viva la Independencia.  The Pamitinan pilgrimage is held here in April.
In 1943, the cave was turned into a Japanese armory. Mary Japanese died here from American fire. In 1977, a concrete marker commemorating them was fixed on the cliff wall over the cave's mouth, above which is a metal plate, inscribed with Japanese characters with English translation, that reads: "Give them eternal rest, O Lord, and let them share Your glory." In 1985, the cave was declared a National Geological Monument.
It is closed for rehabilitation until further notice.  In 1996, the area was declared a Protected Landscape managed by the Department of Environment and Natural Resources (DENR) and the Department of Tourism.
After lunch at one of the area's eateries, we decided to make the 500-m. trek, along a ridge, to Wawa Dam, the prominent landmark of Sitio Wawa. Along the narrow, paved trail are stores selling organic vegetables (eggplant, squash, gabi, takway, puso ng saging, pandan leaves, etc.), river shrimps, crabs, eels, carp, charcoal, assorted fruits (bananas, papaya,) etc., snacks and beverages to tourists.
On Tuesdays and Fridays, foot traffic is heavy on the trail, with young men carrying sacks of fruits and vegetables.  After crossing a metal footbridge, we reached the slightly arched dam.  Coupled with the beautiful landscape of 80-160 feet high white rock walls, limestone crags and marble boulders, the dam was perfect for photography.
Wawa Dam, also known as Montalban Dam, is an 85 m. 9279 ft.) long  and 12 m. (40 ft.) high gravity dam constructed over the Marikina River. The slightly arched dam is situated in the 360-m. (1,180 ft.) high Montalban Gorge or Wawa Gorge, a water gap in the Sierra Madre Mountains, east of Manila.
The waters of the Upper Marikina River basin, its headwater said to be in Quezon province, runs through the gorge and descends to the lowlands of the neighboring town of San Mateo and Marikina Valley. During summer, cottages are built at the foot of the dam but, as it was the rainy season, they remove the cottages because of the heavy impact of water.
The dam was built in 1904, during the American colonial era, started operating in 1909 to provide the water needs for Manila. It used to be the only source of water for the greater Manila area but it was closed in 1962 due to deterioration and lack of water supply and abandoned when it was replaced by the La Mesa-Ipo-Angat watershed system.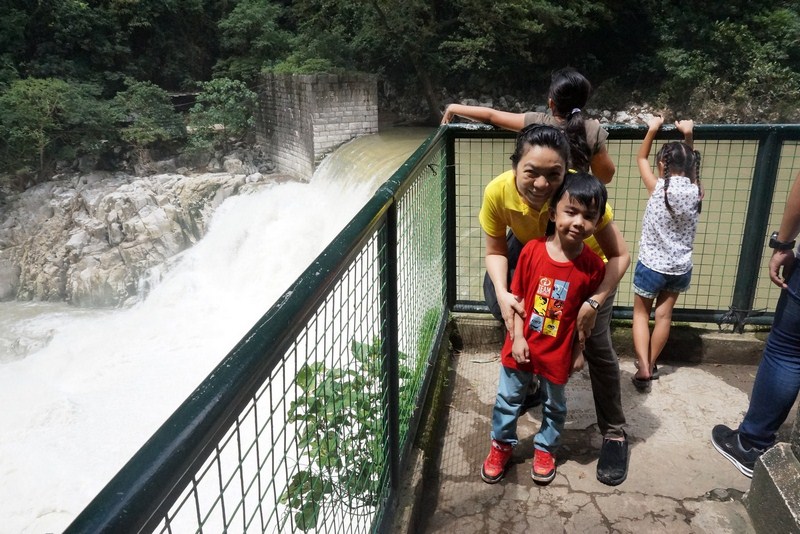 The sparsity of its water was most likely due to the logging and quarrying in the mountains. However, due to insufficiency of water supply for Metro Manila, there is now a strong clamor to reuse the dam. Wawa Dam is also pictured in their official seal of the local government of Rodriguez.
For those who are not fans of mountain hiking, Wawa Dam's has picnic spots. If you don't want to bring your own food and beverages, sari-sari stores, food stalls and a wet market are available in the place. You can rent a bamboo cottage (Php150-500) and toilets are Php10 per use (bring your own toiletries or buy them at the sari-sari stores).
Wawa Dam: M. H. Del Pilar Street, Sitio Wawa, Brgy. San Rafael, Rodriguez, Rizal, Philippines.
How to Get There:
By Car: Despite the usual traffic, the fastest route to Wawa is via Commonwealth Ave., then take Payatas Road going to Rodriguez Highway until you reach M.H Del Pilar Street. Inside Wawa Village, there's a parking space where the locals look after your car for any amount. Travel time is around 1.5 to 2hrs.
By Public Transportation: In front of Jollibee, Farmers, Cubao, Quezon City, there's a UV Express Terminal where you can take the van going to Rodriguez (fare: Php50 per head).  Drop-off at Montalban Terminal.  Here, you can ride a tricycle going to Wawa Village (fare: Php20 per head). From  SM North/Trinoma, you can also ride a UV Express van (fare: Php50) going to Eastwood Montalban and drop off at Eastwood Ministop. Then, ride a jeep going to Wawa (fare: Php8). From the parking lot, you have to walk for 5-10 minutes. Alternatively, from Cubao/SM North/Trinoma, you can ride a bus or jeepney going to Litex and, from there, ride a jeepney going to Montalban Town Center and another jeepney to Wawa. This is much cheaper but a bit of a hassle.