After our Sugba Lagoon tour, we returned to Del Carmen's port and then boarded our respective vans for the 38 km. (45-min.) drive to Gen. Luna, arriving at the town's iconic Cloud 9 boardwalk by 4 PM.  This wooden boardwalk was built for the hundreds of spectators, judges, VIPs, tourists, non-surfers, competitors and photographers, during the 2014 Siargao International Surfing Cup in September, so that they can be very near where the waves are at Cloud 9.
One of Siargao's most famous landmarks, many world-renowned, champion surfers like Alana Blanchard, Paul Fisher, Chris Zaffis, John Mark Tokong, Philmar Alipayo, Philippa Anderson (Australia), Sandon Whittaker (Australia) and Piso Alcala have strolled its length. We too would pretty much walk up, on the same wooden planks these world's top wave riders walked on, to the area where the large waves form.
At the end of the 100-m. long boardwalk is a 3-story observation deck on stilts where surfers can relax after a hard-day's practice , watch their fellow surfers riding out the waves or while the cool afternoons away. During every Siargao International Surfing Cup (the country's most-awaited surfing event), this observation deck is laden with colorful banners of different surfing-related brands (RipCurl, Stoked, Fluid Surf, Billa, etc.).
As we arrived during high tide, surfers of all ages, genders, and nationalities, beginner or professional, were already starting to enjoy the waves of Cloud 9. This famed surf spot, in the country's southeastern Pacific seaboard, was so-called after the popular chewy chocolate bar that can keep your glucose level high until those with sweet tooth can get their next meal.  In the 1980s, foreign surfers subsisted on this candy bar when the obscure surf spot was yet a best-kept secret. Today, because of the heavenly feeling it brings, riding its 16-ft. high waves is much like walking on Cloud 9.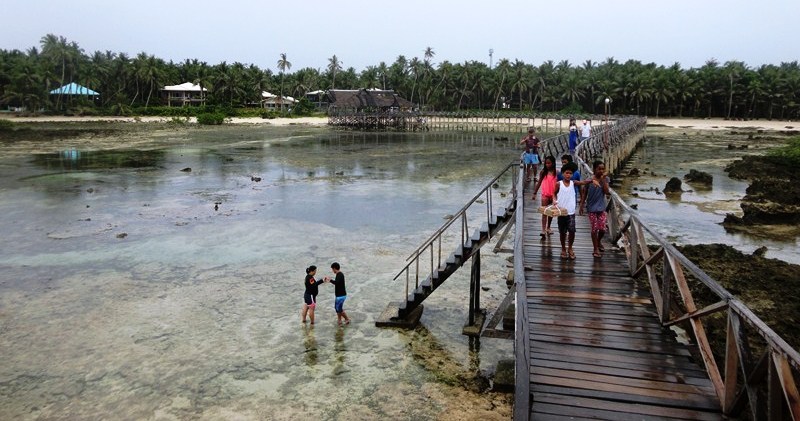 This dramatic and powerful reef break, which crashes onto shallow, razor-sharp coral, offers right and left death rides to daring surfing buffs. In 2012, CNNGo, the travel news web site of the Cable News Network, listed Cloud 9 as No. 8 in the World's Top 50 Best Surf Spots. Its surfing areas are categorized as Jockeying Horse for the beginners, Quicksilver for the intermediate class and Cloud 9 for the professionals. For beginners, surfing lessons are offered by local surfers at Php300/hour, while surfboard rental is at Php200/hour. Children as young as 8 years old are allowed to take lessons.
Even during high tide, the area is not really for swimming since a large expanse of it is shallow, waist-high waters.  Locals say that waves start to pick up in August to September when the southwest wind (habagat) is prevailing, the beginning of the surfing season.  Even during our third week of July visit, sun-baked local boys and pro surfers who can teach you the basics of surfing were everywhere. The waves look small in our photos but they're actually quite big and powerful. Everyone was having the time of their lives experiencing this ethereal out-of-this-world emotional journey.
Siargao Tourism Office: Paseo De Cabuntog, Brgy. Catangnan, Gen. Luna, Siargao Island. Mobile number: (0921) 718-2268 (Ms. Donna Grace T. Estrella – Siargao Tourism Coordinator)
How to Get There: Skyjet Airlines has daily, 100-min. direct flights from Manila (NAIA Terminal 4) to Siargao (Sayak Airport). ETD Manila at 6 AM (M8-421), ETA Siargao at 7:40 AM. Return flights: ET Siargao at 8:10 AM (M8-422), ETD Manila at 9:50 AM.
Skyjet Airlines: Manila Domestic Airport, Parking A, Terminal 4, NAIA Complex, Brgy. 191, Pasay City, Metro Manila. Tel: (02) 863-1333 and (02) 823-3366. E-mail: sales@skyjetair.com. Website: www.skyjetair.com.