After a 2 day/3 night stay in Salzburg, it was now time to make our way to Vienna, Austria's capital, by train.  As our hotel (Hotel Garni Evido Salzburg City Center) was very near the Salzburg Hauptbahnhof (German for Salzburg main station; abbreviated as Salzburg Hbf and occasionally translated as Central Station), we left early in the morning and just walked going there, with luggage in tow.
At the station, we boarded the 8:51 AM Railjet (RJ), a high-speed train of the Austrian Federal Railways (ÖBB) and Czech Railways (ČD). OBB connects all of Austria with its major cities of neighboring countries (Germany, Hungary, Switzerland, the Czech Republic and Italy), at regular intervals, and also takes passengers to Vienna Airport.
We had a choice of comfortable and individually excellent classes of comfort categories – Business Class (includes beverages and a wide choice of snacks, hot towels, a selection of newspapers and magazines, at-seat service and seat reservation), First Class (includes a welcome drink, cold towels and a large selection of newspapers and magazines) and Economy Class (has a railjet trolley service with coffee, cold beverages and snacks). We chose the latter.
Railjet, the premier service of the ÖBB, consists of 7 individual coaches pulled by Taurus high-speed Siemens EuroSprinter electric locomotives and has a seating capacity of 408 persons.  Passengers here have the highest possible levels of comfort – free Wi-Fi, on-board entertainment, an on-board restaurant and children's cinema.
ÖBB Railjet trains run twice an hour from Salzburg to Vienna, with two stops at St. Pölten (1 hour 41 mins. from Vienna) and Linz (55 mins. from Vienna).  The fast service (travelling at a maximum speed of up to 230 kms./hour or 143 mph), took only 2 hours and 49 minutes of travel.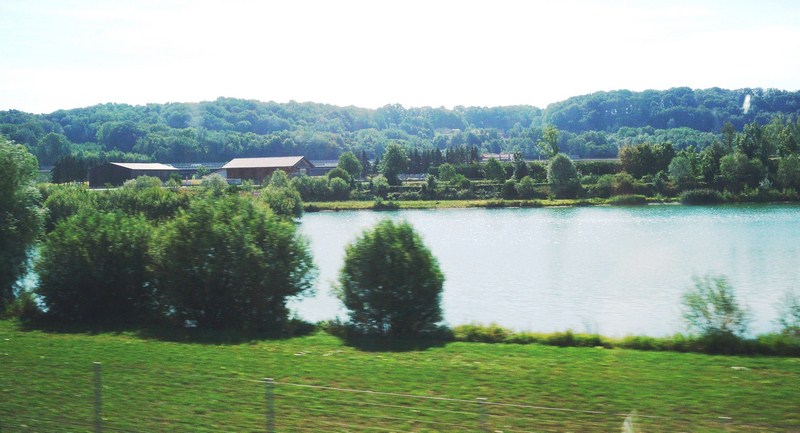 During our journey on the ÖBB Railjet, the Passenger Information System kept us up to date, with timetable information displayed on 80 monitors throughout the train and digital maps show you the actual route of our train.
The Passenger Information System also has an electronic reservation display so we can easily find our seat.
We arrived at Wien Hauptbanhof (German for Vienna Central Train Station, abbreviated as Wien Hbf) by noontime and were all welcomed by our cousin, Vienna resident Marivic "Vicky" Dionela.