It was now late in the day when we finished our late lunch inside our airconditioned hotel room and, as many museums close by 5 PM, we decided to just visit Shibuya Crossing and the nearby famous Hachiko Statue.  From the Akasaka Station, it was just a short 10-min. train ride to Shibuya Station.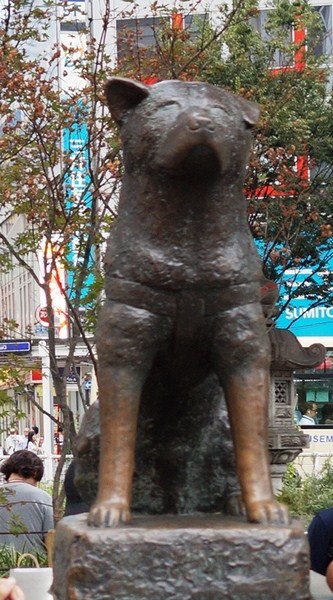 The bronze memorial statue of the loyal dog Hachikō, between the train station and the intersection, is a common meeting place and, thus, was crowded. Hachikō, was, during his lifetime, held up in Japanese culture as an example of loyalty and fidelity.
This Akita Inu (a Japanese breed from the mountains of northern Japan) dog was born on November 10, 1923 in a farm near the city of Ōdate, Akita Prefecture. In 1924, Hachikō was taken as a pet by Hidesaburō Ueno, a professor in the agriculture department at the Tokyo Imperial University, who brought him to live in Shibuya, Tokyo. Professor Ueno would commute daily to work, and Hachikō, at the end of each day, would leave the house to greet him at the nearby Shibuya Station.

This daily routine continued until May 21, 1925 when, while he was giving a lecture,  the professor suffered a cerebral hemorrhage and died without ever returning to the train station in which Hachikō waited. Still, each day for the next nine years, nine months and fifteen days, Hachikō would still await Ueno's return, appearing precisely when the train was due at the station and thus attracting the attention of other commuters, many of whom frequented the Shibuya train station and had seen Hachikō and Professor Ueno together each day.

Hirokichi Saito, one of Ueno's students who developed expertise on the Akita breed, also saw Hachiko at the station and followed him to the home of Kuzaboro Kobayashi, Ueno's former gardener, where he learned the history of Hachikō's life. He returned frequently to visit Hachikō and, over the years, published several articles about the dog's remarkable loyalty. On October 4, 1932, an article about him in Asahi Shimbun (Asahi News), placed Hachikō in the national spotlight, making the dog a national sensation. People started to bring Hachikō treats and food to nourish him during his wait.

His faithfulness to his master Ueno's memory impressed Japanese people as a spirit of family loyalty to which all should strive to achieve and teachers and parents also used Hachikō's vigil as an example for children to follow. Throughout the country, a new awareness of the Akita breed grew. Eventually, Hachikō's legendary faithfulness became a national symbol of loyalty, particularly to the person and institution of Emperors.

Hachikō died on March 8, 1935, at the age of 11, from both terminalcancer and a filaria infection, and his remains were cremated and his ashes were buried in Aoyama Cemetery, Minato, Tokyo, resting beside those of Professor Ueno, Hachikō's beloved master. His fur, preserved after his death, was stuffed and mounted and is currently on permanent display at the National Science Museum of Japan in Ueno, Tokyo.
A statue based Hachiko's likeness was first sculpted by well-known Japanese artist Teru Ando and erected at Shibuya Station (35°39′32.6″N 139°42′2.1″E) in April 1934, with Hachikō himself present at its unveiling. During World War II, the statue was recycled for the war effort.
In 1948, Takeshi Ando, son of the original artist, was commissioned by the Society for Recreating the Hachikō Statue to make a new second statue which was erected in August 1948.  It still stands and is a popular meeting spot. The station entrance near this statue, one of Shibuya Station's five exits, is named the Hachikō Entrance/Exit (Hachikō-guchi).
Hachikō's devotion is honored on March 8, each year, with a solemn ceremony of remembrance at the Shibuya railroad station, attended by hundreds of dog lovers who want to honor his memory and loyalty. Well after Hachiko's death, the dog continues to be remembered in worldwide popular culture, with statues, movies, books, and appearances in various media.  In 1987, the story of Hachiko was depicted in the Japanese film,  Hachikō Monogatari (ハチ公物語,The Tale of Hachiko). The 2009 British American drama film Hachi: A Dog's Tale,  which starred Richard Gere, Joan Allen and Sarah Roemer, is a remake of the Japanese film. 
Hachiko Memorial Statue: 1 Chome-2 Dōgenzaka, Shibuya-ku, Tōkyō-to 150-0043, Japan.  Tel:  +81 3-3463-1762.