The terminus of our 5.5-km. long Ngong Ping 360 cable car ride  was Ngong Ping Village (Chinese: 昂坪; pinyin: Ángpíng; Jyutping: ngong4 ping4), located on a highland in the western part of Lantau Island, Hong Kong. Lantau Peak, the second highest peak of Hong Kong, is at its southeast.
Check out "Ngong Ping 360"
When we arrived at the village, "360 Ultimate Masters Face-off: Shaolin vs Emei" kung fu show (running from September 29 to October 28) was ongoing.
Featuring kung fu masters from Shaolin and Emei, they performed a marvelous mock up of a vigorous battle featuring three new weapons – the meteor hammer of Shaolin and the fans (an offensive and a defensive weapon) and long-tasselled sword (an aggressive but flexible weapon) of Emei.
The kung fu of Shaolin is said to be strong and powerful while Emei emphasizes softness and flexibility in their moves. Their battle is a fusion of Yin (Emei) and Yang(Shaolin).
The fairly new Ngong Ping Village, created at the top of the Ngong Ping plateau, was opened in 2005 together with other facilities and tourist attractions that include the Walking with the Buddha (Stage 360), the Monkey's Tale Theatre and Ngong Ping Tea House, all built to accommodate the influx of tourists now flocking to the Tian Tan Buddha (or Big Buddha) and the Ngong Ping Cable Car.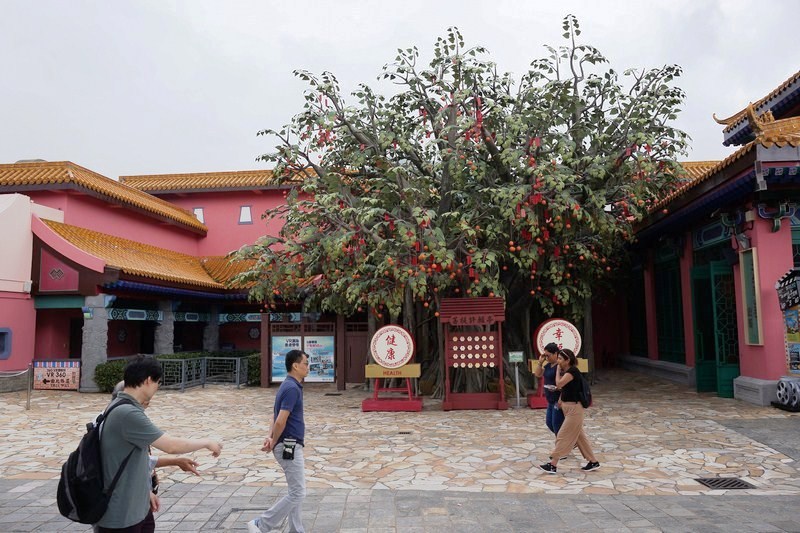 This well appointed, 1.5-hectare open-air and culturally-themed village, built at along a "tourist corridor," serves as the central point for the many highlights and tourist attractions in the area.
It has modern facilities, 6,000 sq. m. of shop space and an 18,600 sq. m. piazza between the cable car terminal and the Po Lin Monastery (a youth hostel is located near here), a quick 5-minute walk from the Village. A visit to the Tai O Fishing Village is a short 15-minute ride away from Ngong Ping Village.
This tourist trap is complete with a wide array of "themed" souvenir shops, tea houses as well as fast food outlets (Subway, Starbucks, etc.) offering both Western and Asian fare. Monkey's Tale Theater and the Walking with Buddha Show are short 15-minute audio-visual, multimedia attractions that recount Buddha's legends and stories.  We chose to skip these shows and save on the extra ticket costs.
It also serves as a transportation hub. The nearby Public Transport Interchange has bus lines and taxis for easily getting around to other parts of Lantau.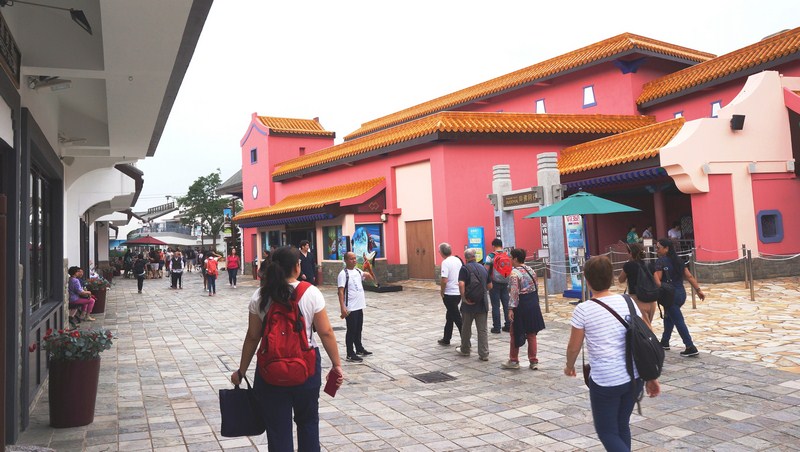 For visitors who expect to see something more "genuine" and less "commercialized," it is, by no means, an "old village." Though built in the old traditional Chinese architectural designs to mirror and uphold the cultural and spiritual veracity of the Ngong Ping area, it has somewhat of a theme park atmosphere and this is what disappoints some visitors. Unless you need to eat (we had a late lunch here), this was an attraction not particularly worth spending time at.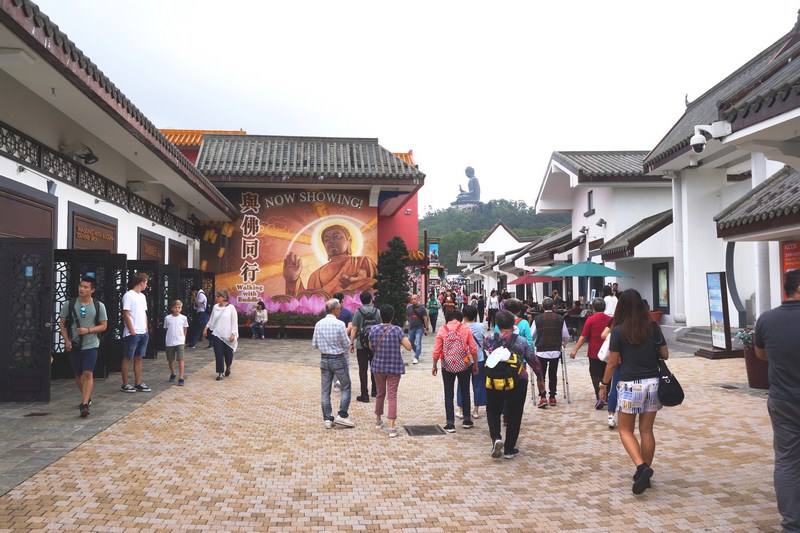 Ngong Ping Village: 111 Ngong Ping Rd, Lantau Island, Hong Kong.cChinese New Year, Christmas and the three days of Buddha's birthday are among the most crowded days.
How to Get There:  Ngong Ping Village is connected, via the Ngong Ping Cable Car, to the Tung Chung lower terminal which is linked via the Tung Chung Station MTR to the rest of Hong Kong.