On our third day, we were supposed to leave on the early morning Skyjet Airlines flight back to Manila but heavy rains due to a low pressure area caused a cancellation of our flight for the next day. Thus, we had another extra day for exploring the island.  We first waited for the rains to subside and, after lunch, we again all boarded the van Del Carmen Mayor Alfreo "Coors" Coro II provided for our use.
Again, with Ms. Roxan Gesta as our guide, we were to circumnavigate the island by driving along the island's 162-km. circumferential road.  Along the way, we passed quiet coastal villages and admired some of the picturesque coastal scenery.  We made our only stopover at the remote, 5-km. long white-sand Alegria Beach in Sta. Monica town, inside a reef-fringed lagoon in Siargao Island's northeast. Despite the inclement weather, the water here was turquoise green and calm.
Probably due to its isolated location, there were no foreigners in sight, a good sign that tourists have not flocked here yet, leaving the beach unspoiled and preserving its local flavor.  There were no buildings or hotels around, just a lot o coconut trees, a few picnic huts and a hammock slung between two trees.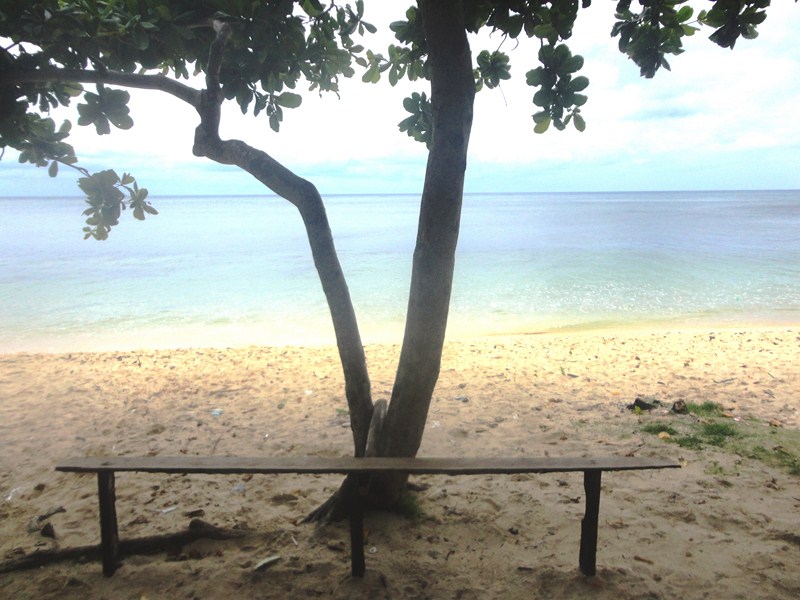 The beach is quite long so you don't have to worry even if you find some tourists when you get there. Perfect for those who want to relax for a while with nobody else around. For the more adventurous, there is a surf spot here but this normally only works during the surf season, around September.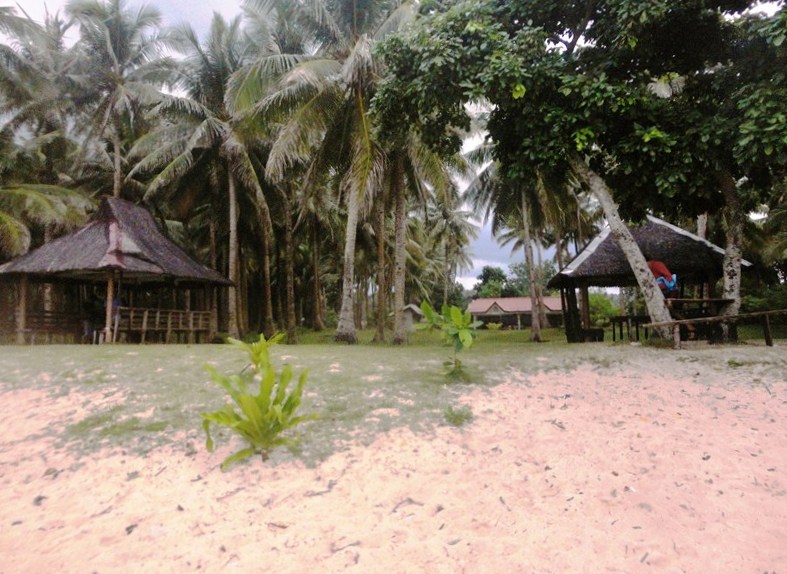 The sand abruptly slopes to around 30 degrees and swimming here can be tricky as it gets deep just a few feet from the shore and there are many corals. Walking along the not so firm sand can also be a great challenge as your feet easily sinks. Still, Alegria Beach, an alternative to the otherwise surfing dominated beaches of the island, is another jewel in the crown of the island. Getting there by motorbike is also an adventure by itself.
Alegria Beach: Brgy. Alegria, Sta. Monica 8422, Surigao del Norte.
Siargao Tourism Office: Paseo De Cabuntog, Brgy. Catangnan, Gen. Luna, Siargao Island. Mobile number: (0921) 718-2268 (Ms. Donna Grace T. Estrella – Siargao Tourism Coordinator)
How to Get There: Skyjet Airlines has daily, 100-min. direct flights from Manila (NAIA Terminal 4) to Siargao (Sayak Airport). ETD Manila at 6 AM (M8-421), ETA Siargao at 7:40 AM. Return flights: ET Siargao at 8:10 AM (M8-422), ETD Manila at 9:50 AM.
Skyjet Airlines: Manila Domestic Airport, Parking A, Terminal 4, NAIA Complex, Brgy. 191, Pasay City, Metro Manila. Tel: (02) 863-1333 and (02) 823-3366. E-mail: sales@skyjetair.com. Website: www.skyjetair.com.