After our visit to Senso-ji Temple, we proceeded to the approximately 250 m. (880-ft.) long Nakamise-dōri (仲見世通り), the best place in Tokyo to buy souvenirs.  One of Japan's oldest streets, this shopping street leads, from the gorgeous Kaminarimon ("Thunder Gate"), to Sensō-ji temple itself.  Items sold here range from outrageously cheesy items to authentic and useful souvenirs.  For centuries, Japanese pilgrims and tourists who visit Sensō-ji every year flock here to shop at its small stores.   This stone-paved pedestrian street, retaining the feeling of old downtown Edo and the cultural florescence of the Meiji era, started during the Genroku and Tempo periods of the Edo era when horse carriage operators were granted the right to set up shops next to the east side of Niomon as compensation for cleaning the temple compound through forced labor.
In the early 18th century, Nakamise-dōri (translated as "inside street") was said to have come about when neighbors of Sensō-ji were granted permission to set up shops on the approach to the temple. However, on May 1885, the government of Tokyo ordered all shop owners to leave but, on December of that same year, the area was reconstructed in Western-style brick. During the 1923 Great Kantō earthquake, many of the shops were destroyed.  In 1925, the shops were rebuilt using concrete, only to be destroyed again during the bombings of World War II.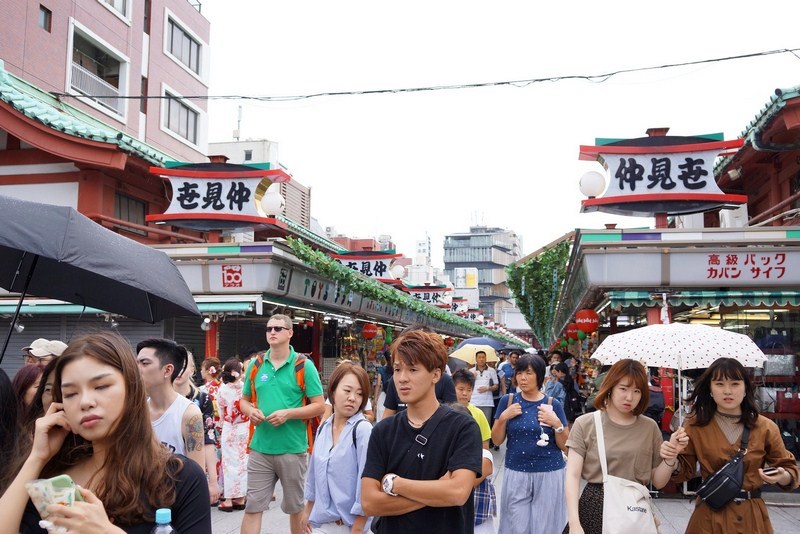 The surrounding area had around 89 small traditional shops, many of them run by the same family for many generations.  I admired the shutters painted with different seasonal vistas. Stores sold traditional Japanese items such as chopsticks, yukata, geta, wooden combs, maneki neko cat statuettes (a traditional good luck charm), hair accessories, elegant fans of all colors and sizes; handmade umbrellas; geta (traditional footwear), masks, folding fans, ukiyo-e (woodblock prints); kimono and other robes; samurai swords; and Buddhist scrolls.  You can also shop here for Godzilla toys, t-shirts and mobile phone straps. The shops at both sides of the last stretch near the temple sell official Senso-ji merchandise – omamori amulets, scrolls, incense to burn at the huge burner in front of the temple's stairs, books about the temple (in Japanese) and o-mikuji fortunes.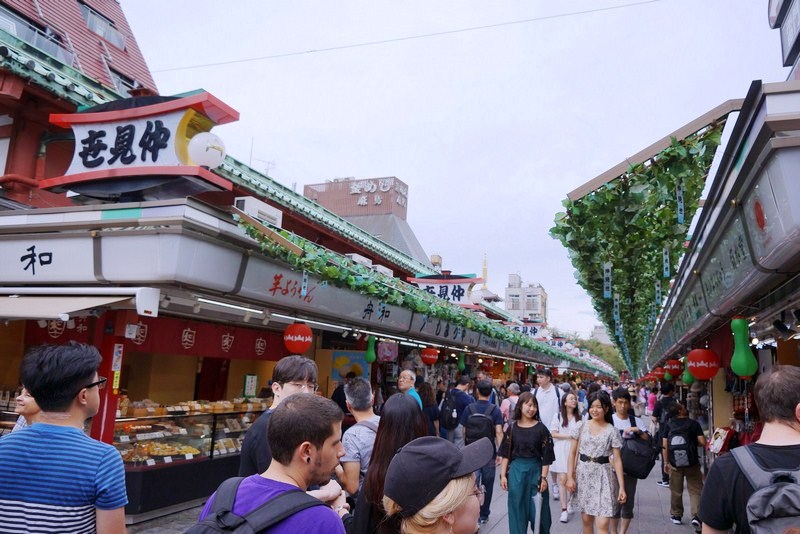 Nakamise-Dori is a good place for visitors to try tabearuki ("walk-and-eat") and enjoy Japanese street food such as tempting traditional kibi dango (sweet and soft rice cakes in a stick covered with millet flour), oden, (a winter snack), imo yokan (sweet potato jelly), odango (a sweet snack), kaminari okoshi (sweet puff rice crackers), colorful candies sold in beautiful traditional patterned cases; ningyo yaki (little sponge cakes filled with red bean paste and shaped like dolls, birds and the famous Kaminarimon, Asakusa's symbolic lantern), deep-fried manju (a bun stuffed with red-bean paste), kibidango (a millet dumpling), freshly toasted sembei crackers, juicy fried meat croquettes, sweet melon pan bread, cooling matcha green tea ice cream and other green tea-flavored treats.
There are also eating places that feature traditional dishes (hand-made noodles, sushi, tempura, etc.). For lunch, we dined at Tatsumiya Restaurant. Here, we were seated in a traditional Japanese setting – no shoes and on low tables with mats.
Check out "Restaurant Review: Tatsumiya Asakusa"
During the holidays, the arcade is decorated with seasonal trappings – silk plum blossoms and kites during New Year's Day, bright foliage during fall and cherry blossoms in spring. Running perpendicular to Nakamise-Dori is Shin-Nakamise ("New Nakamise"), a covered shopping arcade lined by various shops and restaurants.
Nakamise-Dori: 1 Asakusa, Taitō-ku, Tokyo, Japan. Open daily, typically from 10 AM to 7 PM but hours depend on the individual shops.
How to Get There: Nakamise-Dori, a 2 minute walk from Asakusa Station, is served by the Tokyo Metro Ginza Line, Toei Asakusa Line and Tobu railway lines. It is also a 10-min. walk from Tawaramachi Station on the Ginza Line. Take A3~A5 exit for Nakamise. This shopping street is traditionally approached via the Thunder Gate.