Part of One Central Hotel & Suites-sponsored tour of Cebu City
The 10,000 Roses Café, opened last February 6, 2017, is one of Cebu's newest craze.  It has a stunning garden in the open area of the facility that are "planted" with 10,000 artificial white roses that are filled with LED lights, the first in the Philippines.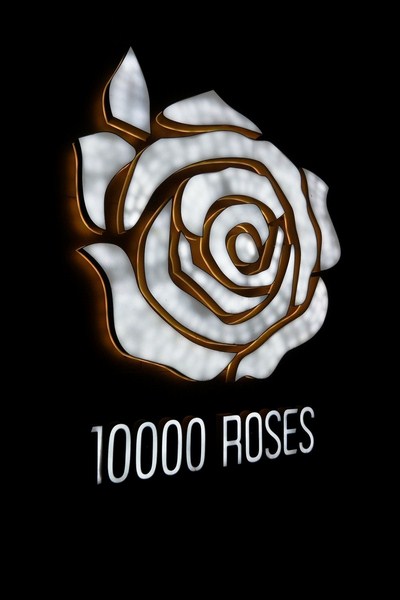 About 3 feet tall, these roses dance with the sea breeze during day time.   Around 6 PM every night, they are lit and transformed into magical lights that glow at night. That's why it's best to go there before sunset until closing time.  Because of its unique theme, it instantly became a hit and is, undeniably, the most popular and most sought-after café.
Located at the end of Cordova Tourism Center, just next to Lantaw Floating Restaurant, many visitors frequent the place to have their pictures taken in a different kind of setting.  It is owned by interior designer Miguel Cho who was inspired by the more than 25,000 LED Roses of the famous Dongdaemum Design Plaza in Seoul, South Korea.
A perfect spot for photographers, the café, situated on a reclaimed wharf property, has a viewing deck, surrounded by glass walls, that offers an amazing view of Mactan Island, the skyline of Cebu City, the neighboring cities and municipalities, the island's mountain range, the sea and, of course, the roses.
The coffee shop and restaurant serves drinks, pasta, panini, sandwiches, potato fries, nachos with salsa, cheese plate, fruits plate, salad and varieties of coffee, teas and beer.  The ground floor has a modest indoor dining area, with modern and stylish seating, which can accommodate 20 to 25 customers.  The alfresco dining area can accommodate additional 40 to 60 customers.
The 10,000 Roses Café: Brgy. Day-as, Cordova, Cebu.  Tel: (032) 496 7023. Open daily, 10:30AM to 11PM. Admission: P20/person.
One Central Hotel & Suites: Cor. Sanciangko and Leon Kilat St., Cebu City 6000, Cebu.  Tel: (+6332) 888-8000, 888-8111 and 888-8168.  E-mail: info@onecentralhotel.com. Website: www.onecentralhotel.com.