For our first night in Salzburg, Grace, Manny, Jandy, Cheska, Kyle and I proceeded to Sternbrau Restaurant, at the old heart of the city (next to the famous "Getreidegasse" shopping street), to watch the amazing "Sound of Salzburg Dinner Show," (Check out video here) a daily show & dinner event with 74 seats available.
The most successful dinner show in Salzburg, it has, for 24 consecutive years, been mesmerizing and entertaining Salzburg visitors from all around the world with its harmonic blending of songs from The Sound of Music movie, Wolfgang Amadeus Mozart, operettas and other excerpts of Salzburg's musical past.
In 1991, three entrepreneurs – Franz Langer (music director), Martin Uitz (former CEO of Salzburg Land Tourism) and Stefan Herzl (CEO of Panorama Tours) – created the Sound of Music Dinner Show (as it was called back then), a dinner concert with live on-stage performance of The Sound of Music compositions combined with an Austrian dinner. It was staged daily, from May till October, in the big hall of the Salzburger Stieglkeller underneath the famous Hohensalzburg Castle.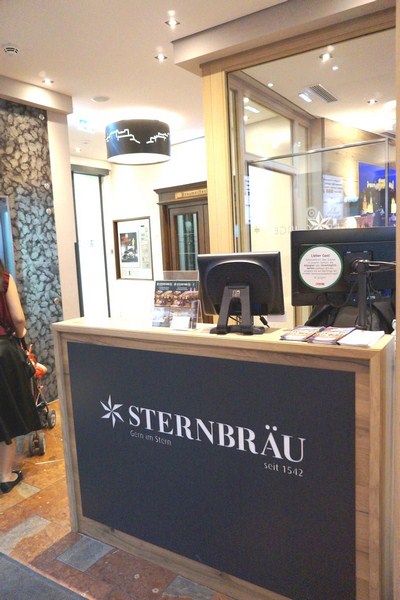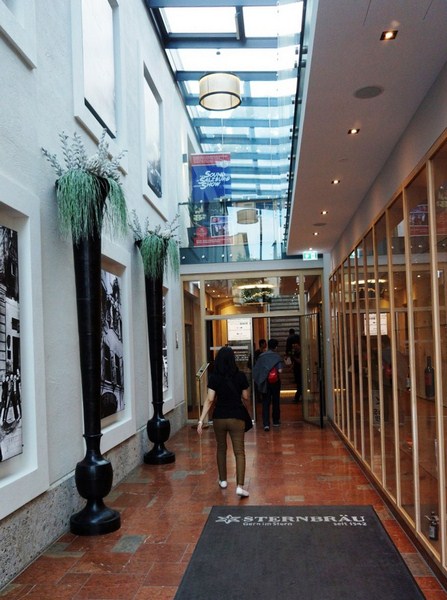 In 2000, the dinner concert moved, from the Stieglkeller, to the Sternbräu with Franz Langer updating the program, featuring more compositions of W.A. Mozart and Salzburg's operettas, and renaming the daily event to "The Sound of Salzburg Dinner Show."  Even a stepdaughter of Maria von Trapp, also called Maria, used to visit the show several times.
In 2014, Roman Forisch took over from Franz Langer (since 1997 sole owner of the show) as new manager and relocated "The Sound of Salzburg Dinner Show" to the Festungssaal (Fortress Hall) on the first floor of the K+K Restaurants am Waagplatz, a historical landmarked building next to the famous Salzburg Cathedral and right in the middle of the historic district of Salzburg.
The building, one of the oldest sites in Salzburg, was a brewery in the Middle Ages first mentioned in 1542.  Wolfgang Amadeus Mozart liked to come here regularly, especially in 1777. At the beginning of 2013, the building was restored, modernized and, after almost two years, re-opened as a restaurant in 2014.
The move to this historical building added a final piece to the cultural tourism highlight, providing the makings of a truly wonderful evening with its ideal combination of a splendid, high class culinary experience and a comfortable and atmospheric  Medieval location.
Before the show, a dinner is served at 7.30 PM (Doors open at 7 PM).  We enjoyed a traditional Viennese 3-course meal, in a candlelit setting, prepared by chef de cuisine Michael Pratter and his team.  It featured a starter (Soup of the Day), a choice of white or red meat (Roast Pork with dumpling and cabbage salad with bacon or Vienna-style Schnitzel with Noodles) and their famous homemade Grandma's Apple Strudel with Whipped Cream for dessert.
The one-and-a-half-hour show began at 8.30 PM at a stage with an area of about 10 square meters, right in front of the dinner tables. The "Sound of Salzburg Show" features a group of 4 singers (2 female and 2 male), all trained artists from all over the world, and 1 female pianist.
On stage, they performed a program which includes the greatest hits of the aforementioned The Sound of Music musical (Richard Rodgers & Oscar Hammerstein) and  Wolfgang Amadeus Mozart as well as Salzburg's operettas.   For the Sound of Music, they performed "The Sound of Music (song)," "Do-Re-Mi," "Do-Re-Mi (Reprise)," "Do-Re-Mi (Fuge)," "Climb Ev'ry Mountain," "Maria," "My Favorite Things," "Lonely Goatherd," "Laendler Tanz," "Edelweiss" and "So Long, Farewell."
The Mozart repertoire consisted of "Eine Kleine Nachtmusik," "Ronda Alla Turca," "Papageno Arie (Zauberflöte)," "Pa-Pa Duett (Zauberflöte)," "Vedrai Carino Arie (Don Giovanni)" and a "Minuet from Don Giovanni."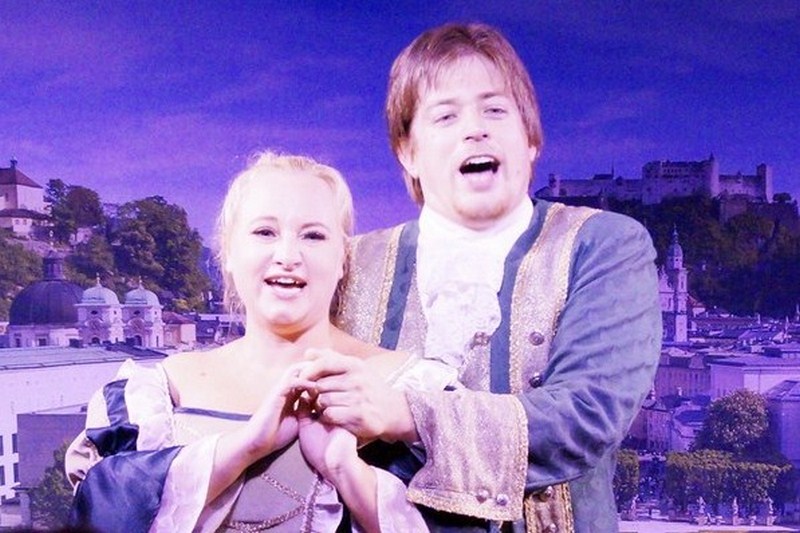 Salzburg operettas featured, with live piano accompaniment, were Ralph Benatzky's "Regenlied (Im weißen Rößl)," "Im Salzkammergut, da kammer gut (Im weißen Rößl)" and "Im weißen Rößl am Wolfgangsee (Im weißen Rößl); Fred Raymond's "Saison in Salzburg (Saison in Salzburg)" and  Franz Lehar's "Dein ist mein ganzes Herz (Das Land des Lächelns)" and "Lippen Schweigen (Die lustige Witwe)."  A folk song, Und jetzt gang i ans Petersbruennele, was also featured. 
The show thus featured 5 different composers who each have their own style and lived in various parts of the musical history.  Thus, the job of the singers (who perform in 15 countries around the world as musical ambassadors for Austria) of the Sound of Salzburg show wasn't easy as every single song they sang was supposed to be sung in the right way, in the way the composer intended.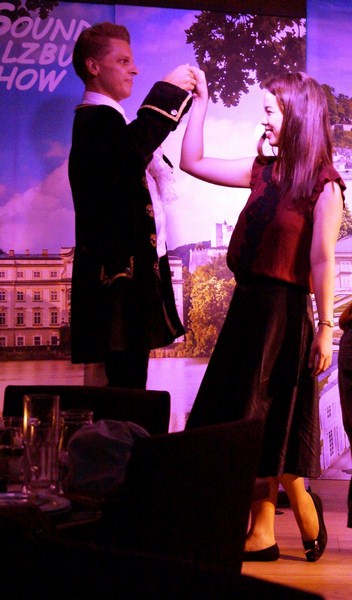 They also needed to have a broad understanding of music to perform every one of them, know what the songs were actually about as well as to learn them by heart. In short, they have to live the song.
The show also included an 8-minute, really interesting film clip of an interview from the real Maria von Trapp. The video, not the best quality, was from the 1980's but you can see and hear everything you need to understand the real von Trapp story behind the movie.
The dinner side of the show was great and the show itself was very entertaining.  The show was in English so we didn't have to worry about not understanding anything. There were a couple of songs sung in German but we didn't need to understand German to enjoy the tunes.  The performers also did a little audience participation.  Manny was pulled on stage, seated and serenaded by a lady singer.
The male singers also grabbed a few ladies from the crowd (including my daughter Cheska) and taught them how to dance a traditional Viennese dance. Some kids (including my grandson Kyle) also joined the performers on stage. If you love "The Sound of Music" or simply just love Austrian music and culture, you would have a great night at the "Sound of Salzburg Dinner Show." I definitely would recommend it. 
Sound of Salzburg Dinner Show: Sternbräu Restaurant, Griesgasse 23 5020 Salzburg. Tel: +43 660 5020520 and +43 699 10248666.  E-mail: office@soundofsalzburg.info . Website: www.soundofsalzburg.info. Daily show times (from mid May to mid October): 7 – 10 PM (dinner & show) and 8:30 – 10 PM (show only). Admission: € 39 (adults), € 32 (Salzburg Card & Students), € 20 (children 7-14 years of age) and free for children under the age of 7 (accompanied by an adult). Click here to book tickets online)
Guests can choose between three different 3-course menus (drinks not included) or our deluxe 4-course menu with premier seating (with drinks, the show and a CD). Menu choices for vegetarians and seafood lovers are available on request.  Food and beverages must be paid directly at the restaurant.