During our cable car ride to Ngong Ping Village, we already saw the huge Tian Tan Buddha (also called the Big Buddha) statue sitting on the side of the mountain and, after our return from our visit to Tai O Fishing Village, we proceeded to go there.  Along the way, we had to traverse the length of the 1.5-hectare Ngong Ping Piazza.
The piazza, where visitors could get started and tour to observe the religions and nature of Ngong Ping, connects with Po Lin Monastery, the Big Buddha, Ngong Ping Cable Car, Ngong Ping Village and the Wisdom Path, a landing with 38 impressive, 8-10 m. high wooden rectangular beams, each beam inscribed with Chinese scriptures that  make up the prayers of the Heart Sutra, one of the most popular Buddhist prayers.
Check out "Po Lin Monastery, Tian Tan Buddha, Ngong Ping 360 and Ngong Ping Village"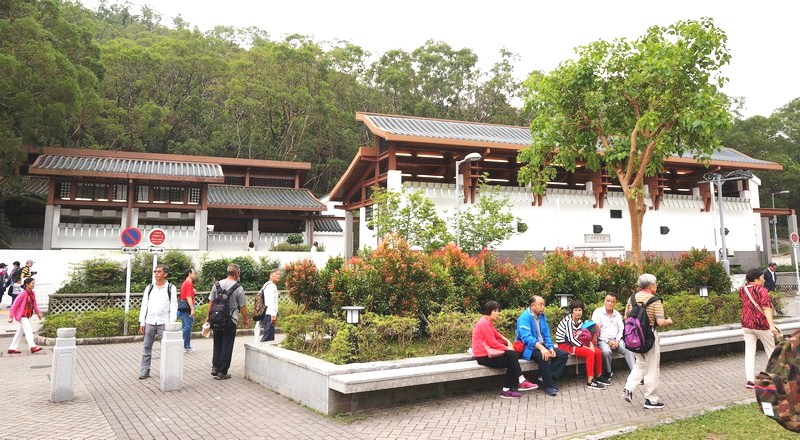 This intensely Buddhist piazza has four main components – New Pai Lau (built to reflect the northern architectural style of Qing Dynasty); Bodhi Path; Di Tan (Altar of Earth); and a Chinese landscaped garden constructed to echo with the design of Po Lin Monastery.
As we left Ngong Ping Village, we walked through the New Pai Lau, the towering ornamental archway to Bodhi Path, the central walkway paved with lotus tiles, where we were surrounded by Chinese structures that emit an aura of antiquity, appreciating the stone statues of the 1.8 m. high "Twelve Divine Generals" (each weighing about 1 ton) as well as 40 lotus-shaped stone lanterns installed on both sides.
The "Twelve Divine Generals," the protectors of the Healing Buddha, are also guardians of the hours of the day, each responsible for a two-hour period.
In addition, they represent the twelve Chinese zodiac signs, as denoted by the different zodiac signs on their crowns. Di Tan, the open space of Po Lin Monastery, is primarily tiled with grey granite paving. The four lotus ponds, built on the perimeter, facilitate the staging of religious ceremonies and rituals held from time to time.