Phimeanakas ("celestial temple"), a Hindu temple in the Khleang art style, is located close to the center of a 5 m. high walled enclosure that once housed the the Royal Palace of Angkor Thom (its tallest scalable temple).  Located north of Baphuon, it was built during the reign of Rajendravarman (from 941-968).  It was then rebuilt, in the shape of a 3-tiered, steep-sided pyramid (a representation of Mt. Meru), by Suryavarman II.
The top of this rectangular pyramid, made with laterite and roughly hewn sandstone, originally had a tower which, according to Chinese scholar Zhou Daguan, was crowned with a golden pinnacle.  The edge of the upper terrace had galleries.with windows and balusters, a unique architectural feature
Artistically uninteresting, most of its decorative features are broken or have disappeared and there are only hints of its former splendor. Still, Jandy, Violet and I clambered up, via a narrow wooden stairway at the back, to get to the second and third levels. Here, we had good views of nearby Baphuon.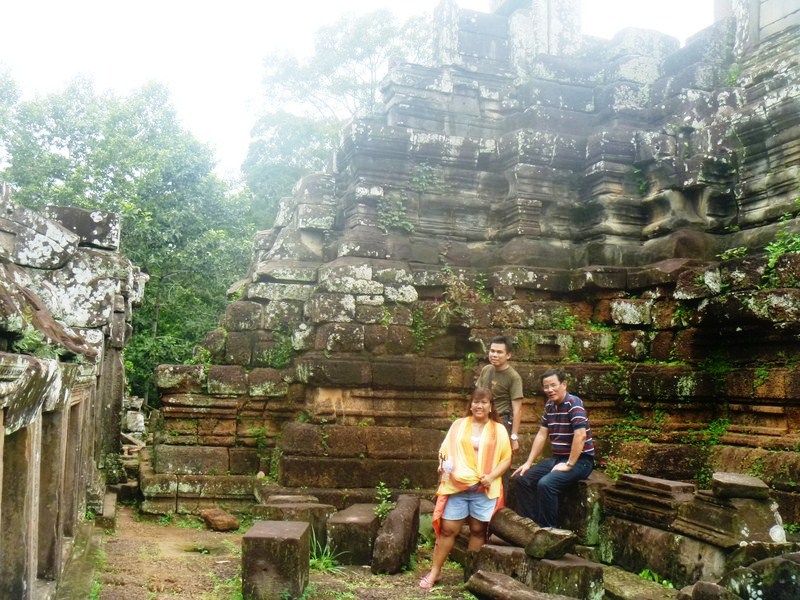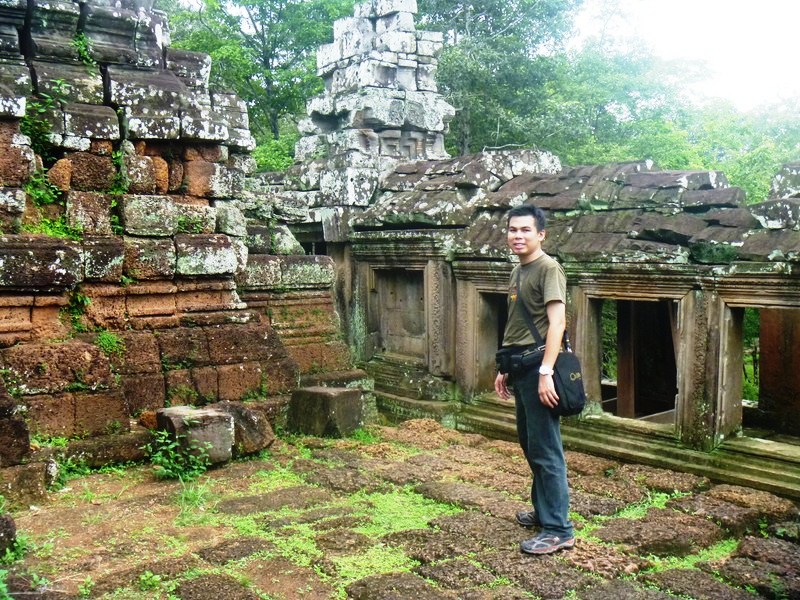 According to legend, the king spent the first watch of every night in the tower to make love to a woman thought to represent a nāga. During that time, not even the queen was permitted to intrude.  However, during the second watch,  the king would return to his palace and the queen. If the naga, the supreme land owner of Khmer land, did not show up for a night, the king's days would be numbered.  If the king did not show up, a certain disaster  would strike his kingdom.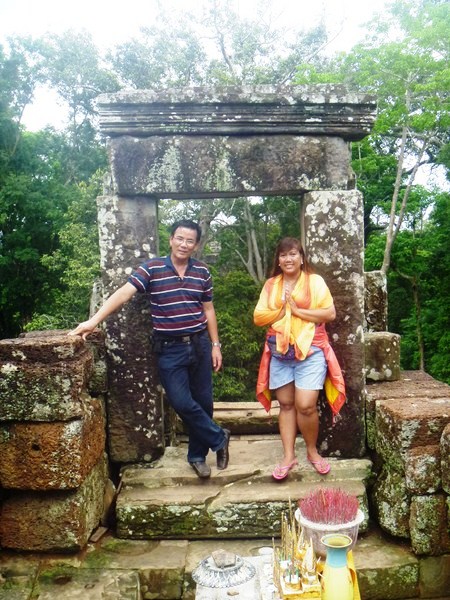 The royal palace's construction was began by Rajendravarman II.  Fronted to the east by the Terrace of Elephants, it was used by Jayavarman V and Udayadityavarman I and later added to and embellished by Jayavarman VII and his successors. Except for two sandstone pools (once the site of royal ablutions), located near the northern wall, very little remains of the royal palace.