After a long, 9-hour flight from Diosdado Macapagal International Airport at Clark Freeport Zone in Pampanga, our Qatar Airways plane made its first stopover at Hamad International Airport (HIA) in the Arabian Gulf city of Doha, Qatar, the airline's home, arriving there at 3 PM (Doha time).
Here, we were to have an over 16-hour layover prior to continuing on our journey to Tbilisi, Republic of Georgia. Opened just last April, 30 2014 with the ambition of turning Doha into a global aviation hub serviced by Qatar Airways, this barely 5-month old international airport, designed by global design studio HOK, is one of the most advanced airports in the world. About 65% of the construction workers who built this airport are Filipinos.
Built over 22 sq. kms. (8.5 sq. mi.), half of which is on reclaimed land, this majestic structure's expressive architecture reflects its coastal location.  The undulating rooftop silhouette of this dramatic, curving building ripples away from the concourse in swooping peaks and troughs that recalls the ocean waves of the Arabian Gulf and sand dunes.This undulating super roof can be experienced by departing passengers in the light-filled departure hall while the undulating roof line is mimicked by vaulted metal ceilings in other concourses.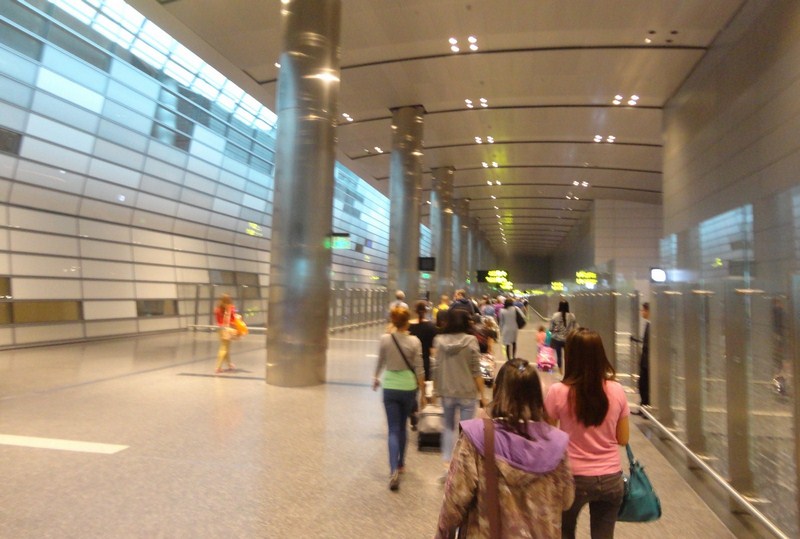 We probably arrived outside of its peak period as we walked through its beautiful hallways and lounges. As it was completely quiet, we were thinking we were the first to ever set foot in the place. There were no jarring announcements to disturb the calm.  Being new, every gleaming surface of this hyper-clean airport's lavish departure and arrival areas was spotless and its high ceilings and expansive concourses gave it a sense of grandeur.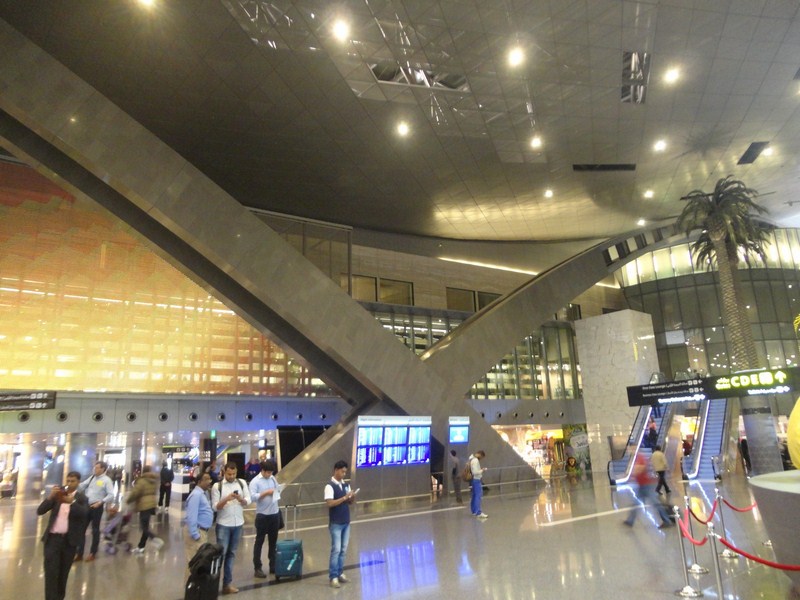 The steel-framed glass wall, from the curbside arrival area through the ticketing hall, provided us with unobstructed views enabling us to easily find our destinations. The east and west facades have high-performance glass that controls solar heat gain and glare.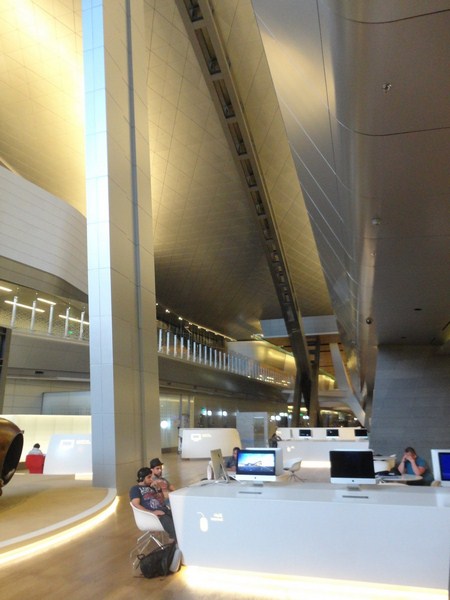 The sleek metal and glass surfaces contrast with a vast wood ceiling that provides visual warmth in the longest concourse. One thing I noticed was the deliberate lack of ornamentation, with graceful structural arches left unadorned.  Terrazzo was used in high-circulation areas while carpet covered ancillary spaces.
On the first floor, under a vast central skylight that provides visual access to one of five concourses, transfer passengers such as us, joined originating passengers, as we moved through an open immigration area. The two large transfer hubs were linked by an automatic people mover.
The arriving passengers then progress to the ground-floor baggage hall and exit to a triple-volume meeters and greeters hall which has direct access to taxi pavilions and an intermodal transportation hub. As we had hours to kill, we spent time exploring the airport. One thing that make HIA so unexpectedly cool is their groundbreaking pieces of modern art that, oftentimes, stop passengers in their tracks.
The "Lamp Bear," at the grand foyer of the airport's duty-free shopping hall, is a giant, bronze, surreal, yellow teddy bear sitting under a black lamp, one of three creations by subversive Swiss artist Urs Fischer. This arresting sight, standing 7 m. tall and weighing approximately 18-20 tons, was previously displayed at the Seagram Building's plaza in New York City before it was purchased at a Christie's auction for US$6.8 million by a member of the Qatari royal family.  It at has a near-constant knot of people in front of it, grabbing selfie shots.
Throughout the activity nodes in Concourse C, near gates C2, C3 and C8, are a series of eight large-scale interactive bronze sculptures done, by Tom Otterness, with slides and seats for limbs and play-pen-like chambers for torsos. Children and adults engage, interact and find recreational enjoyment with these bronze figures that appear to be in play with one another.
The communal area seating, with all Italian-style chrome and leather, was fancy.  Come evening, we got some shut eye on comfortable recliners within the peaceful surroundings of the quiet lounge. There are also family lounges for those travelling with kids. These quiet rooms, as well as the spacious hold rooms, passenger activity nodes and 17 airline lounges, are all enveloped by glass.   Natural light and dramatic evening desert views are provided by skylights and interconnecting glass ceiling "zippers."
The free Wi-Fi at Hamad International Airport was fast and unlimited (simply connect to "HIAQatar Complimentary WiFi"). For standard passengers like us just passing through, there were plenty of the usual airport restaurant and retail options plus numerous upscale boutiques including Gucci, Burberry, Coach, Rolex, Swarovski and others.  A lot of Filipinos also work in these shops.  On another stopover here on my return to Manila, one of them assisted me when I bought a Sony A-3000 digital SLR camera in one of these shops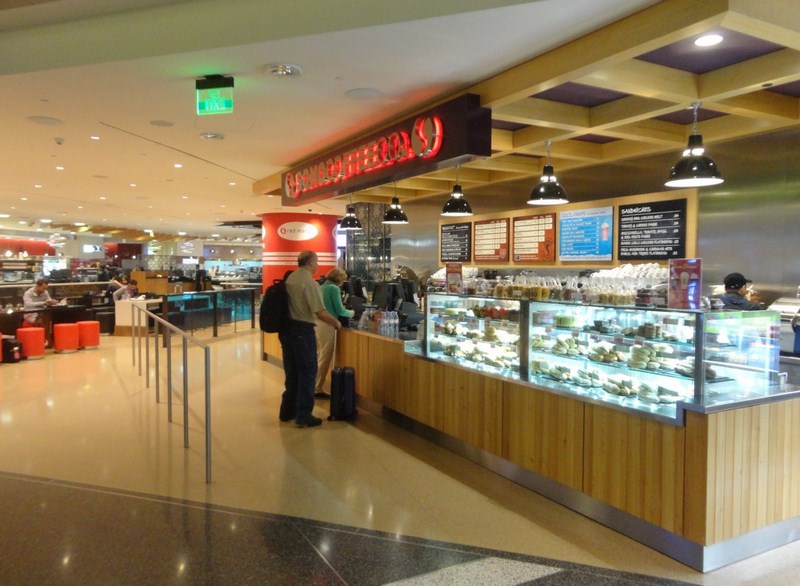 Hamad International Airport: Doha, State of Qatar. Tel: +974 465 66 66 (office) and +974 462 29 99 (flight information).  Fax: +974 462 20 44.  IATA Code: DOH.  ICAO Code: OTHH. E-mail: diainfo@qatarairways.com.  Website:  www.dohahamadairport.com.