From the church, Jandy, Maricar, Violet, Lanny and I walked towards Eker & Ely Lucban Longganisa and Pasalubong, situated just behind the church where, we were told, we could buy the best Lucban longganisa.  It was raining heavily, so we brought our umbrellas with us. Established in 1958 (incidentally the year I was born), Eker & Ely is one of 10 longganisa makers in town.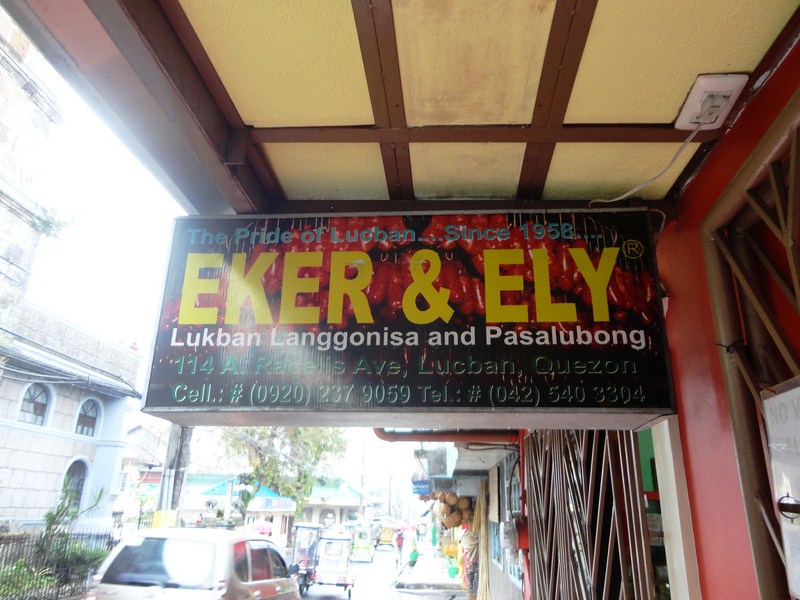 Their Lucban Longanisa is sold by the dozen –  P150 for big longanisa and  P55 for small.  I bought two dozen packs of the former while the others bought packs of the latter.  It's a good thing we arrived here in the morning as their longganisa is usually sold out by afternoon.
Aside from their bestseller longganisa, the store also sells different delicacies made in Lucban and other parts of the country.  The list includes macaroons, coco jam, broas (the local version of ladyfingers), uraro, miki lucban, piaya, pastillas, mazapan, galletas (egg cracklets) espasol, achara, espasol, coco vinegar, peanut brittle, peanuts, cashews, etc.
Eker & Ely Lucban Longganisa and Pasalubong: 114 A. Racelis Ave., Lucban, Quezon. Tel: (042) 540-3304.  Mobile number (0920) 237-9056.
How To Get There: Lucban is located 160.36 km. from Manila and 23.7 kms. north of Lucena City. From Manila, it can be accessed via the South Luzon Expressway (SLEX, exit at Turbna) and the Manila East Road.