After attending the opening day exhibit "Kuwentong Kutsero" of my Don Bosco Makati batchmate Gerardo "Ged" Merino at the St. Ignatius Church with in the Walled City of Intramuros, Jandy and I still had some time to kill so we proceeded to the Bahay Tsinoy (literally Chinese-Filipino House), a museum, within the Kaisa-Angelo King Heritage Center, I have been wanting to visit for a very long time.
Check out "Ged Merino: Turning Thread and Fabric into an Art Form"
I consider myself as Tsinoy, being a member of the Locsin clan which had its beginnings sometime in the middle part of the 18th century, between the years 1747 and 1750, when an adventurous young man named "Wo Sing Lok" or "Sin Lok" from Amoy (old name for Xiamen), arrived in the Philippines. He permanently settled at "Parian," now Molo in Iloilo City. In 1780, Sing Lok was christened as Agustin Locsin when he married Cecilia Sayson, a mestiza daughter of an Ilongga and a sangley (local Chinaman) who were both devout Catholics.
Check out "9th Locsin Reunion"
Designed in the American Colonial style by Eva Penamora in collaboration with my late U.P. College of Architecture professor Arch. Honrado Fernandez, the Kaisa-Angelo King Heritage Center was started in 1996 and completed and inaugurated in 1999.
After the acclaimed bi-lingual children's educational television program Pinpin in the early 1990s, this museum project was envisioned by  the Kaisa Para sa Kaunlaran, Inc., a non-profit organization co-founded by Teresita Ang-See, to provide another venue for advocating patriotism to the Philippines and promoting cultural identity and understanding between the local Chinese and Filipino communities.
Funding for the land and building structure, initially advanced by Angelo King Foundation, was eventually raised through generous contributions from different levels of Filipino-Chinese community, from tai-pans to average wage-earners.
As we entered the center, we were welcomed by a replica of a terracotta warrior. Upon payment of admission fee, we entered the museum and first encountered a large ship introducing a brief history of the early contacts between the Chinese and the Filipinos prior to the arrival of Ferdinand Magellan.
As we made our way further into the hall, we were greeted by an impressive and permanent heritage exhibit of a presentation of dioramas of almost life-size wax figurines tracing the history of the Philippine Chinese or sangley (meaning "itinerant merchant" in the Hokkien dialect), from Pre-Hispanic times to the Colonial Period.
A detailed impression of Chinese and mestizo (mixed Spanish Filipino) life in the parian (Chinese ghetto) in the 1800s is depicted via a replica of a whole household complete with Chinese-influenced furniture such as chairs and beds.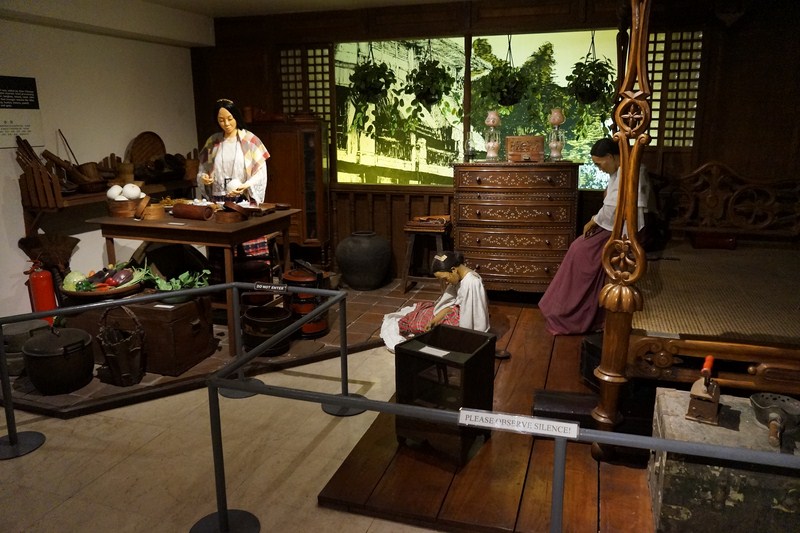 There are also copies of marriage certificates contracted between Chinese husbands and Filipina or Chinese mestiza wives during the 18th and 19th century as well as their children's baptismal records.
We also examined rare prints; a collection of excellent photographs; an interesting collection of rare porcelain unearthed in the country; old coins; religious artifacts reflecting Chinese influence; an exhibit of magazines, books, and even TV shows which promote the Chinese culture; and an exhibit of lives and contributions of famous Filipino-Chinese in the Philippine life and history.
At the third floor, we capped our tour at a dark section of the hall where we sat down and watched a hologram of a Tsinoy talking about how the early Chinese integrated themselves to the Philippine society.
The fully air-conditioned museum is divided into the following sections:
Early Contacts
The Parian
Colonial Culture
Emergence of the Chinese Community
In Defense of Freedom
Life in the 1800s
National Leaders of Chinese Descent
Gallery of Rare Prints and Photographs – scenes depicting old Chinese occupations, streets of Binondo, prints on turn of the century Chinese life.
Martyr's Hall – dedicated for Filipino heroes who have Chinese ancestry and have made a significant impact in Philippine history.
Ching Ban Lee Ceramics Gallery – displays Chinese ceramics dating from 10th to 17th century that were unearthed in the Philippine,s tangible artifacts testament to centuries of trade between our two countries
Rare Philippine Shell Collection
Tsinoys in Nation-Building (Jimmy Ongking Hall) – inaugurated in 2004, it points out the influence of modern-day Tsinoys in business, politics, art, science, religious and social life. Some of the most important personalities, of (partly) Chinese origin, in Philippine history include national hero Jose Rizal, Pres. Corazon Aquino and Cardinal Jaime Sin.
The center is also home to the following:
Chinben See Memorial Library – named in honor of Prof. Chinben See, the late anthropologist and renowned scholar on overseas Chinese, this library holds 8,000 books, documents, magazines, dissertations, and other articles particularly on the Chinese in the Philippines and other parts of the world; an extensive Filipiniana collection of books on Philippine society, economy, culture and politics; rare books (some almost 200 years old) that have mention and photographs of the Chinese in the Philippines. Open Mondays to Saturdays, 9 AM to 5 PM.
Office of Kaisa Para sa Kaunlaran
Benito Cu Uy Gam Hall – available for parties & other events
Pao Shi Tian Seminar Room
Madame Teh Siu Yong Limpe Seminar Room
Research and Data Bank Center – contains a collection of current research materials, clippings, microfilmed archival materials, old Chinese newspapers, data base from Chinese tombstones all over the country, etc. The center plans to output policy papers that will help government. Open Mondays to Saturdays, 8 AM to 5 PM.
Awat Keng Auditorium – named in honor of Dr. Angelo King's late younger brother, the auditorium seats 380 people and is used for seminars, conferences, theater productions.
Bahay Tsinoy: 2/F Kaisa-Angelo King Heritage Center, 32 Anda cor. Cabildo St., Intramuros 1002, Manila. Open Tuesdays to Sundays, 1 to 5 PM.  Tel: (632) 527-6083 and 526-6796 and 98.  Fax: (632) 527-6085. Mobile number: (0922) 890-1357. E-mail: info@bahaytsinoy.org. Website: www.bahaytsinoy.org. Admission: PhP100 for adults and PhP60 for children and students.
How to Get There: Take the LRT-1 (yellow line) and get off at Carriedo Station.  In front of Santa Cruz Church, ride a Pier-bound jeepney and get off at BahayTsinoy.