Upon arrival in Loay, our van entered the  church complex via the short bend from the road to Loboc. This old and charming church, built on top of a plateau overlooking the sea, near the mouth of the Loboc River, is also reached by short flight of stairs from the main highway.
Built with cut coral stone, it is cruciform in plan, with a low quadrangular pyramid atop the crossing, and was probably finished in 1822. The church was recently declared as a National Cultural Treasure and National Historical Landmark in 2003.
The church has two facades: an inner (1822), decorated with low relief (atop the inner doorway is inscribed the year 1822, indicating its presumed date of completion), and an outer three-level Neo-Classical portico-façade (apparently completed in the 20th century as its upper register is in reinforced concrete).
It has a semicircular arched main entrance (which formerly had a Latin inscription "Deus Trinus et Unus" above it, alluding to the parish's dedication to the Holy Trinity) at the first level, rectangular windows on the second level and a low triangular pediment topped by allegorical figures of Faith, Hope and Charity. The sides of the church are reinforced by huge buttresses.
During the October 15, 2013 earthquake, the church's portico-facade fell down but, during our visit, it had already been restored. Inside, there were still a lot of scaffolding with repair work still ongoing.  The painted trompe o'eil ceiling is filled with murals of Biblical scenes finished by Ray Francia on June 15, 1927.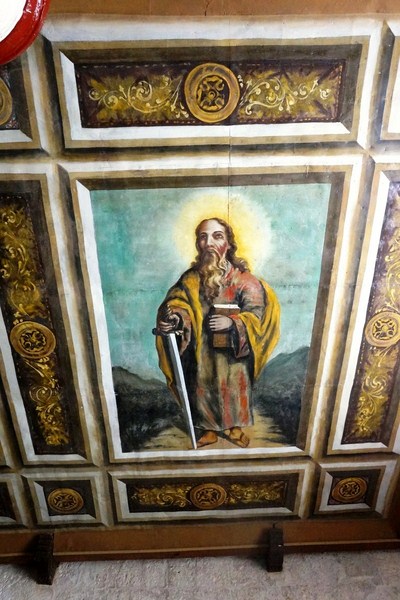 The colonnaded main altar has a Neo-Classic retablo with images of the Holy Trinity (with God the Father seated on the right, God the Son on the left, and God the Holy Spirit in the form of a dove above them) topped by a baldaquin.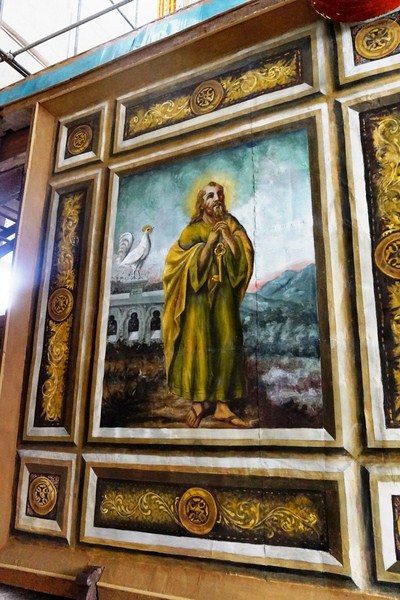 There's also a massive pipe organ installed in 1841 and a pulpit topped by a torravoz with Neo-Gothic dome and fringed by a "lacework" of metal and wood.
The separate, three-storey octagonal bell tower, topped by a domed roof, was built by Fr. Carlos Ubeda (1859 to 1865).  The stone and wood convent now houses the Holy Trinity Academy, founded in 1947.
Church of the Holy Trinity: Tel: (038) 538-9158 and (038) 501-1145. Feast of the Holy Trinity: Trinity Sunday (May).
How to Get There: Loay is located 22.1 kms. (a 30-min. drive) east of Tagbilaran City.
Bohol Tourism Office: Governor's Mansion Compound, C.P.G. Ave. North, Tagbilaran City, 6300 Bohol.  Tel: +63 38 501-9186.  E-mail: inquire@boholtourismph.com.
Panglao Bluewater Resort: Bluewater Rd., Sitio Daurong, Brgy. Danao, Panglao, 6340 Bohol.  Tel: (038) 416-0702 and (038) 416-0695 to 96. Fax: (038) 416-0697.  Email: panglao@bluewater.com.ph. Website: www.bluewaterpanglao.com.ph.  Manila sales office: Rm. 704, Cityland Herrera Tower, Rufino cor. Valera Sts., Salcedo Village, 1227 Makati City, Metro Manila.  Tel: (632) 817-5751 and (632) 887-1348.  Fax: (632) 893-5391.