Used as a military training camp for twenty years before World War II, the camp was converted into a concentration camp for U.S. and Filipino prisoners-of-war (POWs) captured at Bataan and Corregidor by the Japanese imperial forces. Nearly 2,000 Americans died of hunger and disease during the first two months of captivity.
On January 30, 1945, the camp and its 516 inmates were bravely rescued and liberated, without much bloodshed, by Alamo Scouts and the US 6th Ranger Battalion under Lt.-Col. Henry Mucci, with the assistance of Filipino guerillas led by Captains Eduardo I. Joson (Squadron 213) and Juan Pajota (Squadron 201) who effectively prevented the Japanese reinforcements from proceeding to the camp. This rescue was described as one of the most daring and successful missions of its type in the annals of US military history.
That event, now immortalized in marble in the elevated, circular Pangatian War Memorial (started in 1982 and inaugurated on May 4, 1985), also contains monuments and memorabilia of the events that transpired during the occupation. A long dirt road, between rows of cypress trees, leads to the memorial. The focal point is a huge marble niche with
simply the name "Cabanatuan" engraved on it.
The roof deck has a large mural of Filipino and American soldiers carrying each other, arm-in-arm,  in battle. The concrete foundations of a water tank, at the back of the memorial, is the only structure that remains of the original Pangatian Concentration Camp.
Two long memorial walls, at the far end of the compound, are inscribed with the names and ranks of the American servicemen imprisoned in the camp (some of them West Pointers). Atop a circular platform are two identical markers, one in English and  the other in Filipino, from the National Historical Institute.
The shrine, one of the few places in the country where the American flag flies side-by-side with the Filipino flag, is maintained and managed by the American Battle Sites and Monument Commission.  The Pangatian Heroes Hall, a second memorial inaugurated on April 6, 2003 on a piece of land adjacent to the U.S.-maintained memorial, is owned and maintained by the Nueva Ecija provincial government. Sitting in the middle of a lush mango orchard, it pays tribute to the Filipino guerrillas who participated in that momentous rescue.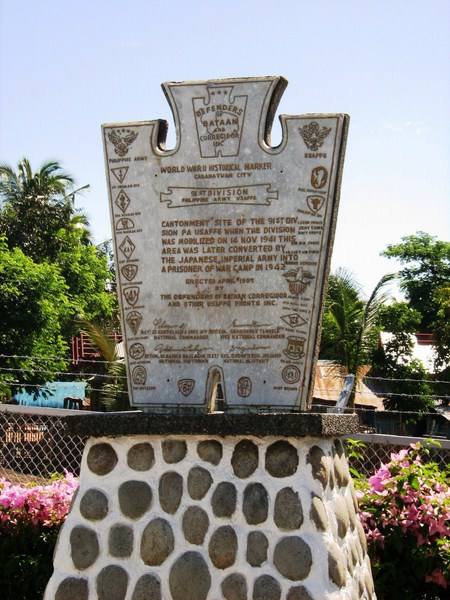 The rescue was made into a movie in 2005 called The Great Raid starring Benjamin Bratt, Joseph Fiennes, James Franco and local actor Cesar Montano as guerilla Capt. Juan Pajota.  However, unlike the film Baler, this was filmed, not in the actual site (nor in the country for that matter), but in Queensland, Australia.
Camp Pangatian: Cabanatuan-Palayan Rd., Brgy. Pangatian, Cabanatuan City, Nueva Ecija.
How to Get There: Camp Pangatian is located 8 kms. from Cabanatuan City.