After a lunch at Krokodeilos and tour of the nearby Mangrove Protection and Information Center (MPIC), we all went down a gangplank to Del Carmen's modular plastic floating dock and boarded two motorized outrigger boats for our boat tour to Sugba Lagoon (also known as Caub Lagoon).
Check out "Mangrove Protection and Information Center"
The 30 to 45-min. boat ride to the lagoon from the port was half the fun as we were to traverse wonderful and breathtaking scenery.
Initially, we entered Del Carmen's massive mangrove area with a backdrop of small green hills, passing fishermen on their boats, to some offshore islands.
Then, we went through a narrow passage that opened up into a large bay.  Here, we espied some small, thickly vegetated islands with sandy pocket beaches and small villages with houses on stilts.
Soon after, we reached the small, secluded Sugba Lagoon and its two-storey pavilion built by the local government unit to cater to visitors. At the pavilion, you can rent a table (PhP50). The lagoon, with an estimated area of 87 hectares, visually captivated us with its overwhelming natural beauty.
The clear green-blue, brackish waters, inhabited by different variety of fish, are surrounded by large rocky limestone hills that are home to a rich diversity of flora and fauna, different species of birds as well as endangered species of hardwood trees.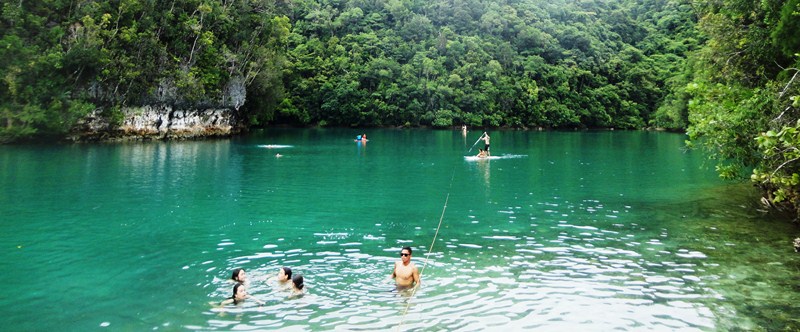 The lagoon is said to have gotten its name from the Visayan word sugba meaning "to grill," in reference to the smoke seemingly coming off the lagoon when it is covered with fog. With its nice and clear waters, it was perfect for swimming.
The water is quite deep but you can rent (PhP50) life vests if you don't swim. There are some jellyfish here but, apparently the small ones are harmless, but the big transparent jellyfish with long tentacles do sting.
Here, TJ and I tried stand up paddle boarding (rent: PhP600/ay or PhP200/hour).  The rest of our media group just stayed within the pavilion. You can also do snorkeling, kayaking or jump off from a 2 m. long wooden diving board of moderate height.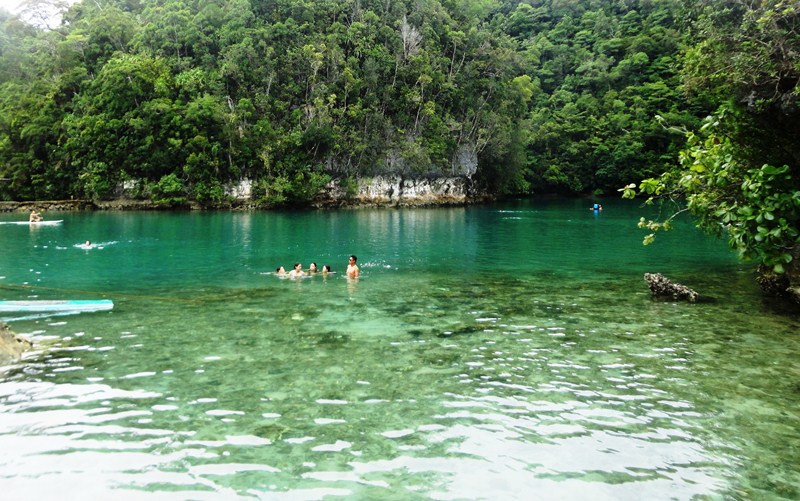 You can also rent rafts at the lagoon. You can get some decent lunch to take out at the Krokodeilos restaurant. So you won't be abruptly short on time, it is best to go there in the morning or noon as the place has a curfew in the afternoon unless you're booked for an overnight stay.
Sugba Lagoon: Brgy. Caub, Del Carmen 8418, Surigao del Norte. Admission fee: PhP250/group. At Del Carmen port, a boat ride costs PhP1,600 for 6 persons (additional PhP200/pax if there are more than 6 people in your group). If you have a guide with you, he gets in for free. You will also need to pay for a boarding pass of PhP50/boat.
Siargao Tourism Office: Paseo De Cabuntog, Brgy. Catangnan, Gen. Luna, Siargao Island. Mobile number: (0921) 718-2268 (Ms. Donna Grace T. Estrella – Siargao Tourism Coordinator).
How to Get There: Skyjet Airlines has daily, 100-min. direct flights from Manila (NAIA Terminal 4) to Siargao (Sayak Airport). ETD Manila at 6 AM (M8-421), ETA Siargao at 7:40 AM. Return flights: ET Siargao at 8:10 AM (M8-422), ETD Manila at 9:50 AM.
Skyjet Airlines: Manila Domestic Airport, Parking A, Terminal 4, NAIA Complex, Brgy. 191, Pasay City, Metro Manila. Tel: (02) 863-1333 and (02) 823-3366. E-mail: sales@skyjetair.com. Website: www.skyjetair.com.