From the Ngong Ping Village, we walked towards the bus terminal and boarded Bus 21 which leaves about every hour or so for Tai O (Chinese: 大澳) Fishing Village, a short 15-min. (6.7- km). drive via the Lantau Trail Section 4 and Tai O Rd.
Check out "Ngong Ping Village"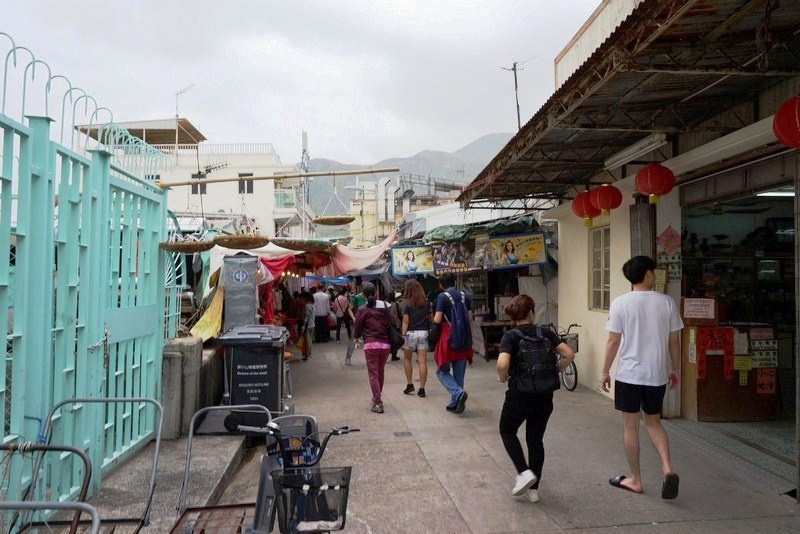 This quaint and picturesque fishing town is partly located on an island of the same name on the western side of Lantau Island in Hong Kong. Despite damage by a large fire in July 2000, Tai O is still a tourist spot for both foreigners and residents of other parts of Hong Kong.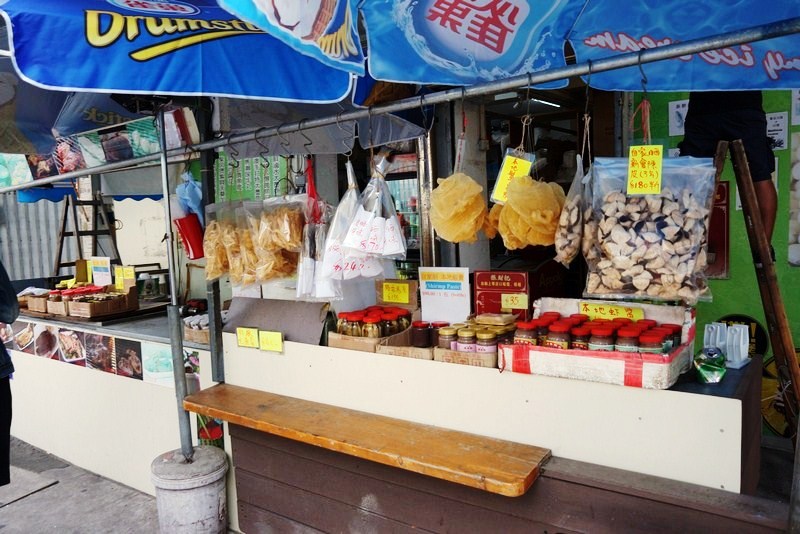 The village's name, meaning "large inlet," refers to the outlet for Tai O Creek and Tai O River which merges as it moves through Tai O. On the southwest part of Lantau Island, the Tai O River splits to the north (as Tai O Creek) and west.  At this fork lies the island referred to as Tai O.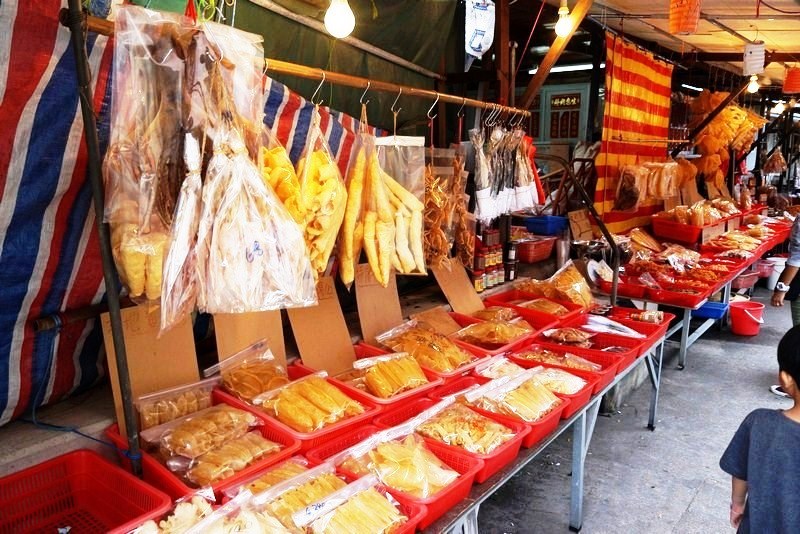 The village is located mostly on the banks of the Tai O River. Two pedestrian bridges cross the river on its northern and western forks. The western and northern parts of the island, facing the South China Sea, are uninhabited.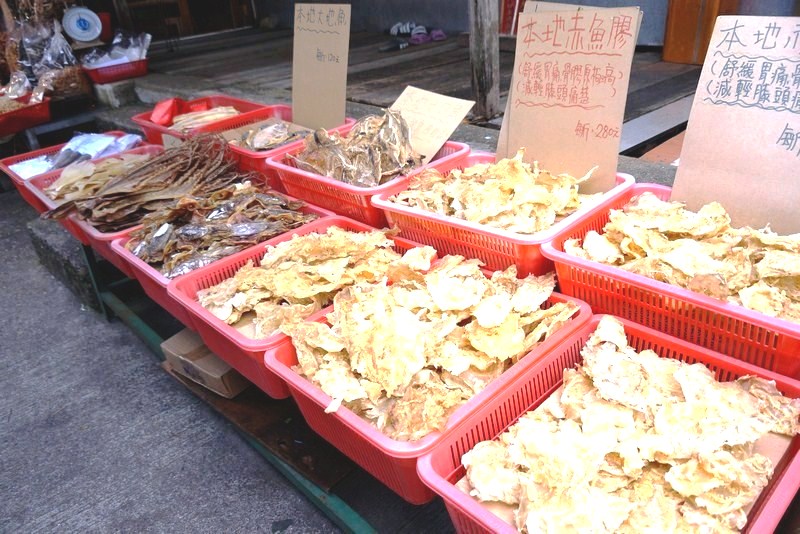 For a short time, Tai O was once occupied by Portuguese during the Battle of Tamao (a naval battle, in 1521, where the Ming imperial navy defeated a Portuguese fleet led by Diogo Calvo).
In 1729, a fort was built at nearby Fan Lau  to protect shipping on the Pearl River. When the British came to Hong Kong, Tai O was then known as a village of the Tanka, a community of fisher folk who've, for generations, built their houses on stilts above the tidal flats of Lantau Island.
During and after the Chinese Civil War, Tai O became a primary entry point for illegal immigration for those (mostly Cantonese) escaping from the People's Republic of China, some of whom stayed in Tai O.  Tai O also attracted people from other Hong Kong ethnic groups, including Hoklo (Hokkien) and Hakka.
Tai O used to be a very important trading and fishing port, but this is a thing of the past. Currently, while many residents still continue to fish, the fishing lifestyle in Tai O is dying out as it barely provides a subsistence income. Though there is a public school on the island, most of its young people move away when they come of age.  Today, tourism seems to be Tai O's drawcard with the Stilt Village it's biggest attraction.
Upon arrival at the bus terminus, we walked towards the lively, traditional seafood market.  A feast for the eyes (but, perhaps, not the nose), we strolled through its stalls and alleys, checking out the live seafood tanks and the vast array of dried traditional salted fish, shrimp paste, XO sauce, salted egg yolk, laogong bin (husband cake), vegetables (some of which we did not recognize), knick knacks and souvenirs (pearl jewelry) being sold at storefronts.
At the booth of Tai O Boat Excursion Limited, we boarded one its kaidos (small ferry boats that accommodates around 10-12 people) that would take us on an approximately 20-min. tour (which we booked beforehand online) along the river, for a close up view, of activity surrounding the harbor and the daily life in the stilt houses and, then, for a short jaunt into the sea.
Our ride first took us for a look at the stilt houses (pang uks) right over the waterway. In spite of the houses' dilapidated look, the village is still a quite scenic and enchanting photographer's paradise.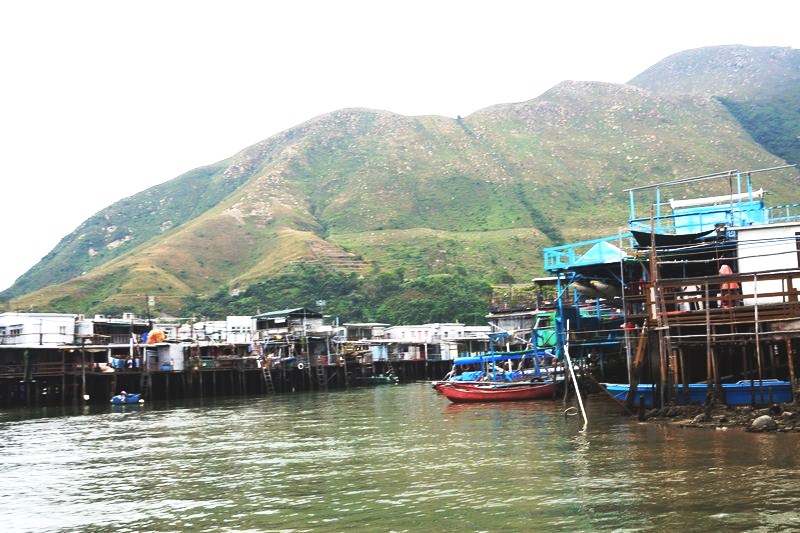 The unusual but traditional stilt houses, with its pretty setting on the coast framed by the mountains, is predominant of the old Southern Chinese fishing villages and one of the few remaining places where you can still see them in Hong Kong.
All interconnected, they form a tightly knit community that literally lives on the water. There are also cafes and restaurant alongside the river plus some old house boats.
After riding around the stilt village, our boat then headed out to the harbor and open sea. Before heading out to sea, we passed underneath the Tai Chung Bridge, a manually operated steel pedestrian drawbridge spanning the narrow creek dividing the town which replaced, in October 1996, a  rope-drawn "ferry," tended by local Tanka women for over 85 years, which used to be quite popular with visitors. The Sun Ki Bridge, completed in 1979, also connects the village to the mainland.
As we cruised along the harbor, we saw fishermen coming and going and cleaning and putting away catch and gear, all traces of what this active fishing port used to be. Out at sea, we saw some some beautiful cliffs and rock formations along the coastline of Lantau Island.
Many tourists also come to Tai O to see the sunset and, specifically, to take boat trips to see rare, endangered Chinese white dolphins (also known as "Pink Dolphins") but it was too early for the former and we didn't see any of the latter. From afar, we espied the Hong Kong–Zhuhai–Macau Bridge (HZMB), the cross-border mega bridge linking Lantau with Macau and Zhuhai which, incidentally, official opened on that day.
Though Tai O is known as the "Venice of Hong Kong" or "Venice of the Orient," don't expect too much of a comparison as its stilt house architecture is a far cry from that of the famous and romantic Italian city.
With Lantau Island becoming much more accessible, through new transportation options, and the new influx of tourists to the Big Buddha and Ngong Ping area, things in Tai O are changing fast.  Though still very much a quaint fishing village, sooner or later Tai O cannot escape the inevitable phase of development that is bound to come. Still, Tai O was definitely worth the trip from Hong Kong.
How to Get There:
From Central, take the ferry from Central Pier 6 to Mui Wo, then Bus No. 1 to Tai O bus terminus. The bus journey takes approximately 50 minutes.
From Kowloon, the easiest way is to get there is taking the MTR to Tung Chung Station, then Bus No. 11 to Tai O. From Tung Chung Station Exit B, take Ngong Ping Cable Car to Ngong Ping Village (approximately 25 minutes) then take Bus No. 21 (HK$6.6 on weekdays, for single journeys, and HK14 on Sundays and public holidays) to Tai O terminus (approximately 20 minutes). Sometimes Bus No. 21 fills up quick so, instead of waiting for the next one, consider a taxi (the taxi stands are right next to the bus stop). The taxi ride costs about HK50.At the terminus, walk for around five minutes to the steel drawbridge and then take a stroll along the waterfront.
By New Lantau Bus, Tai O can be reached from Mui Wo(Bus No. 1, HK$12 on weekdays, for single journeys, and HK20 on Sundays and public holidays), Tung Chung (Bus No. 11, HK$12 on weekdays, for single journeys, and HK120 on Sundays and public holidays) and Ngong Ping (Bus No. 21).
There are ferry piers on Tai O, close to Tai O bus terminus. It operates daily as the following routes connecting Tai O with Tuen Mun(Tuen Mun Ferry Pier, service by Fortune Ferry), Tung Chung (Tung Chung New Development Ferry Pier, service by Fortune Ferry) and Sha Lo Wan (operated by Fortune Ferry).
Tai O Fishing Village: Lantau Island, Hong Kong. Boat rides are offered by the locals and you will have no trouble getting on one.  As soon as you get off the bus or as you walk around the market, you will find somebody peddling their services. The boats depart from many points, including the bridge and the main marina, but they all cover the same main spots.  Prices for the boat rides are negotiable.  You are expected to pay about HK20 per adult (half for children) but, the bigger your group, the more leverage you will have.