Part 10 of the Bluewater Maribago Beach Resort & Spa-sponsored City Tour
Prior to our return flight back to Manila, our van made a stopover at Alegre Guitar Factory.  One of the remarkable guitar-makers in Cebu, it is, by far the most impressive-looking as well as the most well known guitar factory in Abuno, Lapu-Lapu City. Its world-class guitars, gently created, outstandingly strong, competitive and of extraordinary quality, have never cease to impress seasoned guitarists and musicians.
Here, we were to make a short tour of the facility.  Our very knowledgeable and accommodating guide explained how Alegre's quality guitars are all made by hand using imported wood  as well as indigenous woods (acacia, lauan, langka, mango and rosewood for backboard, and almasiga for the soundboard), with Philippine mahogany being one of the favorites.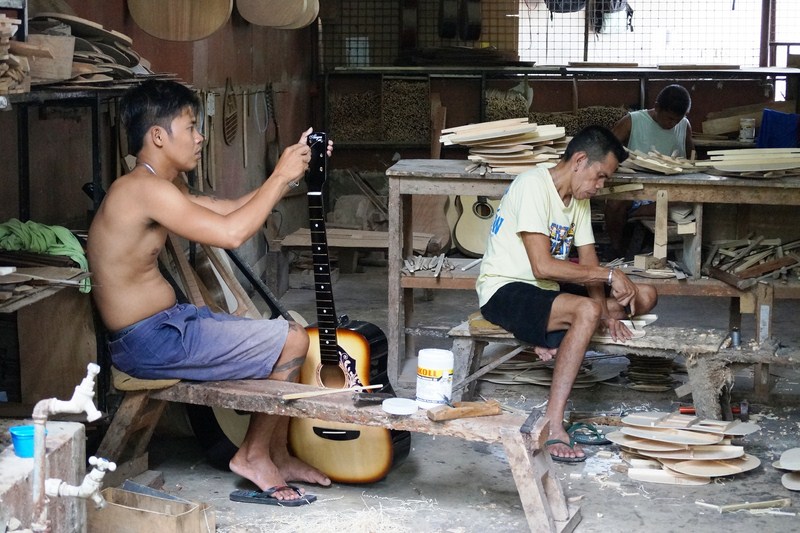 Imported wood used include German spruce, Engelman spruce and cedar from Canada; Sitka spruce from Alaska; palisander from Africa; black ebony from Madagascar and Indian rosewood. The type of wood used, as well as local shell ornaments, make one unique instrument.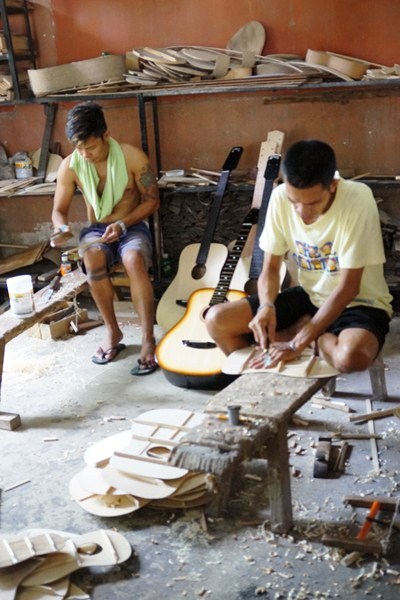 The assembly area was open for visitors and we were lucky enough to see some of the workers working, at different states of the process, on a guitar or a ukelele.  All the guitars are held together using glue and vises and twine hold the guitar parts in place during drying. However, due to health reasons, the area where they paint the guitars is closed.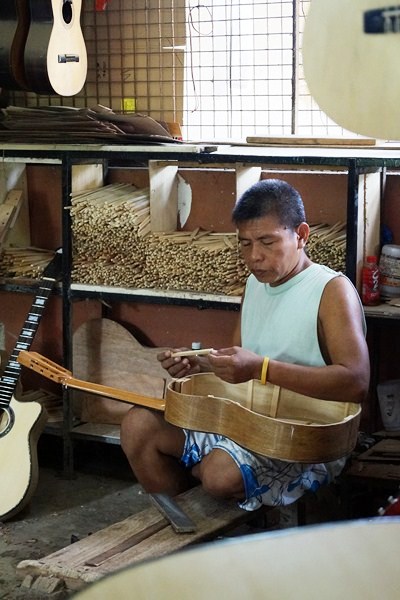 Our short tour ended in a boutique full of finished products of all kind of qualities and prices, its walls neatly arranged with standard guitars of every type (there's even a section for left-handed guitars as well) as well as other stringed instruments, all made by this guitar making family.
Prices for handmade guitars and ukeleles vary. There is a separate room showcasing the greater part of the top-quality and more expensive guitars that never stop to dumbfound the prepared, skilled guitarists and musical craftsmen.
Alegre doesn't just sell guitars and ukuleles. They also sell the bandurria (a Philippine version of the mandolin), bass fiddles and even cocoleles (the Philipine version of the Hawaiian ukelele using coconuts for the body).
In addition, there is also an area for buying souvenirs (can't play these).  Souvenirs, with prices anywhere from PhP150-900, include a tiny guitar with capiz shells in the front. They also have a wall full of pictures of artists, celebrities and famous musicians who previously visited their place.
During our tour, we interviewed current owner and manager Mr. Fernando M. Alegre, himself a professional musician. The Alegre family, one of the pioneers in the guitar-manufacturing business, is on its third generation of proprietorship.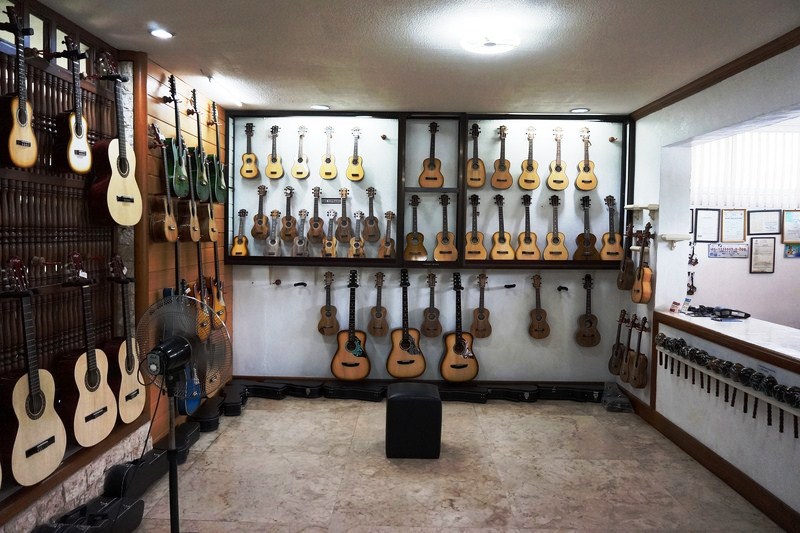 According to Mr. Alegre, the factory used to export guitars to to countries like Canada, Australia, Japan, and the United States but, as they get a lot of orders, they quit awhile back because the factory could not keep up with demand.  Still, people from all over come to buy the guitars made here.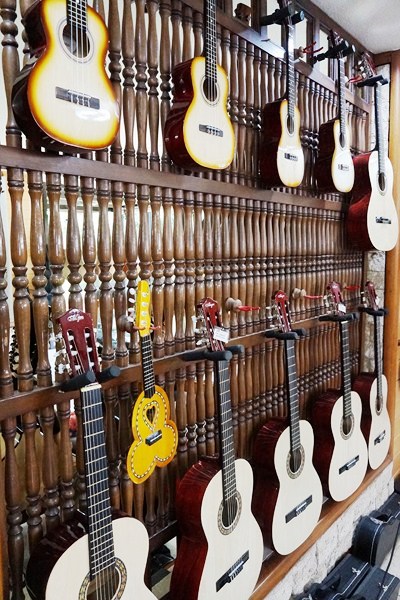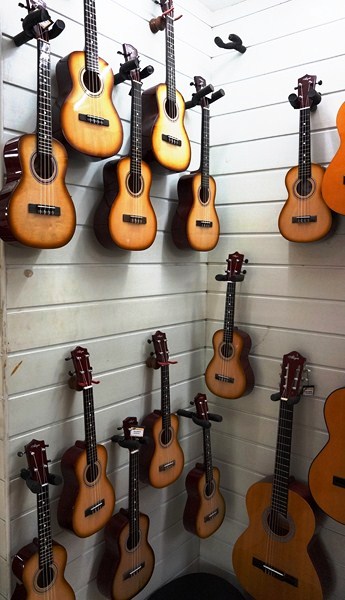 Our visit to this guitar manufacturing center was a great educational experience as we saw how guitars were made using different types of wood material. Aside from visitors, prospective buyers, who are interested in the different stages of guitar-making, can take a look at the workshop to witness the craftsmen do the actual guitar-making process.
Prices of Alegre-manufactured guitars and stringed instruments, compared to other guitar-selling shops, are quite expensive. The guitars range in price from around PhP2,000 (around US$40) to over PhP75,000 (around US$1,500). Still, you will get your money's worth as their guitars last for a considerable amount of time.
Alegre Guitar Factory: Pajac-Maribago Rd., Lapu-Lapu City, Cebu.  Tel: (032) 340-4492 and  (032) 505-0706.  E-mail: alegreguitar@yahoo.com.ph.
Bluewater Maribago Beach Resort & Spa: Buyong, Maribago, Lapu-Lapu City, 6015, Cebu. Tel: (032) 492-0100. Fax: (032) 492-1808.  E-mail: maribago@bluewater.com.ph.   Website: www.bluewatermaribago.com.ph.  Metro Manila sales office: Rm. 704, Cityland Herrera Tower, 98 Herrera cor. Valero Sts., Salcedo Village, Makati City, Metro Manila. Tel: (02) 887-1348 and (02) 817-5751. Fax: (02) 893-5391.