As a consequence of Typhoon Yolanda (international name: Haiyan) hitting Tacloban City and the ensuing tsunami-like storm surge, a number of ocean-going ships were beached. These hulking ships are fast becoming a tourist destinations by themselves. During my visit to Tacloban, 8 months after Yolanda, I made it a point to visit some of these huge boats.
A total of 10 commercial ships were were swept inland during the onslaught of Typhoon Yolanda. Eight were stuck in Rawis and Anibong Districts, one in Brgy. Diit, and one near San Juanico Bridge. In addition, two government vessels; a dredger found in Fatima Village in Brgy. 75, owned by the Department of Public Works and Highways; and a ship owned by the Bureau of Fisheries and Aquatic Resources; were also beached.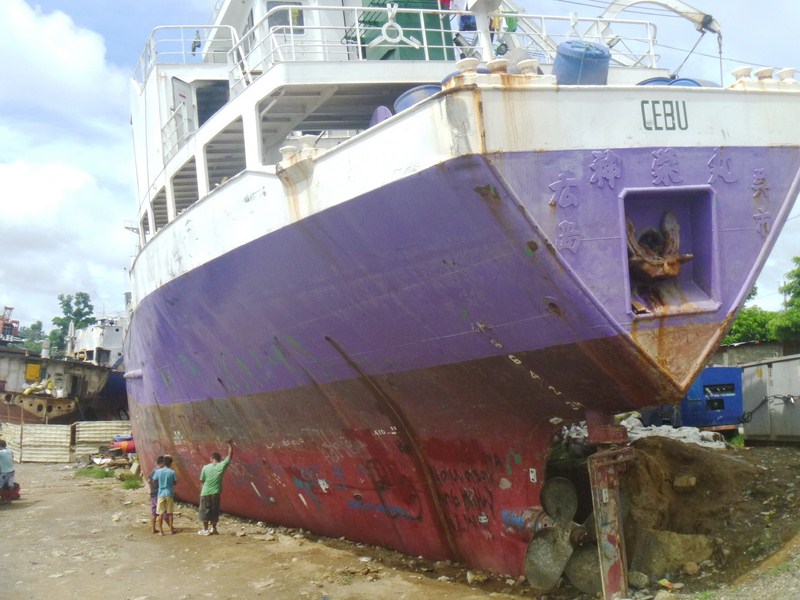 Five more ships were beached in Quinapondan and Guiuan (Eastern Samar) – the MV Eastern Samar (Lilygene Shipping Lines Inc in Guiuan, Eastern Samar, owned by Mr. Generoso Yu), the MV Lady of Fatima (owner unknown); and 2 tugboats (MT Maharlika-A and MT Maharlika-B) and a barge (Vicente Uno) of Vicente Lao Construction based in Davao City.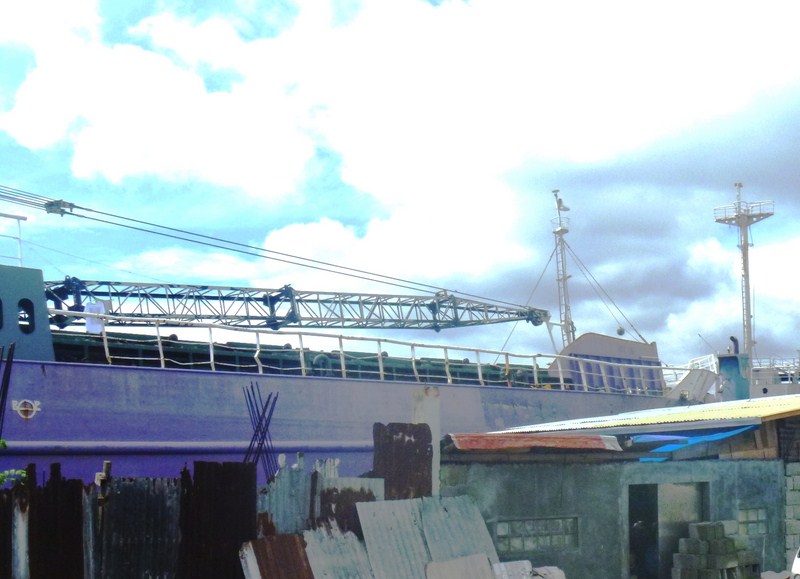 The MV Gayle (Unilink Shipping Corp., owned by Alfred Yanglua of Cebu), a big part of which was already floating on the water (making it easier to pull away from the shore), was removed from the shore last April in a salvage operation that lasted for 30 minutes. Afterwards, it was brought to Cebu City to be fixed (its propeller was destroyed and its engine needed to be replaced).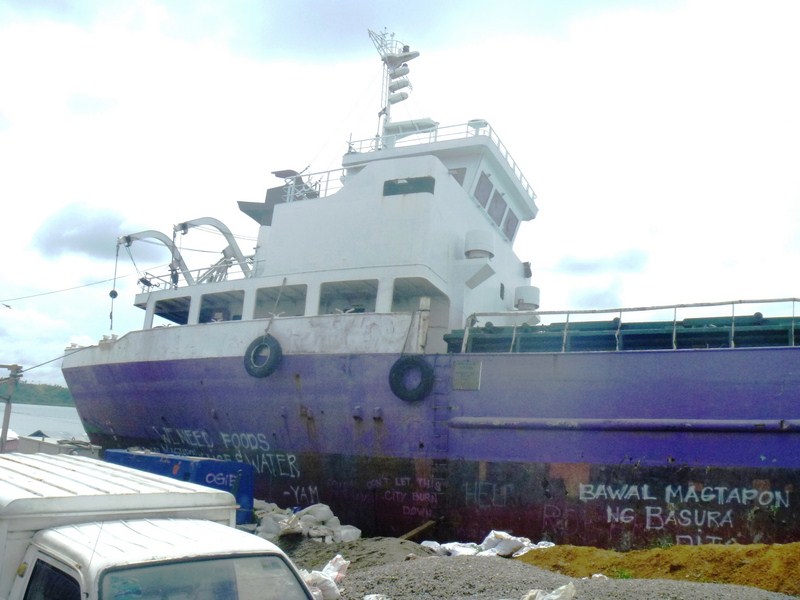 Nine other ships have yet to be removed – the MV Eva Jocelyn (Eva Shipping Lines of Mandaue City, Cebu); the  MV RKK 1 (RKK Shipping Lines, Inc.); the MV Star Hilongos (Roble Shipping Corp., owned by Joey Roble of Cebu); MV David Legaspi (Candano Shipping Corp., owned by Elena Candano of Tabaco City, Albay); the MV Jaguar (Tacloban Oil Mill of Tolosa, Leyte); the MV Ligaya V (Avega Brothers Integrated Shipping Corp. in Makati City); the MV Lancer (Matsya Shipping of Cebu City);  the MV Tomi Elegance (Tacloban Oil Mill ); and LCT Rosman (owned by businessman Richmond Ng of Quezon City, Metro Manila).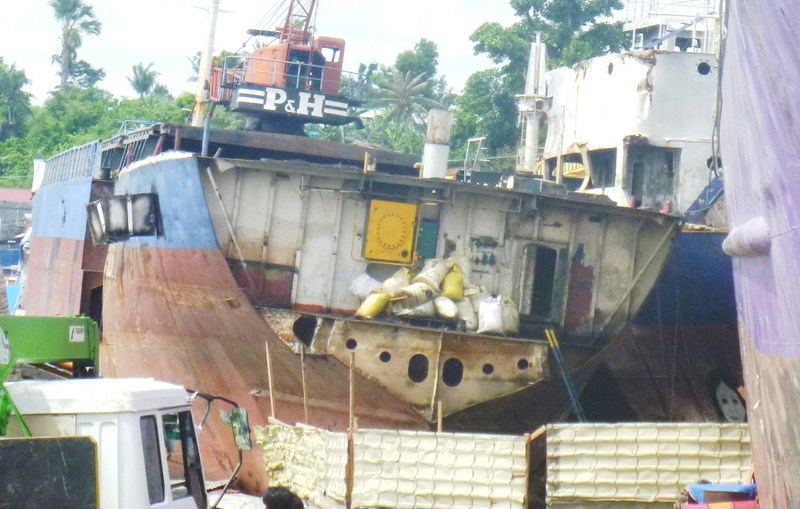 At Brgy. 68 (where the typhoon claimed 20 lives), we visited the 3,000-ton, red and blue MV Eva Jocelyn.  When the supertyphoon smashed through Tacloban, a dozen cinderblock houses were directly hit by the ship and 4 residents were later found dead, pinned by the ship. Now sitting on unstable ground composed of debris, this ship is tilting due to the movement of the deteriorating ground. This could crush surrounding makeshift houses that were repaired by their owners.  A bizarre sight was tourists having their picture taken right in front of this ship's massive hull that flattened homes and killed people.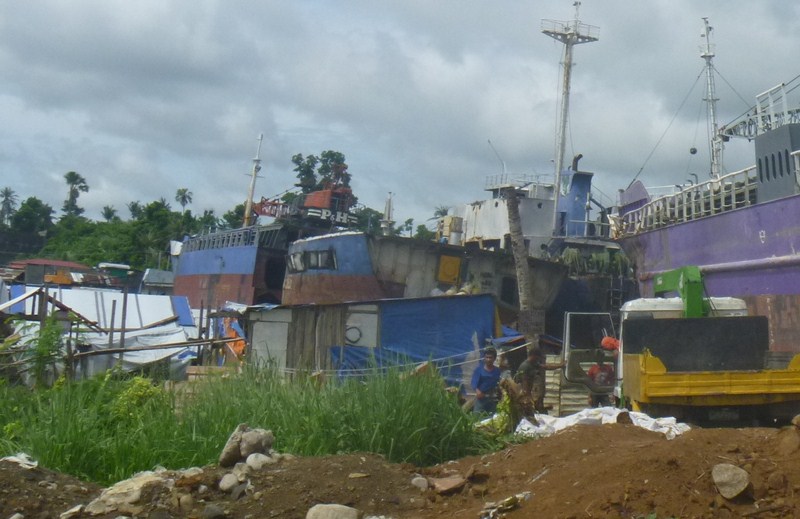 However, these beached ships are temporary "tourist attractions" as the Philippine Coast Guard (PCG) wants the ship owners to retract, refloat or make into scrap their vessels by the end of January or mid-February 2015, otherwise, the PCG would salvage the ships at the owner's expense.
The owners, however, appear hesitant to immediately remove the vessels because of unfinished documentation for insurance claims.  The residents want them removed as they have been "imprisoned" by these cargo vessels. They are also a painful reminder to them and hinder the removal and cleaning of the debris as well as in restoring the devastated coastal areas.