This natural, multi-level cave, part of several series of caves in the area, was said to have been discovered in 1901 (by a grandfather of one of the cave guides).  It was used as a local hideout by refugees during the Philippine-American War and by the Japanese during World War II.
We detoured to this cave before proceeding to Daranak Falls. It's a long and bumpy ride getting there since most of the road isn't paved yet and the cave isn't signposted that well.
This cave is mostly dry and many of the stalactites and stalagmites, though still impressive, are dead. The cave's name was derived from the word linaw (clear).  During the 15th-18th century, opposing parties used to convene inside the cave to settle disputes.  It's a long cave system with different levels and openings.
This cave has 7 levels but most visitors only explore the first two levels. The less visited and seldom explored Levels 3-5 are more challenging to explore as you may need to get your hands dirty.
It also requires squeezing your body to fit inside the narrow and small cave openings.  It can only be explored during summer as, during the rainy season, they're flooded and muddy. Levels 6-7 are closed. Our tour took about 30 mins.
Our guide Jason told us that one path leads to as far as the town of Montalban (others say that there are those that lead to the neighboring towns of Baras and Pililia).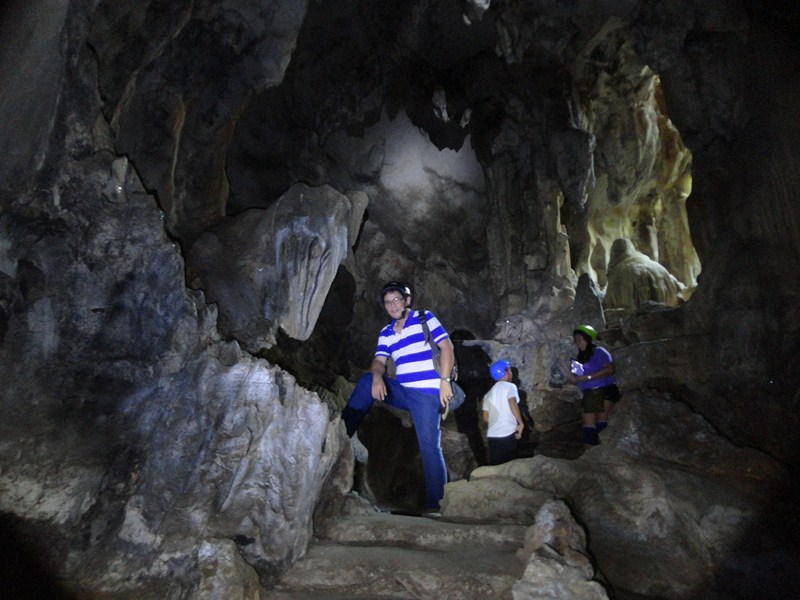 The local TV fantasy series "Encantadia" was filmed here and, more recently, the Coco Martin TV series "Ang Probinsyano." The TV series "Imortal" disturbed level 1 with silver and gray paint and glued glitters on the cave walls and other indelible and irreversible damage.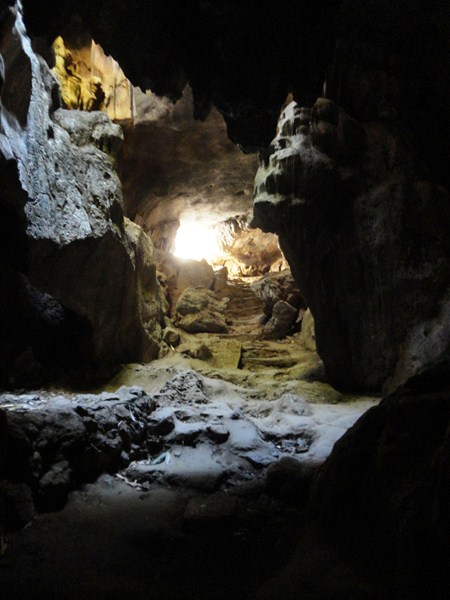 In case you get hungry or thirsty after the cave exploration, small sari-sari stores in the area sell sandwiches, soft drinks, halo-halo, mais con yelo, and biscuits.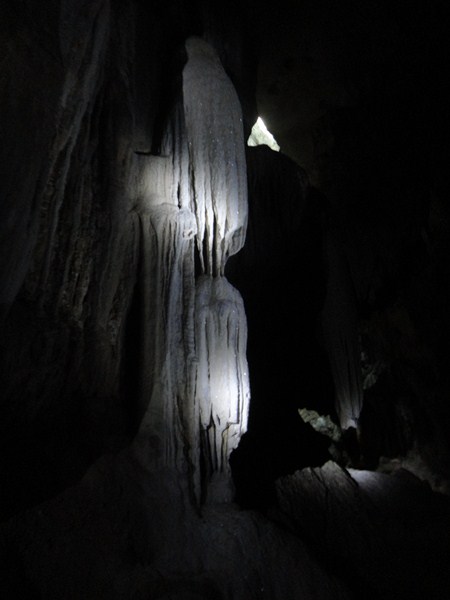 As a spelunking experience, this is a relatively easy cave to explore, requiring no technical or special skills, especially for the first 2 levels. Well suited for first timers with no previous spelunking experience.  Levels 3-5, taking about half a day to explore, are just satisfying enough for the veterans.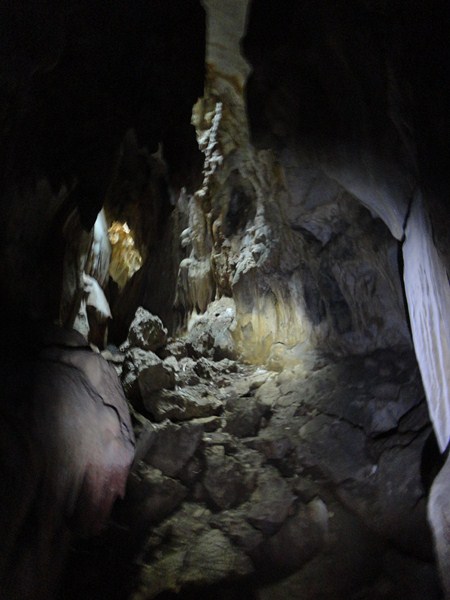 Calinawan Cave: Calinawan Road, Brgy. Tandang Kutyo, Tanay, Rizal. Admission: PhP20. Tour guide fee: PhP 200 (good for 10 pax). You are provided with safety helmets and LED flashlights (however, these are very weak and you won't be able to take great photos inside) as the second level of the cave has zero visibility. For that mandatory picture taking, use a camera with low light function. If you wish to explore layers 3-5, the guide may ask you for a consideration fee.
How to Get There: Calinawan Cave can be reached by tricycle (PhP200) from Tanay Market. For those with cars, there's a parking area in front of the cave entrance.
Tanay Tourism Office: G/F, New Tanay Municipal Hall, M. H. del Pilar St., Tanay, Rizal 1980.  Tel: (02) 7361059 and (02) 6551773 loc 212-213.  Mobile number: (0998) 988-1590. E-mail: tanaytourism11@gmail.com. Website: www.tanay.gov.ph.