Part 6 of the Bluewater Maribago Beach Resort & Spa-sponsored City Tour
The very first museum in South Cebu, this museum is housed in the former Carcar Puericulture Center and Dispensary, a two-storey hospital for women and children. Resembling a doll house rather than a medical institution, it was perhaps meant that way to dispel the fears of the patients.
An excellent example of American-era civic architecture in the Philippines, this ornate and gracefully designed dispensary was initiated by Mayor Mariano Mercado in 1929 and inaugurated by Ms.Flora Base Mercado, the mayor's wife, in 1937 with Gov. Sotero Cabahug in attendance.
The building was inaugurated as the Carcar City Museum on July 8, 2008, during Carcar's first anniversary as a city.
This outstanding, beautifully restored white painted architectural landmark has a profusion of artful latticework, semicircular transoms, carved barandillas (railings) and mini-canopies and stained glass window panes. Beside the museum is a small gated park that pays homage to Don Mariano Mercado, who was responsible for many of Carcar's beautiful landmarks.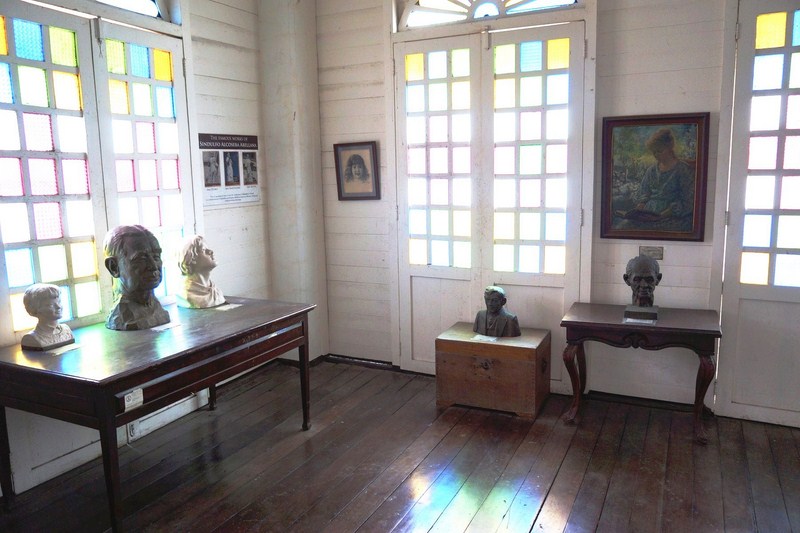 Its galleries, in several rooms, feature objects with historical, cultural and artistic relevance such as a traditional corn milling stone, antique furniture, winning costumes used by Carcar contingents in numerous artistic performances, women's clothing worn during that era, religious artifacts, leather cutters, kitchen utensils, journals, paintings, war weapons, medical tools, musical instruments and old news clippings about Gen. Pantaleon "Leon Kilat" Villegas.
On the museum walls, visitors can see a chronology of events that took place in Carcar from the Pleistocene period up to the present. The terrace (terasa) is the best place to feel the cold breeze from the outside. 
Carcar City Museum: Carcar Square, Carcar City, Cebu.  Open Mondays to Saturdays, 8 AM to 5 PM. Admission: free.
Bluewater Maribago Beach Resort & Spa: Buyong, Maribago, Lapu-Lapu City, 6015, Cebu. Tel: (032) 492-0100. Fax: (032) 492-1808.  E-mail: maribago@bluewater.com.ph.   Website: www.bluewatermaribago.com.ph.  Metro Manila sales office: Rm. 704, Cityland Herrera Tower, 98 Herrera cor. Valero Sts., Salcedo Village, Makati City, Metro Manila. Tel: (02) 887-1348 and (02) 817-5751. Fax: (02) 893-5391.