Upon checking in and lunch at Sebay Surf Central  Resort, we began our half day tour with Mr. Lawrence Fontanilla "Amar" Carbonell as our guide.  We proceeded to the nearby town of Luna where we first visited the Bahay na Bato Open Art Gallery, the newest tourist destination in Luna. Built way back in 2000, the attraction was originally just meant to be a family rest house for its owners, Dr. Edison and Dra. Purita Noble.
However, in 2014, Luna Mayor Marvin Marron saw the potential of this property as a tourist attraction, thinking that the house could attract visitors.  Marron persuaded the owners to open the property to public and the municipal government extended help in the development of the new tourist spot, putting up promotional materials along the town's major roads and helping in processing the registration of the site as a full-fledged tourist attraction.
The Bahay na Bato premises offers numerous stone carvings, masterpieces created by South Korean national Mr.  Vong Kim, the in-house sculptor for the tourist site. Imelda Montison and Gloria Dizon, the rest house caretakers, and their families serve as the staff for the Bahay na Bato. Other residents were hired to serve as security and maintenance aides. Montison's daughter, Beverly, who serves as the manager is married to Kim.
Luna's shorelines are covered, not with fine sand, but with an unending supply of stones of various colors, shapes and sizes that seem to be replenished year by year, a mystery that has long baffled the community, some of whom believe that these stones are gifts from heaven.  These stones are  sold to become construction materials or garden ornaments.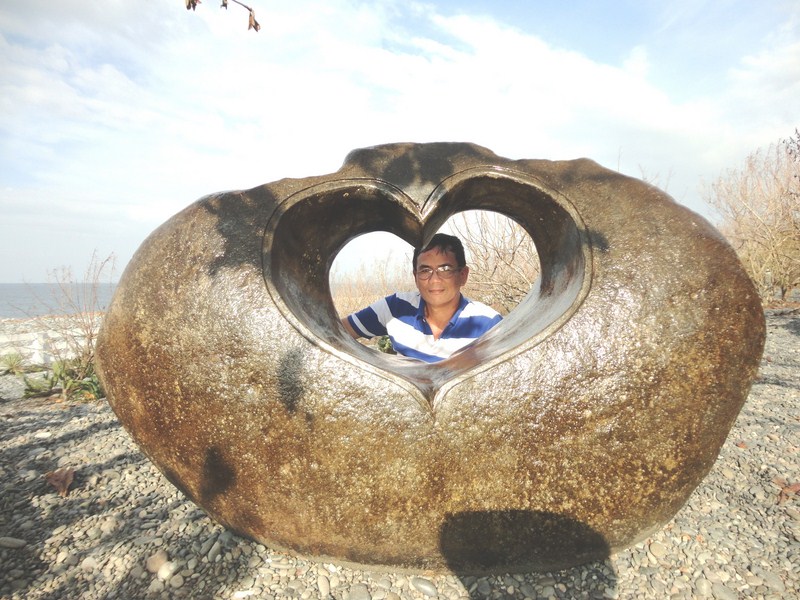 Using handpicked stones, Kim, with a great deal of imagination, carved figures out of the stones and boulders and these creations are now displayed in the Bahay na Bato Open Art Gallery. Kim also trained the local artisans on stone carving, a new way of making money out of these jewels for the locals who live near the beach area.
Today, droves of tourists come here to visit this new attraction and its magnificent works of art. The local tourism office has recorded a staggering number of visitors. In December 2014, it registered more than 10,000 visitors, and another 7,800 for January 2015. On one corner, stone faces greet us with cryptic smiles while on the other, stones are piled according to size and color. Further on, we saw boulders shaped as turtles, fish, flowers, hearts and even phalluses.
The 2-storey main house by itself is not entirely built with stones as wood also encompasses the area surrounded by green trees that dance with the sound of the waves coming from the beach.. As we passed through the entrance, huge carved art stones welcomed us. The ground floor, with speckled, palm-size pebbles for flooring,has two private rooms, one facing the beach area and the other one facing the swimming pool area.  The reception area has fabulous dining wood furniture.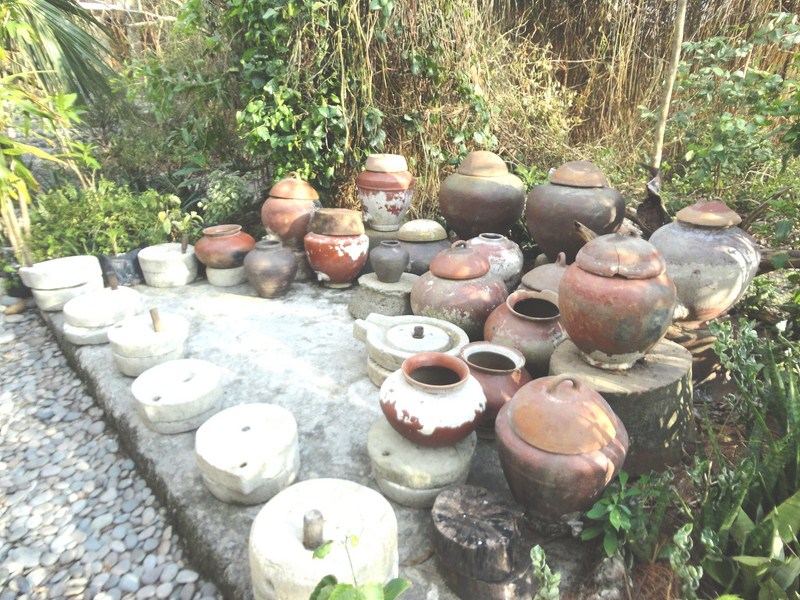 Carved stones, of various shapes and sizes, are cleverly placed along the hallway. The second level, with its panoramic view of the pebble beach and the lawn is surrounded by various carved stone artifacts, showcases World War II items such as kerosene lamps, charcoal iron, water canteens (kantina), carbide lamps, wooden trunks and stainless steel kitchen utensils .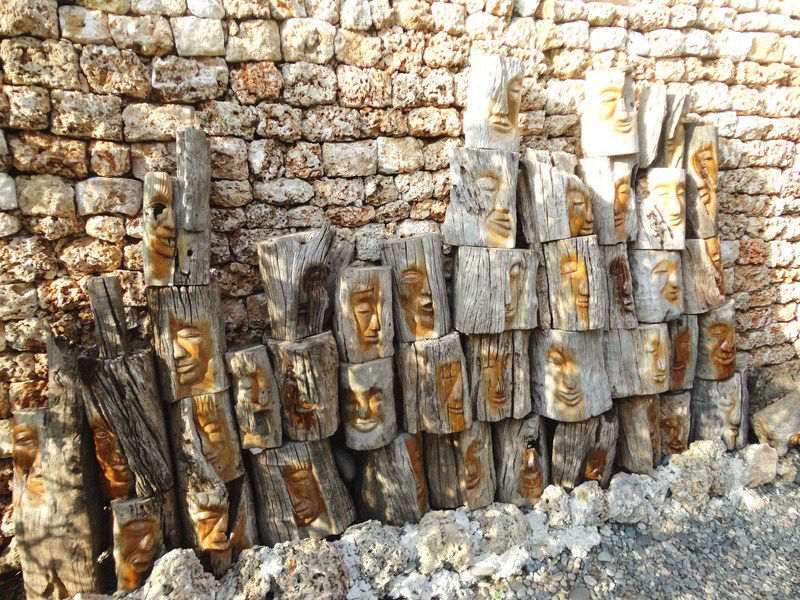 Bahay na Bato Open Art Gallery: Brgy. Nalvo Norte, Luna, La Union. Open daily, 6 AM to 8 PM. Admission: PhP20.00 (kids below four years old are admitted in for free).
How to Get There: Luna is located 267.48 kms.  from Manila and 34.8 kms. north of the City of San Fernando.  Air conditioned buses from Dominion Bus Lines, Philippine Rabbit, Partas, Fariñas, Maria de Leon, and Viron depart from terminals in Manila that is bound for Ilocos. Destinations can either be La Union, Narvacan, Vigan, Laoag or Abra. Just tell the bus attendant that you are going to Luna.