One of the highlights of our Holy Week sojourn in Ilocos Norte was our Onse Reef Off Road & Sandboarding Adventure.  From Pamulinawen Hotel, Jandy, Melissa, Almira, Albert and I had to take a 17-km./25-min. jeepney ride to Paoay town proper.  From there, we all boarded a tricycle for the 20-min. drive to the sand dunes. As we neared the dunes, Albert and I had to alight as the tricycle had a hard time climbing up a dune. Upon arrival, we met up with Mr. Jake A. Texon, the Operations Manager.
Ilocos Norte is the only place across the Southeast Asian region where one can find a desert environment. Technically known as the "Ilocos Norte Sand Dunes," it spans four Ilocos Norte towns. In 1993, due to its superlative natural beauty, geological uniqueness and scientific relevance, the sand dunes have been declared as a National Geological Monument (NGM) in the Philippines (other NGM sites include  the Hundred Islands National Park off  the coast of Pangasinan, the Taal Lake and Volcano Protected Landscape in Batangas, and the Chocolate Hills in the island of Bohol). The dunes have been used as the setting for the desert scenes in for Mel Gibson's "Mad Max" (1979), Tom Cruise's "Born on the Fourth of July" (1989) and local blockbuster flicks such as Nora Aunor's "Himala" (1982), the "Ang Panday" series and "Temptation Island" (2011).
The sand dunes of Ilocos Norte, a one of a kind "extreme adventure" destination in the Philippines, is also ideal for 4 x 4 rides, similar to dune bashing in the Emirate of Dubai in the United Arab Emirates (a booming tourist attraction in the Middle East), and sandboarding. Dune bashing has the feeling and excitement of riding a roller coaster because of the up and down route of the off-road vehicle through the very high and very steep terrain and mountain-like features of the dunes.
The Paoay Sand Dunes, 88 hectares of wide expanse of sand, has the vast sandy characteristics of the Dubai desert (though the sand there is considerably pure because it doesn't have particles like twigs, barks, stones and leaves), making it suitable for dune bashing and sand boarding.  However, the vehicles used in Dubai (such asToyota Land Cruisers) have roofs while the jeeps in Paoay are open-air and only have a single roll bar.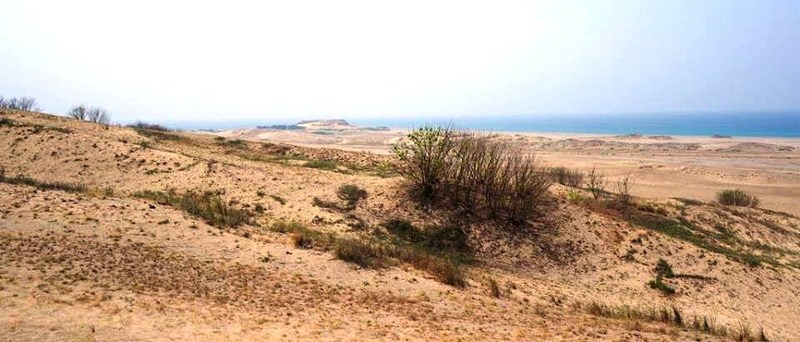 In 2011, during our Lakbay Norte Media Tour, we tried the dune bashing and sandboarding at La Paz in Laoag City.  However, it is widely accepted that Paoay boasts the best terrains there are to find in the sand dunes complex and, recently, an outdoor group discovered an area in the village of Bacsil that is a good addition to the options present for sand dunes safaris.  This I wanted to find out.
How do the sand dunes of Paoay differ from earlier established commercial areas in the sand dunes complex? For one, it was only recently discovered so its terrain is as pristine as they can get plus not many tourists have visited the place. Also, the combination of wide sandy plains, clusters of closely-formed dunes, several oases and outlying vegetation plus a good view of the coast towards the West Philippine Sea, and the height of its dunes (some at 70 m. high) will surely not disappoint anyone visiting Bacsil. Aside from Onse Reef Off Road & Sandboarding Adventure, there are two other registered 4 x 4 operators at the Paoay sand dunes – Suba Sand Dunes and Culili Point Sand Dunes Double-Extreme-Adventure.
Onse Reef Off Road & Sandboarding Adventure, according to Jake, was established on October 28, 2014 as a 15 member club whose members pitch in their time, talent and treasure to build the place. It has 21 4 x 4 units – five locally-manufactured Wrangler-type jeeps, 14 Toyota Land Cruisers and two modified Toyota Surfs, all diesel-powered and tuned for dune bashing by being equipped with large tires (underinflated to 10 psi) and heavy duty suspension systems.  Conversions usually cost PhP400,000 per unit.
All units are manned by 25 drivers and 40 guides (who also teach sandboarding). The drivers and guides have to strictly adhere with safety nets for their passengers who are standing in open jeepney vehicles. Drivers also stay on existing tracks and areas, and do not create new ones in the limited vegetation, so they are caring for the area. For the site to become globally competitive, without disturbing the natural ascent, descent and curbs of the place, the trails were designed in consultation with expert adventure builders in the U.S.A., with names such as the "Snake Pit," the "Devils Ride," the "Blind Drop," the "Triple Fall," the "Roller Coaster," etc.
We tried out the dune bashing first. We hopped on the back of our blue Toyota Land Cruiser and, in a standing position (you can also do it seated but it is less fun), were asked to hold on tight to the roll bar. No seat belts, harness or head gear at all. Our 4 X 4 ride was more thrilling and enjoyable than any roller coaster ride I have ever experienced and we all felt a different kind of rush as we watched the road from above and screamed for our lives during the times when we felt like the vehicle would topple over.
You must have strong grip to prevent being thrown out, plus a strong heart to last the trip.  The drive on bumpy routes and very steep 45 degree angle downward slopes were very exciting. The driver knew how to give us an adrenaline rush. We soon learned how to move with the vehicle, especially on high deep hills and side-winding curves. It's literally like riding a wild horse and surely an experience I'd be glad to do again.
We made a stopover on top of the dunes for some photo shoots. As we arrived during the long arid dry season, the dunes before us were barren and brown, with only wild grasses, shrubs and some sturdy trees. The beautiful, late afternoon sunset here, along the crimson skyline, is also said to be indescribable.  We also learned that offshore is Onse Reef, a 12-hectare-protected marine sanctuary and a beautiful diving site located within the territory of Barangays Bacsil, Mumulaan and Nagbacalan.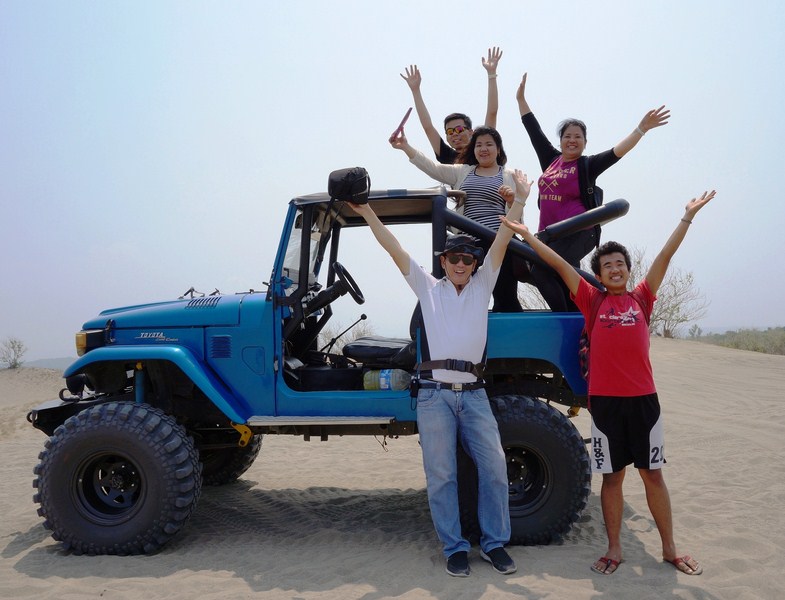 After our 4 x 4 ride, the others tried sandboarding, an insane sport which, though so much harder than surfing and a little easier than wakeboarding and skiing, was still worth trying. All you need here is body balancing. You need to squat in order to balance and properly surf. Each tried to keep their balance on the stretch of roughly 10 to 15 m. run with the board still on their feet.  The board is geared up with oil to make it glide smoothly over the sand but still they tumbled. Good thing the sand is soft, with no rocks.
However, falling from the sand boards would get lots of sand in your pants. Only Melissa made a successful run while seated on the board. Though you would tumble down at first, you'll get the hang of it after two or more tries. You will have to walk up the slope every time you surf down and the hard part is just climbing up the sand hill again as it does get very tiring.
A very nice place to test your nerves, don't leave Paoay without trying dune bashing and sandboarding! It's both exhilarating and scary and good for adrenalin junkies. It also gives you the authentic feeling of being in the Middle East as you do not have to travel to Dubai just to experience this. The drivers and the guides all make sure that you get a thrilling ride going up and down the sand dunes. It's absolutely fun. At the staging area, there is a store that sells snacks, halo-halo and souvenirs.
It is best to try dune bashing when the sun's not too punishing. As they operate as early as 5 AM, you can try out dune bashing either very early in the morning or late in the afternoon (to also view the nice sunset) as the really fierce heat of the noontime sun can burn your skin. Don't go there between 10 AM and 4 PM. Bring bottled water with you, as it does get dry and tiring, bring sunblock lotion, a small towel plus wear sunglasses, rubber shoes (because the sand is hot) and a hat that won't blow off.  Also make sure to have extra clothes and be prepared to get dirty. For those who want to take videos, better use a small camera that you can attach to its stand and hold it in front of you, since it will be hard to hold on to the big cameras while your ride is going down fast.
The 4 x 4 ride and sandboarding is not for the faint hearted, anxious, nervous, pregnant, the newly operated, have high blood pressure, fractures, epilepsy or heart disease. Only children 10 years old and above are allowed at the back of the vehicle.  Participants have to sign a waiver.  Peak season is summer, weekends and December.   Rates: PhP1,500 for a 30- minute ride and PhP2,500 for a 1- hr. ride. Maximum number of people is 5.
Onse Reef Offroad & Sandboarding Adventure: Brgy. 23, Bacsil, 2902 Paoay, Ilocos Norte. Mobile numbers: (0919) 650-4633 (Smart), (0917) 503-9543 (Globe), (0921) 738-0616 (Smart) and  (0999) 710-2779 (Globe). Email: Paoay.sandunes@yahoo.com. . Website: www.onsereef.com. Open daily, 5 AM – 7 PM.