The Museum of Modern Art (MoMA),  an art museum located in Midtown Manhattan, is one of the largest and most influential museums of modern art in the world. MoMA's admission cost of US$25 makes it one of the most expensive museums in the city.
However, it has free entry on Fridays, sponsored by clothing company Uniqlo, after 4PM and this we availed of. As such, the museum was more crowded (including the inevitable Oriental selfie snappers) than I would have liked and it was hard to move around but who can complain?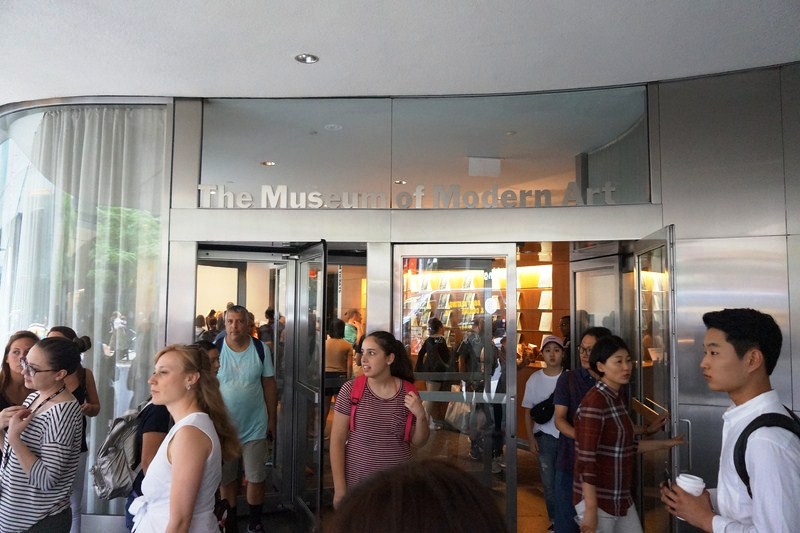 Photography (minus the camera flash) was allowed here, though my pictures didn't capture the impact of the in-real-life viewing. There are 5 floors of artwork to admire and the huge galleries, whose overall chronological flow presents a perspective of stylistic progression and place in time, were well laid out. I allow a minimum of two hours to explore the museum.
MoMA  has been important in developing and collecting Modernist art and its collection offers an overview of modern and contemporary art, including works of sculpture,  architecture and design, drawing, painting,  photography, prints, illustrated books and artist's books, film and electronic media.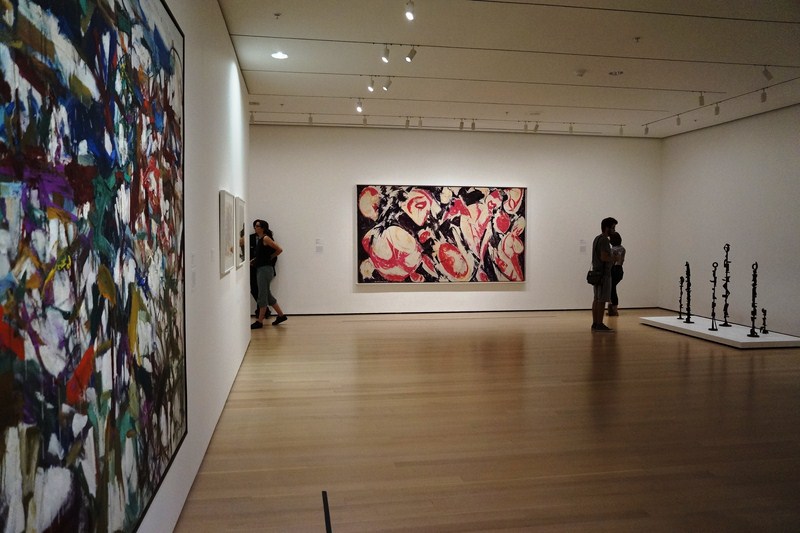 A private non-profit organization, MoMA is the seventh-largest U.S. museum by budget (its annual revenue is about US$145 million, none of which is profit).
MOMA is considered, by many, to have the best collection of modern Western masterpieces in the world.  Its holdings include more than 150,000 individual pieces in addition to approximately 22,000 films and 4 million film stills (access to the collection ended in 2002 and the collection is mothballed in a vault in Hamlin, Pennsylvania).
All the classics were here and it was moving, inspiring, immersive and absorbing but also a bit overwhelming. The nicely curated collection at the fifth floor houses such important and familiar works as the following:
It also holds works by a wide range of influential European and American artists including Georges Braque, Marcel Duchamp, Walker Evans, Helen Frankenthaler, Alberto Giacometti, Arshile Gorky, Hans Hofmann, Edward Hopper, Paul Klee, Franz Kline, Willem de Kooning, Dorothea Lange, Fernand Léger, Roy Lichtenstein, Morris Louis, René Magritte,  Joan Miró, Henry Moore, Kenneth Noland, Georgia O'Keeffe, Jackson Pollock, Robert Rauschenberg, Auguste Rodin, Mark Rothko, David Smith, Frank Stella, and hundreds of others.
Many of the paintings have an audio option which is great for some background information.
Seeing the original painting of Vincent van Gogh's famous The Starry Night was certainly a moving experience that I shall not soon forget. I could actually see the layers and layers of paint, the small brush strokes and all of the colors of paint that are far more vivid on canvas.
Claude Monet's Water Lilies triptych, breathtaking to see in person, was also a big highlight worth seeing. The Picasso's were also stunning, It was also great to see the full set of Andy Warhol, Campbell's Soup Cans.
An acquired taste is required for the 3rd and the 4th floors which were very contemporary and not to my liking. The perplexing abstract pieces, using garage components such as snow shovels and car tires hammered (which begs the question "what was that supposed to be?"), didn't excited me but they were still worth seeing how imaginative (and indulgent) modern artists have become.
Certain pieces here challenged my preconceived ideas, making me scratch your head and ask the question "Is that's art?" upon seeing 7 boards of wood painted white being called art.
The very informative Frank Lloyd-Wright exhibit, with its original drawings (painstakingly rendered the old fashion way), blueprints, sketches and models for many of his projects (both completed and proposed); was very interesting.
Articles about the the myth of the great American architect provide interesting insights into his thinking and inspirations, portraying how advanced his ideas were in many ways.
MoMA's Department of Architecture and Design, was founded in 1932, is the first museum department in the world dedicated to the intersection of architecture and design.  Philip Johnson, the department's first director, served as curator between 1932–34 and 1946–54.
The collection consists of 28,000 works including architectural models, drawings and photographs and one of its highlights is the Mies van der Rohe Archive. It also includes works of legendary architects and designers Frank Lloyd Wright, Paul László, the Eameses, Isamu Noguchi, and George Nelson.
The Design Collection contains many industrial and manufactured pieces, ranging from a self-aligning ball bearing to an entire Bell 47D1 helicopter.
In 2012, the department acquired a selection of 14 video games, the basis of an intended collection of 40 which is to range from Pac-Man (1980) to Minecraft (2011). The world-renowned Art Photography Collection, founded by Beaumont Newhall in 1940, includes photos by Todd Webb.
The building also features an entrance for school groups, a 125-seat auditorium, an orientation center, workshop space for teacher training programs, study centers, and a large lobby with double-height views into the beautiful outdoor Sculpture Garden, at the mile of the museum, which features Aristide Maillol's The River, a great statue of a woman diva laying on her back above the water.
From about 1.5 million a year, MoMA has seen its average number of visitors rise to 2.5 million after its new granite and glass renovation. In 2009, the museum reported 119,000 members and 2.8 million visitors over the previous fiscal year.
During its 2010 fiscal year, it attracted its highest-ever number of visitors of 3.09 million. However, in 2011, attendance dropped 11% to 2.8 million.
Since its founding in 1929, the museum was open every day until 1975, when it closed one day a week (originally Wednesdays) to reduce operating expenses. In 2012, it again opened every day, including Tuesday, the one day it has traditionally been closed.
The museum's awesome gift shop had a lovely selection of gifts such as magnets, prints and more unique items like socks and scarves with art on them as well that summed up all of the amazing art throughout the museum. 
Museum of Modern Art (MoMA): 11 West 53rd St. (between Fifth and Sixth Ave.) , New York City, NY 10019, USA. Open 10:30 AM – 5:30 PM (8 PM on Fridays). Admission: US$25/adult, children below 12 years old is free. 
How to Get There:
Bus: Any line to 53rd Street
Metro: Any line to Fifth Avenue or 53rd Street