This church, once the largest church in the province during the latter part of the 19th century, was first constructed in the 16th century but burned down in 1745. The succeeding brick church, built towards the west of the former, was begun by Fr. Jose Salvador in 1747 finished by Fr. Francisco Barroso, OP, in 1754.
During World War II, the church was heavily damaged (only the walls and the partly damaged bell tower were left after shelling by American warships from January 7-9, 1945) and later rebuilt.
AUTHOR'S NOTES:

This church's 3-level, relatively simple Baroque brick (now plastered over) façade has  semicircular arched main entrance, flanked by semicircular arched windows, at the first level; and a semicircular arched statued niche, flanked by semicircular arched windows, at the second level.

On display in front of the church is a huge 1880 bell that bears the logo Fundicion de Metales de Santos Supangco.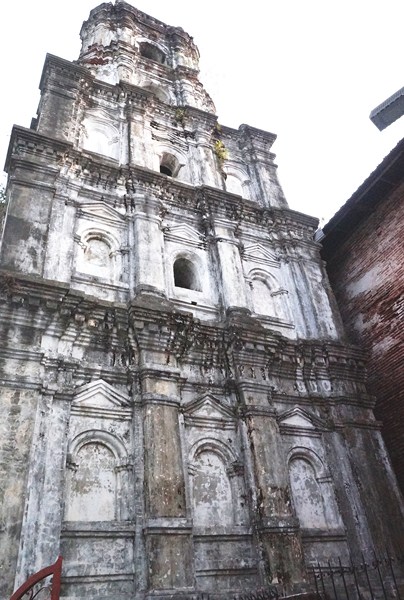 The segmental pediment, separated from the second level by 3 rows of cornices, has a recessed octagonal window (above which is a cornice and a centrally located seal in the tympanum) flanked by smaller, recessed octagonal windows. The huge scrolls flowing down from the base of the pediment are typical of the Italian Baroque style.

The 5-storey, square bell tower, on the church's right, has blind semicircular arched recesses (canopied with triangular segments), at the the first 3 storeys, and semicircular arched open windows at the receding upper levels.  It has 3 bells. One bell, weighing 4,130 pounds and cast in 1804, was once of the three biggest bells in the Philippines.
The church measures 94 m. long and 16.8 m. wide. Juan Fuentes y Yepes, the Bishop of Nueva Segovia, is buried here.  The 35 m. long  transept has a high dome with 4 windows and is supported by 8 elegant columns with Composite capitals. The interior also houses 5 exquisite altars.
Church of Our Lady of the Purification: Urdaneta Junction, Dagupan–Binmaley Road, Poblacion, Binmaley 2417. Tel: (075) 540-0047.  Feast of Our Lady of Purification: February 2.
How to Get There: Binmaley is located 223 kms. from Manila.