Sheridan Beach Resort & Spa Media Tour
Upon checking in and having lunch at the Sheridan Beach Resort & Spa, Lester, Charmie, Joy and I walked along Sabang Beach towards the wharf for the first of our resort-sponsored activities – a visit to the world-renowned Puerto Princesa Underground River (PPUR).
This beautiful 5,753-hectare national park and terrestrial reserve, considered as one of the most important biodiversity conservation areas in the country, is also is one of the few places where a full mountain to sea ecosystem still exists.  Around the park are the ancestral land domains of at least two indigenous cultural communities (Tagbanuas and Bataks).
A major tourist destination in the country, this national park is ideal is a spelunker's paradise. This underground section of the Cabayugan River, at 8.2 kms. (5.1 mi.), is reputedly the world's longest navigable underground river.  It is also ideal for trekking, swimming, birdwatching and hiking deep in the forest.
The area was declared as a national park on March 26, 1971 by virtue of Presidential Proclamation No. 835 to protect the unique environmental and cultural features of the area.  In the late 1980s, the late Jacques Cousteau penetrated up to 3 kms. into the cave system.  In 1983-86, its area was increased from 3,901 hectares to its present 5,753 hectares (includes an adjacent area of good forest around Cleopatra's Needle).
In 1986, its jurisdiction was returned to the DENR Southern Luzon Regional Office.  In 1991, its area was expanded to 22,202 hectares.  That same year, it won the Pacific Asia Travel Association (PATA) Gold Award for Environment.  In 1994, management of the park was turned over to the Puerto Princesa city government.  It is also partially supported by the World Wide Fund for Nature.
This national park was declared a natural World Heritage Site by UNESCO on December 4, 1999 due to its outstanding universal value and, on January 28, 2012, was voted by the global community as one of the New Seven Wonders of the World, for being the longest navigable subterranean river.
The park, managed by the Puerto Princesa City government through a Protected Area Management Board, is the first such national park devolved and successfully managed by a local government unit.  Its mission is to "protect the underground river in its natural state."
Lying on the foot of the 1,028-m. high Mt. St. Paul (Sabang's highest point), the park is located in Sitio. Sabang, Brgy. Cabayugan, 81 kms. west of Puerto Princesa City and is bounded on the north by St. Paul's Bay and on the south by the Babuyan River.  The dome-shaped Mt. St. Paul was named as such after London's St. Paul Cathedral in 1850 by British sailors of the HMS Royalist.
The park's topography ranges from flat terrain to rolling hinterlands, from hills to rocky mountains  of marble and limestone, and from rocky shores to white sand beaches. It is also composed of lush tropical old growth forest, thinly vegetated karst limestone cliffs (one-third of the park's area) and thick jungle cover.   The park also has 290 hectares of marine area encompassing shoreline and offshore corals reefs.
The park protects a dense, primary or old growth tropical rainforest which covers two-thirds of the park. Its forest, representing 8 types of forest formations, consists of at least 285 tree species and is dominated by dipterocarps. Vegetation types include lowland forest (often with a 35-m. canopy), coastal and karst forest.  Aside from these, there are also 800 identified plant species.  The underground river supports plant species such as Dracontemelon dao, Pometia primata and Diospyrus sp.
The forest is home to at least 30 species of mammals, 265 bird species, 19 species of reptiles including 2-m. long monitor lizards or bayawak (Varanus salvator) plus 10 species of amphibians. The underground river is inhabited by countless cave-roosting bats plus the endemic and threatened Palawan flying fox (Acerodon leucotis) and the restricted-range Palawan swiftlet (Collocalia palawensis).
Ever since being identified as one of the New 7 Wonders of Nature, the PPUR management has organized booking to ensure that there would be no overcrowding. Transport from mainland to the entrance to the PPUR is well-organized and they now have environmental charges for the upkeep of the place.
A "No Permit, no entry" policy is also strictly implemented in the park and, before our going to the park, permits were formally secured from the St. Paul Subterranean River and National Park Office. Once at the port of Sabang, we all waited some time for our turn to board our assigned motorized outrigger boats.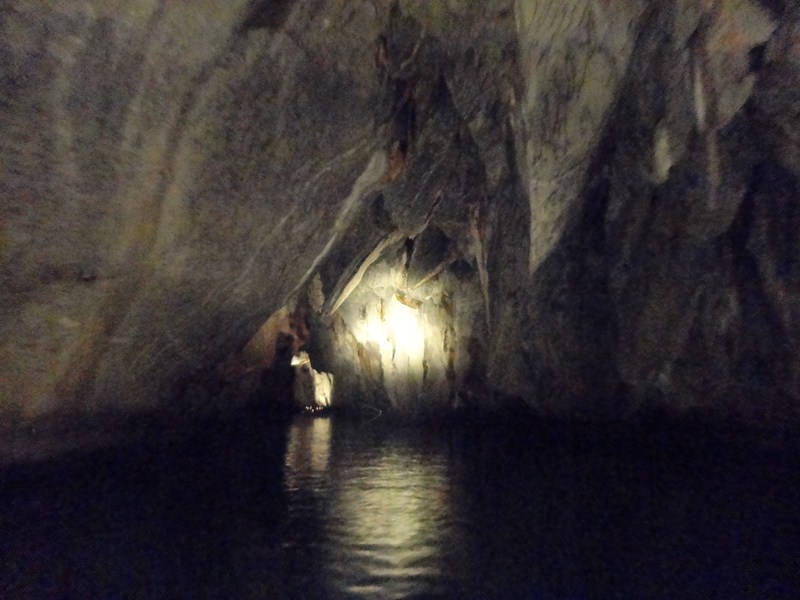 The 20-min. boat ride from the port to a beach on the northwest coast of the city, on the far side of the bay, was uneventful and smooth all the way. During the trip, we passed many beautiful limestone cliffs along the way.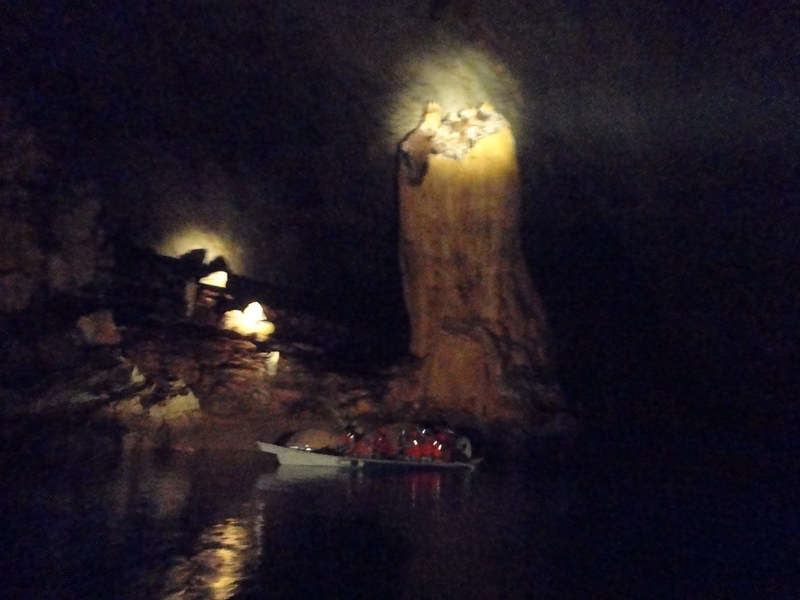 Upon arrival at the beach, we all registered our names at the PPUR office and then made a short hike, under huge shady indigenous trees, to the edge of a picturesque clear, turquoise blue lagoon framed by ancient trees growing right to the water's edge.  On the other side of the lagoon was Pining Cave, the entrance to the underground river.  We again waited our turn to board small 8-seater outriggers boats that would transport us into the cave.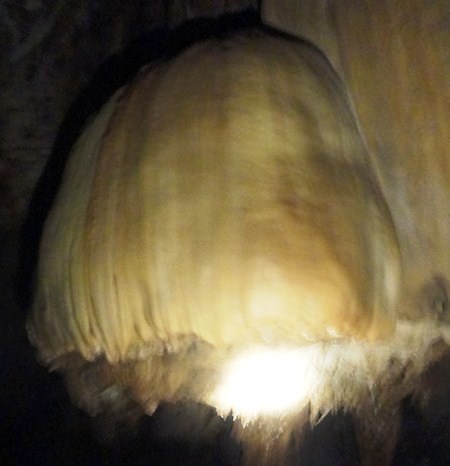 Soon our turn arrived and we were assigned an English-speaking guide plus an oarsman. Life vests and helmets were provided. Lester and I were seated at the prow of the boat and I was assigned a spotlight on our bow to somehow light up an incredible world carved out of rock.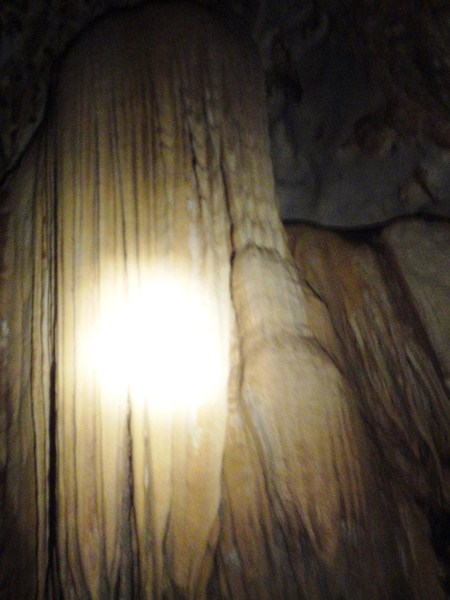 Throughout the tour, I was directed by the guide on where to point it. With only this spotlight as light source, my digital camera had a hard time focusing in the dark cave. We were paddled slowly into the deeply fissured, yawning opening of the huge cave below the vertical limestone cliff.  As we entered, vertical slabs of limestone hung over us like giant teeth and edible-nest swiftlets would swoop in over our heads.
The river is navigable up to about 4.3 kms. (a little over half its length) , with brackish waters underneath going as deep as 30 ft., but a typical 45-min. river cruise covers only 1.5 kms. of the navigable stretch.  We were to pass through a series of caves with cathedral chambers, wide hallways studded with stalactites, stalagmites and other interesting geologic formations.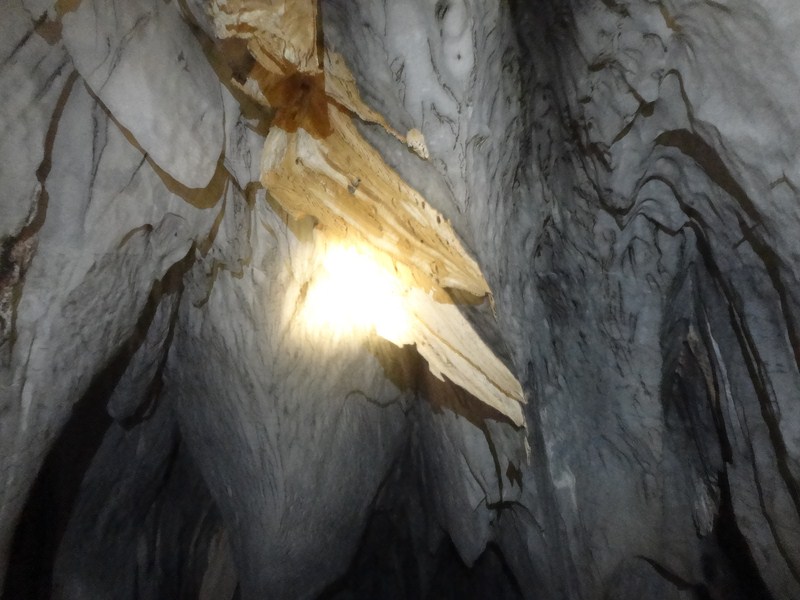 As we paddled deeper into the darkness, we reached, at the 0.6-km. mark, the high, vaulted 60 ft. high "Cathedral," the underground river's first main attraction.  Everywhere I swung the spotlight, there were bats hanging like fruit from the cave roof.  Their droppings around the walls of the cave gave out a distinct odor.
Here, our very knowledgeable park guide showed us spectacular limestone formations with a kind of orange toffee color.  The stalactites and stalagmites inside are associated with so many things and a number were aptly named the "Holy Family" (a group of figures like a Nativity scene), the "Angel," the "Virgin Mary" and the "Candle" (a giant bulbous stalagmite like a melting candle).  The guide would occasionally inject his lecture describing the elements of this natural wonder with some really funny anecdotes and jokes, their creative flair making the experience even more entertaining.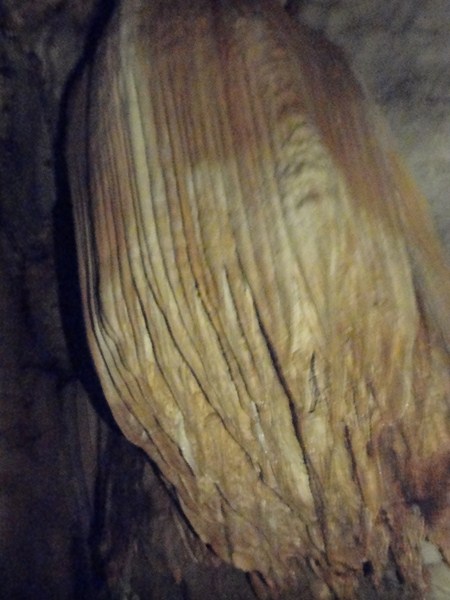 Further on, we passed the "fruit and vegetable" section, with stalagmites on the walls that look like giant mushrooms, garlic, an upside-down corn, a clump of cacao beans, carrots and pumpkins, all as big as the average human being. Our guide also pointed to us what was supposed to be strip of bacon, half the face of Jesus Christ and a woman with shapely legs that he aptly called Sharon Stone.
Further ahead, at the 1-km. mark, is a marvelous, 400-m. long and straight gallery called "God's Highway."  Upon reaching a breathtakingly high dome with a 65 m. (213 ft.) vertical clearance (the cave's highest point) above river level, our boat turned around.  Not covered by our route was the "Glittering Stone," at the 3.8-km. mark, and the "Rockpile," at the 4.3-km. mark.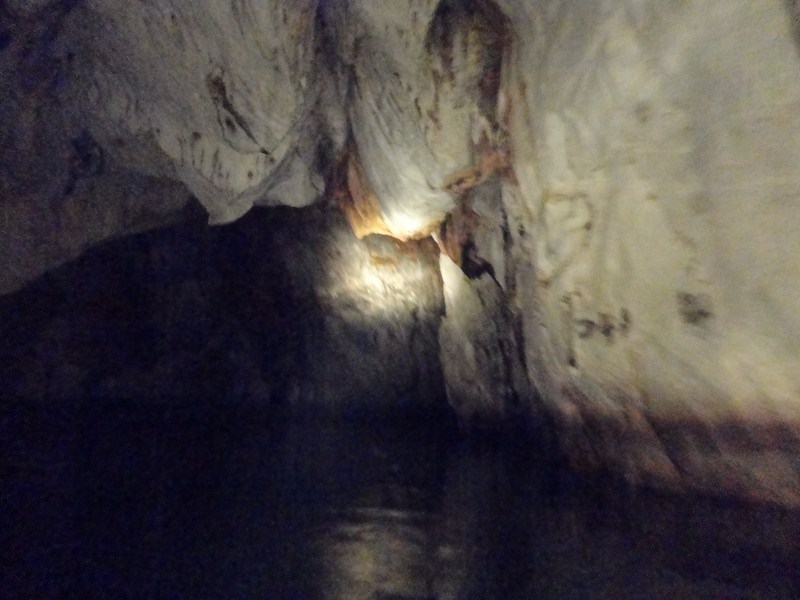 The grandeur of the unique formations, small and large chambers, stalactites and stalagmites of the underground river that we saw during our interesting and very enjoyable river boat ride, all uniquely designed by nature, makes it truly deserving as one of the New 7 Wonders of Nature.  A truly awesome natural spectacle.
Puerto Princesa Underground River (PPUR) Office: Badjao Inn, 350 Rizal Ave., Brgy. Bancao-Bancao, Puerto Princesa City 5300, Palawan. Tel: +63(48)723-0904 (Sabang). Fax: +63(48)434-2509. E-mail: info@puerto-undergroundriver.com and undergroundriver_ppsrnp@yahoo.com. Website: www.puerto-undergroundriver.com.
Puerto Princesa Underground River (PPUR) Booking Office: City Coliseum, Peneyra Rd., Puerto Princesa City 5300, Palawan. Open Mondays to Fridays, 8AM to 4PM with no lunch break, and Saturdays and Sundays, 8AM-12 noon and 1-5PM.
Steps in applying for a permit:
Get a transaction number and wait for your turn.  Make sure to bring a valid ID with you when you purchase your permit.
Fill out the form and submit personal details for processing. If you book through an agent, they will require the full name and age of everyone in your group.
If you're a walk-in visitor, proceed to Counters 1 and 2. Tour operators and travel agencies line up on Counters 3 and 4
Let the staff compute the payment.
Obtain the signature of a PAMB representative to finalize your permit.
General Entrance Fees to the Puerto Princesa Subterranean River National Park
Adult (Filipino) – P100
Minor (Filipino) – P75
Adult (foreigner) – PhP150
Minor (foreigner) – PhP100
Senior Citizen – PhP100
Differently Abled – PhP100
Cave Entrance fees -includes payment for the paddle boat and use of protective gear (helmets, life vests):
Adult (Filipino) – PhP175
Minor (Filipino) – PhP100
Adult (foreigner) – PhP250
Minor (foreigner) – PhP150
Toddlers and children 3 to 12 years old – PhP75. Children below 2 years old are not permitted for safety reasons.
Sheridan Beach Resort & Spa: Sabang Beach, Sitio Sabang, Brgy. Cabayugan. Puerto Princesa City, Palawan. Palawan Sales Office: Jeco Bldg., Rizal Ave. Extn., Puerto Princesa City.  Tel (+63 48) 434 1448 to 49 and 723 7278. Mobile Numbers (+63 917) 308-3245 and (+ 63 917) 308-3245. Cebu Sales Office: Sheridan Bldg., Ouano Ave., NRA, Mandaue City.  Tel: (+63 32) 236-1001. Fax: (+63 32) 345-1000. Mobile number: (+63 917) 306-6984. Manila Sales Office: tel: (+63 2) 939-8888. Mobile number: (+63 917) 726-5224. E-mail: reservations@sheridanbeachresort.com.  Website:www.sheridanbeachresort.com.
Instagram: @sheridanresorts
Instagram official tag: #SheridanPalawan
Twitter: @sheridanresorts
Facebook: facebook.com/sheridanbeachresortandspa