After picking out the ingredients for our dinner at Manga Public Market and delivering it to Lic Lic Fastfood, we returned to our airconditioned coach for the short 15-min./10-km. drive to the Abatan River Visitor Center in Cortes for the Abatan River Firefly Watching Tour. The winding,  beautiful and 20 km. long Abatan River, which opens at the Cortes nipa swamp, the most extensive nipa swamp in Bohol, snakes through the towns of Antequera, Maribojoc, Cortes up to Balilihan.
When we entered the lobby area, a girl wearing what seemed like a tribal costume and holding a clay pot with white incense smoke rising from it, danced around us.  This was part of a native ritual called palina which makes sure that we were protected from bad spirits. This theatrical ritual rite of passage to the Abatan River was said to have been officiated by the legendary warrior Princess Wadji, the guardian of the Abatan River.  Before the 7:30 PM start of the tour, we were offered fresh buko juice as welcome drinks.
We were then ushered to our 10-pax, motorized banding, the boat we will use for the firefly tour.  During the relaxing cruise along the river (with our life vests on), our local guide lectured us on the pagatpat (mangroves) in the area, the home of the fireflies, and the importance of protecting them. If a pagatpat was cut or killed, the fireflies would transfer to another area and, most likely, never come back.  This is exactly what happened when the earthquake struck Bohol on October 15, 2013.  The tectonic uplift that resulted caused some of the mangroves to die. Luckily, a number still remain along the riverbank.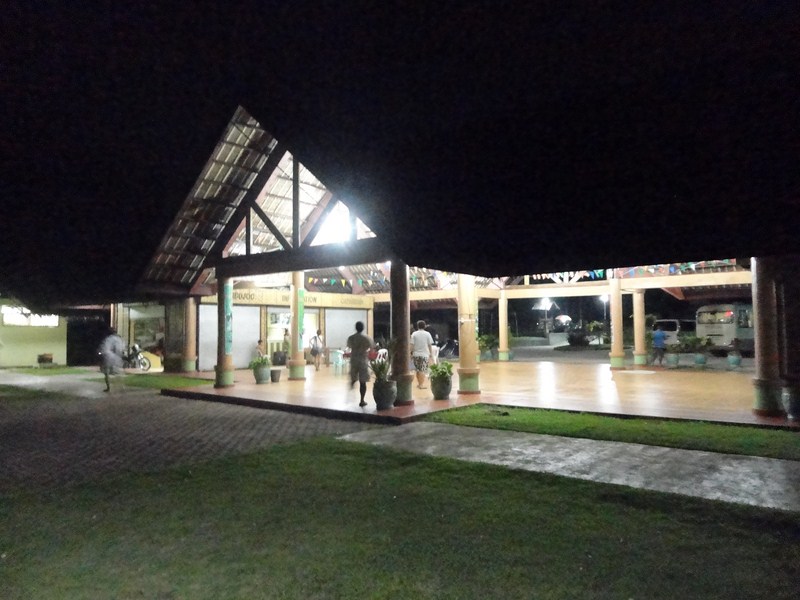 Around 10 mins. into our tour, we all spotted our first group of fireflies lighting up a pagatpat tree, like Christmas trees.  These fireflies, winged beetles commonly called  lightning bugs (Photuris lucicrescens), moved like blinking and synchronized waves in the pitch black darkness of the night, a memorable encounter that was magical and surreal. However, we were prohibited from going near the trees so as not to disturb the fireflies in their natural habitat.
We were allowed to take pictures but, as flashes were discouraged, we failed to capture, on camera, nature's light show that we witnessed.  For those who loved taking pictures like me, this was the frustrating part of this tour. Anyway, even if used our camera flash, we still won't see them in the picture as our camera's flash is stronger than the light from the fireflies. Anyway, photos here can't compare with the beauty of what we saw.  Only Julia, with her sophisticated camera equipment, was able to capture them, adjusting her camera to adapt to the amount of light in the pitch black environment.
Continuing down the twists and bends of the river, our boatman constantly pointed his flashlight towards the mangroves, egging the tiny lightning bugs to respond in kind.  Half-way into our boat tour, the small cluster of blinking lights we first saw turned into large groups of fireflies swarming in and around the mangroves.   Coupled with the gentle river breeze, we hardly felt the time pass us by during our hour-long but very relaxing tour as we were amazed and "enlightened" by watching these countless clusters of constantly moving fireflies. It was a breathtaking and perfect end to an already eventful day. Rates (tour, entrance fee, life jacket and boat rental): 1-10 guests (PhP500/pax) and 11-20 guests (PhP400/pax).
The center also offers fireflies kayaking along the Abatan River.  Rates: double kayak (PhP300 plus PhP50 per hour for every excess hour), single kayak (PhP200 plus PhP50 per hour for every excess hour), tour guide (PhP200 plus PhP50 per hour for every excess hour).
Abatan River Visitor Center: National Highway, Brgy. Salvador, Cortes, Bohol.  Tel: (038) 510-8255.  Mobile numbers: (0920) 906-7446, (0908) 873-8304  and (0915) 769-9515. Email: manager@riverlife.ph.  Website: www.riverlife.ph. Entrance Fee: PhP50. 
How to Get There: Located 10 kms. (a 10-15-min. drive) from Tagbilaran City seaport or airport and 45 kms. (a 30-40-min. drive) from Tubigon seaport, public utility vehicles (buses, jeepneys and vans) that regularly ply the Tagbilaran City-Tubigon route pass by Abatan River Visitor Center. You can also hire a taxi or van to get there.