Back at our van from Bulalacao Falls, we proceeded on the last part and main feature of our inland tour (often referred  to as "Tour E") – lunch at pristine Nacpan Beach.. Located 17 kms. north of El Nido town, in Sitio Calitang, Nacpan Beach, together with its smaller twin Calitang Beach (on the southwest tip of Nacpan), are prime attractions of the town.
The nearly 4-km. long, bare and unspoiled Nacpan Beach, said to be the "Boracay of El Nido,"  has fine, cream colored sand (almost like Boracay's) fringed by coconut trees and warm, crystal blue waters. It usually doesn't have the usual crowds that the other islands of the town have.
There is no high-end resort along this beach, just 4 or 5 open-air bamboo eateries serving local food (grilled squid, adobo, etc.), snacks (bananacue, etc.), bear, bottled water, sandwiches, French fries, noodles, burgers and fresh fruit shakes, There are also stores, picnic huts and cottages where you can stay overnight.
The place offers serenity and an amazing view of the nearby islands, islets and the sunset plus a 360° wholistic view of what you see when you're just in front of the beach. After lunch, we had fun swim there as the water is not completely calm. Great for skimming. It also  makes you want to do cartwheels out of joy. Highly recommended, we didn't regret visiting this place.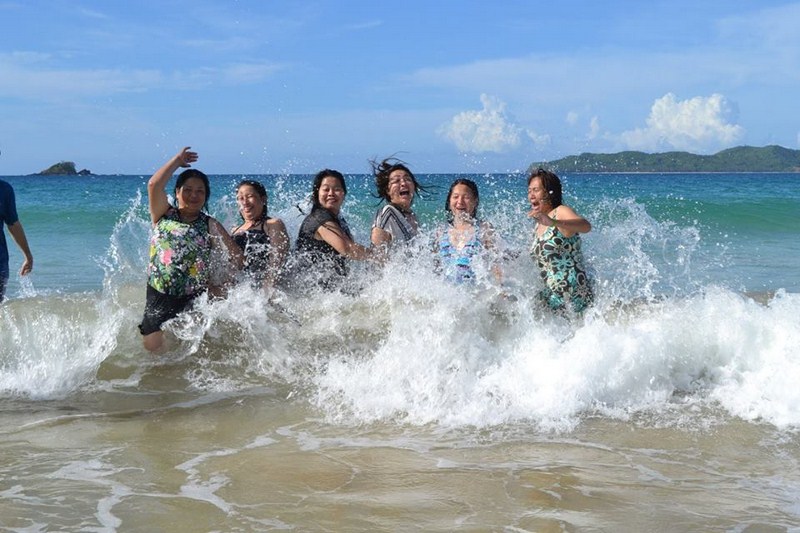 How to Get There: From El Nido town, there's a once daily public jeepney that leaves for the beach at 12 noon and returns the morning of the next day.  The trip takes about 40 mins..  The last 20 minute stretch is along an unfinished, rough, bumpy and extremely dusty road. For those not joining a tour, you can rent a tricycle (PhP700-1,000) that can accommodate up to 4 people. For a big group you can rent a van for PhP2,000-2,500, goo for 10-12 people.
The Resort Bayview Hotel El Nido: Sitio Marimegmeg, Brgy. Corong-Corong, El Nido, 5313, Palawan.  Tel: + 66(0) 76 281 406. Fax: + 66(0) 76 384 369. Mobile numbers: (0915) 250-7368 (Globe) and (0920) 975-8690. E-mail: theresortelnido@gmail.com. Website: www.elnidobayview.com.