The two-storey, Colonial-style Old Stanley Police Station, built in 1859, is one of the earliest police stations in Hong Kong. Since all the other five have been demolished, it is now the oldest police station in Hong Kong.
During the 1941-1945 Japanese Occupation, the building was used as the local headquarters of the Japanese gendarmerie. After the war, it was restored as a police station until 1974 when a new one was built.  It was then occupied by several government departments as their sub-offices until 1991. Thus commanding great heritage significance, it was gazette as a Declared Monument on June 15, 1984. In 2003, this building was converted into a supermarket.
This building's façade, with its Chinese tiled pitched roof, is dominated by a colonnaded open veranda. It was constructed, with load-bearing brick wall and timber joists, on a sloping site with random rubble retaining walls at the rear. Inside are wooden floors, dome-shaped ceiling (at the original gun room), windows with louvered shutters and several large, vintage,  cast-iron fireplaces.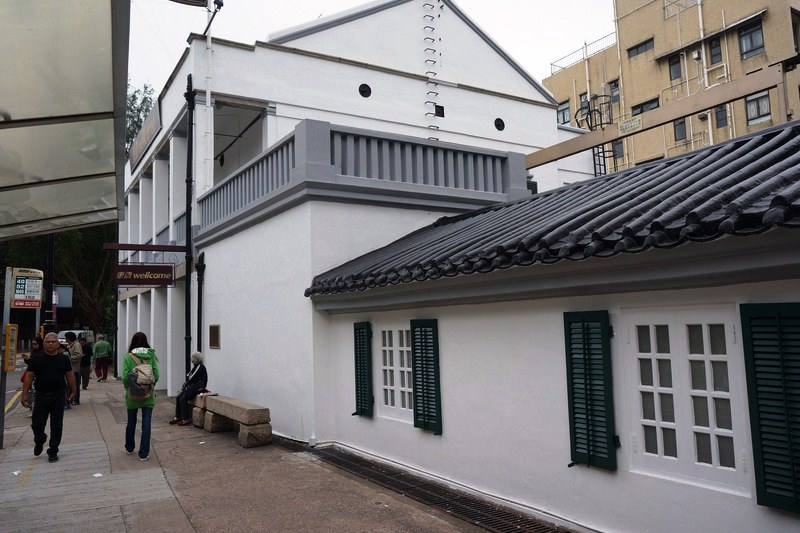 Old Stanley Police Station: 88 Stanley Village Road, Hong Kong. Open daily, 8 AM – 10 PM.
How to Get There: From Central's Exchange Square, take buses No.6, 6A, 6X, 260 or 262. From Causeway Bay's Tang Lung Street (Corner of Percival Street and Hennessy Road), take green minibus No.40