The town's church and convent was first built in May 1817 by Father Barcelona, with Don Eustacio Macatangay provided the finishing touches on the church. The first lines for the current church, with its cruciform plan, were drawn by Architect Luciano Oliver and its founding stones were laid down, in 1853, by Father Manuel Diez Gonzales, O.S.A. In 1869, Father Bruno Laredo, O.S.A., completed the facade and roofing.  The twin towers were started in 1865 by Father Laredo and completed in 1876 by Father Vicente Maril (who also rebuilt the façade).  Damaged during the July 18, 1880 earthquake, it was repaired from 1891 to 1896 by Father Francisco Alvarez.
The church's simple Neo-Classical facade has a recently-attached front portico, wooden doors with geometrical carvings and round Ionic columns mounted on rectangular pedestals.  The triangular pediment, with its rose window, is flanked by two square "abortive" belfries.  The choir loft is indicated by arched openings with a floreated wreath below it.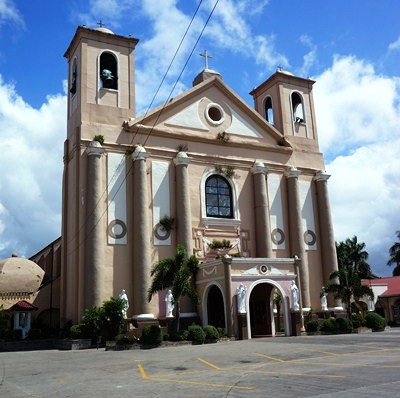 Church of St. James the Greater: Provincial Road, Poblacion. Tel: (043) 311–1251. Feast of St. James the Greater: December 30.
How to Get There: Ibaan is located 96.3 kilometers (a two-hour drive) from Manila an 13.4 kilometers (a 30-minute drive) from Batangas City.