This church was first built in bamboo, wood and nipa by Father Agustin de la Magdalena in 1687 using forced labor. In 1690, it was replaced by a larger and more solid adobe church with a red-tiled roof with the help of Chinese Miguel Guan-Co and Aguacil Mayor Alfonso Garcia.  From 1847 to 1853, it was improved by Father Joaquin de Coria, who engineered the stone belfry and Romanesque dome. and its transept added in 1872 by Fathers Serafin Linares and Cipriano Bac.
On March 15, 1945, during World War II, the church was heavily damaged by American bombing.  After the war, it was reconstructed, without the original dome, with the help of Pagsanjenos from Manila under the leadership of Engr. German Yia and Dr. Rosendo Llamas. In 1965, it was again restored under Lipa Archbishop Alejandro Olalia and, on April 6, 1969, Bishop Pedro Bantigue blessed the rebuilt church and consecrated the main altar.
In 2012, the church was declared as the Diocesan Shrine of Our Lady of Guadalupe by the Diocese of San Pablo. From 2013 to the present, further renovations were carried out, including the church patio and construction of the choir loft and church gate.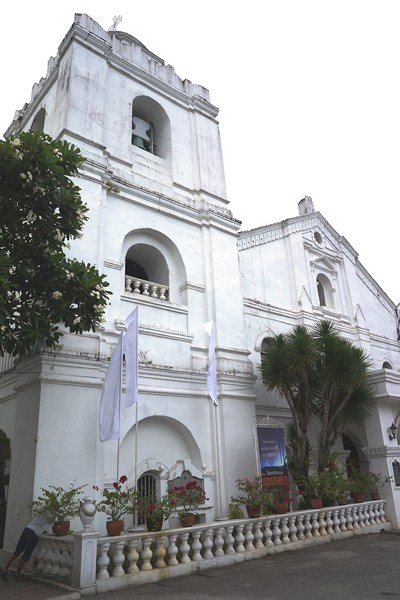 Author's notes:     
The church's three-level Early Renaissance facade has a semicircular arched main entrance with portico flanked by square pilasters and semicircular arched windows at the first level; a row of three semicircular arched choir loft windows at the second level; and a triangular pediment with semicircular arched statued niche at the tympanum flanked by rounded Tuscan columns and crowned by a triangular canopy (above which is an oculus).  On its left is a three-storey, square bell tower with open semicircular arched openings and topped with a dome.
The church houses the image of Our Lady of Guadalupe.  The original image, a gift from Mexico, was stored in the main altar on December 12, 1688 but was destroyed during the American bombing.
In 1958, Mexican Catholics donated a life-size image of the Virgin made by Ramon Barreto, a noted sculptor from Toluca.  Another image, sculpted by prominent Manila sculptor Maximo Vicente, is housed on the main altar.
The Capilla del Tilma de Guadalupe, a side chapel near the altar, houses an image of San Juan Diego, a replica of the tilma of the Our Lady of Guadalupe and a stone relic from Tepeyac Hill, Mexico City, the site of the 1531 apparition of the Virgin of Guadalupe. The chapel also has a mini-museum containing liturgical vestments of Pagsanjeño priests.
Diocesan Shrine of Our Lady of Guadalupe: National Highway, Pagsanjan, Laguna. Tel: (049) 808-4121.  Feast of Our Lady of Guadalupe: December 12.
How to Get There: Pagsanjan is located 102 kms. from Manila and six kms. from Santa Cruz.