Part 2 of the Bluewater Maribago Beach Resort & Spa-sponsored City Tour
Terrazas de Flores Botanical Garden, opened last October 2016 (and relaunched February the next year), is the first botanical garden of its kind in Cebu and in the Philippines.
It is home to 127 species of flowers (including the popular celosia flower) whose names, identified through markers etched with various fascinating quotes and poems which were personally selected by the owner Yuri Barrameda, were set up, and their scientific names identified, by members of the Botanical Society of the University of San Carlos (USC).
Yuri bought the 2-hectare property in 2007. To be able to rekindle family ties by spending time with his three children (Andrea Carmela, Cheska  and Moses), he first created a rose farm, open only to friends and family. Later, having observed the lack of green spaces in Cebu, he decided to convert one hectare into a public garden by adding more flowers.
Most of the local flowers, with butterflies and bees fluttering about from one petal to another, are meticulously arranged by the green-thumbed gardeners from Brgy. Malubog to form part of the hedges of 56 terraces following the natural contours of the hill's slope. For the terracing, the gardeners used an ancient technique, which the upland farmers of Busay are familiar with, used in creating the Banaue Rice Terraces.
The 1-m. thick riprap of interlocking stones, protecting the flowers used as ground cover, allows water to flow freely without eroding the topsoil.  This reduces the chances of a landslide during heavy rain. Others are planted on the ground while some snake up and down trellises or cover the arched roof of the canopied footpath.
Initially, a father's expression of love for his children, Terrazas de Flores, with its colorful flowers, chirping birds and cool mountain breeze, is now a charming but not too remote little hideaway up in the hills where visitors can relax, unwind and spend time with their special someone by sitting, beside the flowers in the garden, on outdoor benches, on comfortable sofas in one of the garden's three cozy cabanas (again representing Andrea Carmela, Cheska and Moses) or at the viewing deck.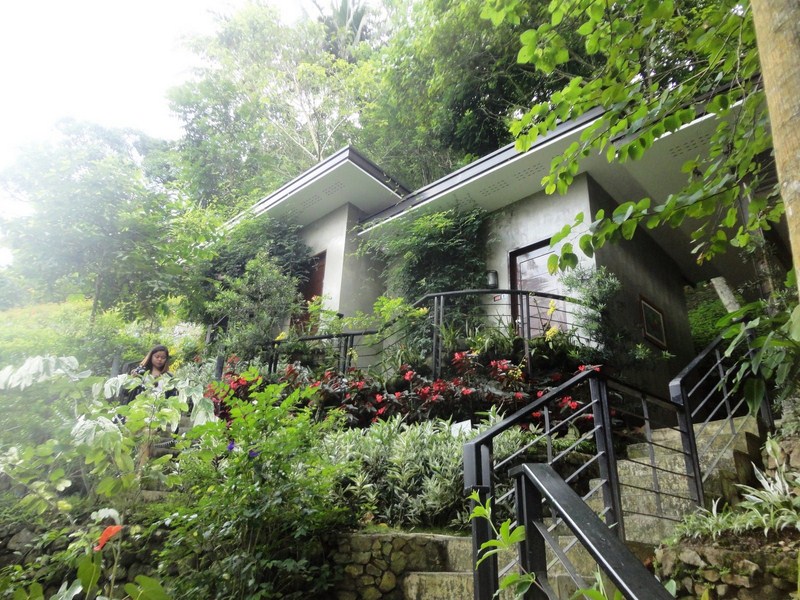 Or, they can go to Terrazas de Flores Café (owned by business partner Ms.Lenny Lyn Lapiña), in the middle of the property with a good picturesque view of the lush flower terraces and the mountains of Balamban town in the distance, and dine on cakes; pastries; sandwiches; cold cuts; cheese platters; rice meals (PhP100) which comes with beef, fish, pork, and chicken; plus hot and cold coffee, wine and other beverages, while listening to nice, popular love songs played softly, in the background, from speakers.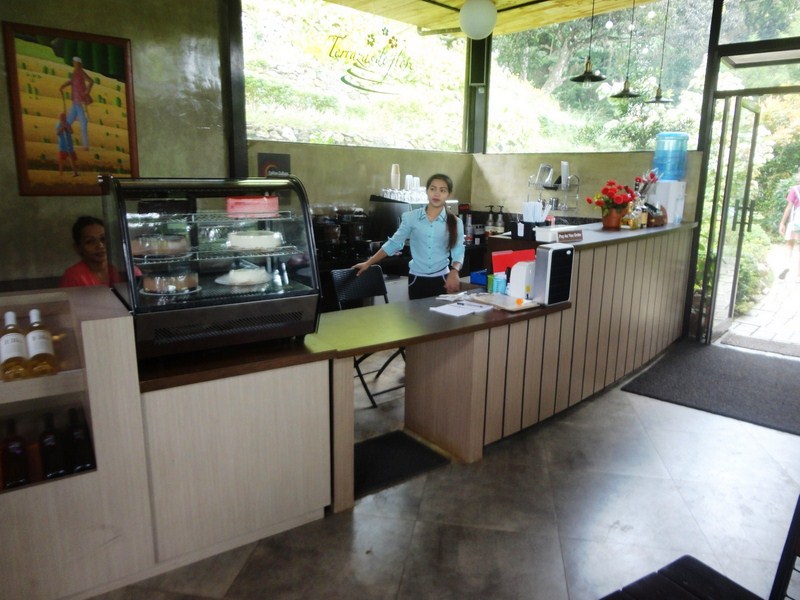 Waters flowing down the small man-made lake add to the serene, relaxing ambiance of the place. With another hectare to develop, there are plans to expand the garden to include a topiary, stargazing deck, hanging bridge, an art gallery and more cabins on the forest side of the hill.
Terrazas de Flores Botanical Garden: Transcentral Highway, Brgy. Malubog, Busay, Cebu City. Mobile number: (0917) 653-4227.  Facebook:   facebook.com/terrazasdefloresofficial.  Open weekdays, 8 AM – 9 PM, and weekends, 8 AM to 12 MN. Admission: PhP100 for adults, PhP50 pesos for children 7 years old up to 12 and free for children 6 years old and below. They also give discounts to senior citizens and students upon presentation of identification.
The garden can also accommodate pre-nuptial photo shoots and birthday, anniversary and wedding parties, prices for which are available upon request. As exploring the garden requires a lot of walking, wear comfortable shoes. As the temperature at the garden is usually three degrees lower than mainland Cebu, the wind can sometimes get too chilly and it is advisable to bring a cardigan or light jacket. Extra charges may apply if visitors bring in food and beverages inside the cafe. It is explicably prohibited to pick flowers or step on the plants.
Bluewater Maribago Beach Resort & Spa: Buyong, Maribago, Lapu-Lapu City, 6015, Cebu. Tel: (032) 492-0100. Fax: (032) 492-1808.  E-mail: maribago@bluewater.com.ph.   Website: www.bluewatermaribago.com.ph.  Metro Manila sales office: Rm. 704, Cityland Herrera Tower, 98 Herrera cor. Valero Sts., Salcedo Village, Makati City, Metro Manila. Tel: (02) 887-1348 and (02) 817-5751. Fax: (02) 893-5391.
How to Get There: To get to Terrazas de Flores, you can take a cab from any part of Metro Cebu. It is a 20-min. drive from JY Square. There's an available shuttle (PhP120 per pax for a round trip ride), at Dessert Factory, SSY Center, across Watsons/JY Square Mall, going to Temple of Leah, Tops Lookout and Lantaw.  From Ayala Cebu Terminal, you can also ride a V-hire or van going to Balamban.  Landmarks nearby are the Malubog Elementary School (its garden gate is just across) and La Tegola, an Italian restaurant in Busay which is 900 meters away from the garden. Parking spaces are available.