After our short stopover at Naked Island, we again boarded our boats for the short trip to Daku (or Dako) Island, the biggest among the three popular island destinations in Siargao. Named after the Visayan word for "big," it's unlike the other two islands (Naked and Guyam Islands) as it is inhabited, with a village of 300 residents, mostly fisherman, grouped in less than a hundred families.
Check out "Naked Island" and "Guyam Island"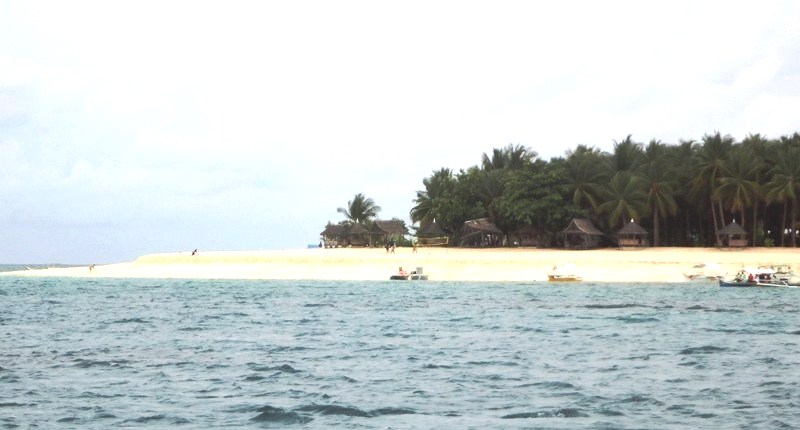 This unheard of paradise, with its cool vibe and breathtaking, picturesque scenery, has one of the finest best beaches in the Philippines, with a long, powdery white sand beach sprinkled with countless tall coconut trees (the best sweet-tasting fresh coconuts are a-plenty here) and surrounded by superb crystalline waters. Seaweeds are non-existent here. Locals also say that the beach area changes every season.
The island was our longest stopover as we were to experience a boodle lunch, prepared by Chris G. Estrella (husband of Siargao Tourism Coordinator Donna Grace T. Estrella) of Mayambago Catering Services. The fare included grilled chicken, squid, tambakol (yellow fin tuna), ganga (spider conch) and hot dogs; steamed rice; and a dessert of ripe mangoes, bananas and sliced watermelon; all washed down with fresh buko juice and soft drinks. For a first timer like me, the cleanliness of the place was etched in my memory and I found it unbelievable at how the locals managed to maintain the place, with no plastic or other waste materials scattered along the beach.
With its fine white sand, very clean surroundings and pretty cool winds coming from the Pacific Ocean, I was enticed to swim in such a place. The island is also ideal for surfing. During the amihan (southwesterly wind), there are fun right-hander that breaks during large swells.  Its waves, small and great for beginners, break on the protected eastern side of the island.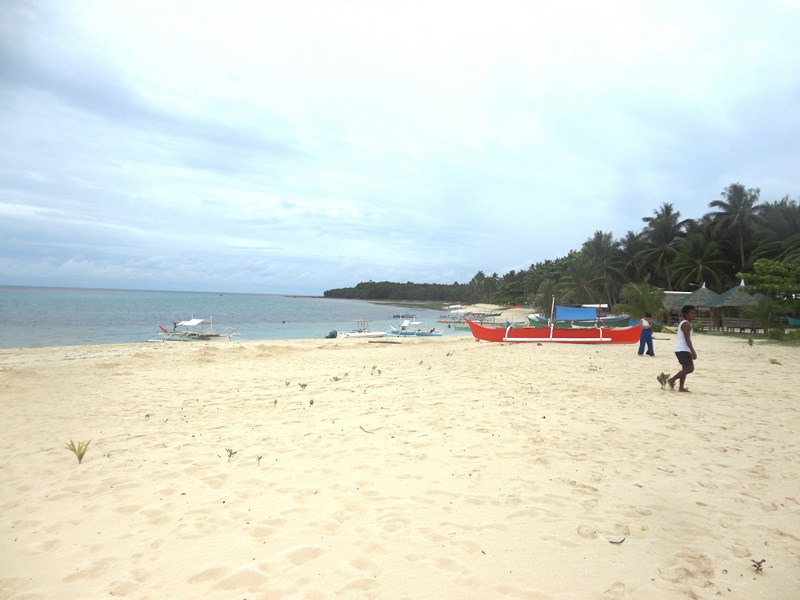 Aside from swimming, other activities on the island include snorkeling (around the southern end of the island), fishing, skim boarding, beach bumming and kayaking (you can rent a double kayak at an affordable price and kayak as long as you want).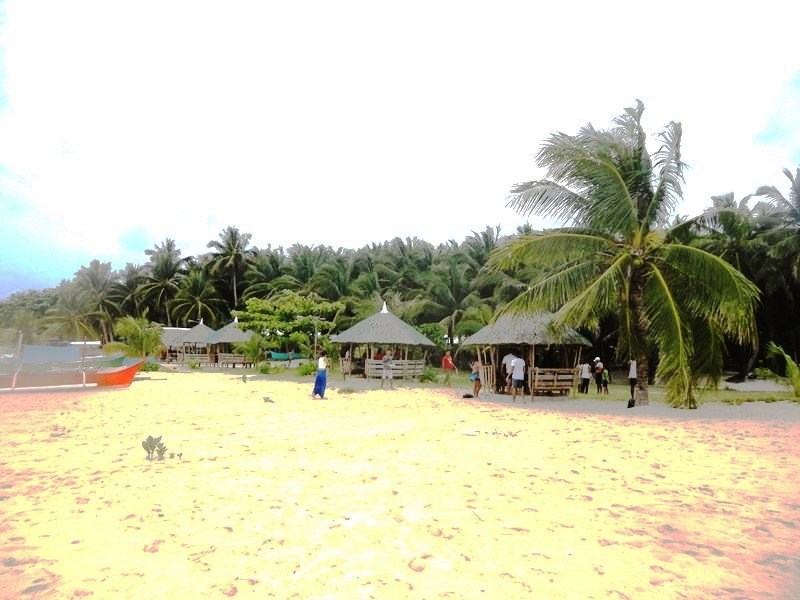 Ideal for a family or group picnics, you can rent a centerpiece cottage lined up on the western side of the gorgeous beach for a day for PhP250. For PhP50/kg. cooking fee, you can also have your rice and fish cooked for you. Additionally, tourists and visitors alike can experience the cool vibe and island culture as well as feel the serenity and tranquility of the place with an overnight stay in simple beachfront native huts for as low as PhP700.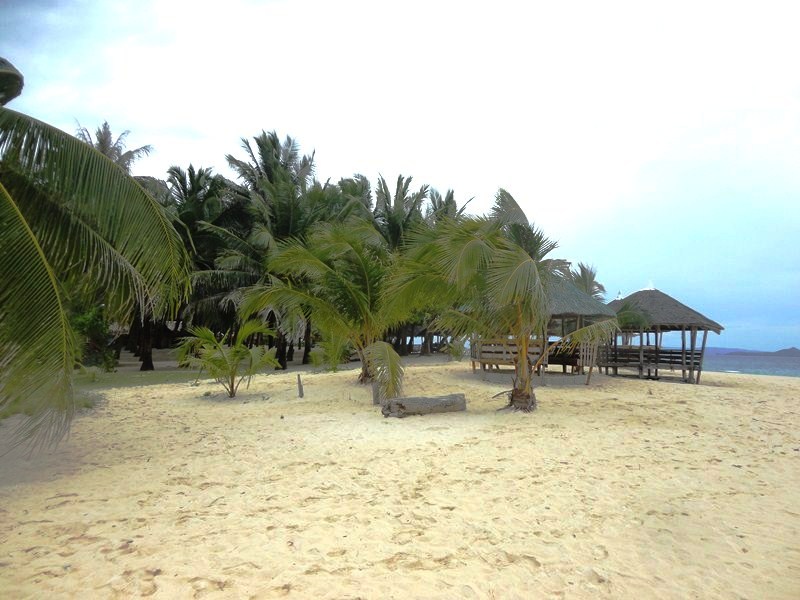 Keep in mind, though, that there is no electricity on the island. The community has a tiny chapel, a small community center, a day-care center but no commercial establishments (just a single, small sari-sari store where you could buy some snacks and drinks). Still, secluded Daku Island is certainly a truly wonderful destination to visit.  For me, it is even more beautiful than Boracay Island (minus the maddening crowd and the hustle and bustle of city life), making it a perfect getaway for those who want to have an unspoiled vacation.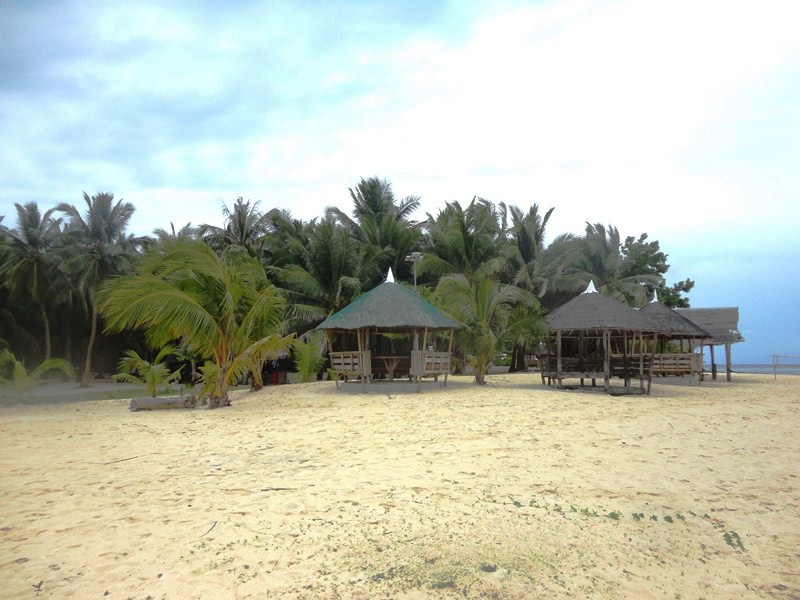 Siargao Tourism Office: Paseo De Cabuntog, Brgy. Catangnan, Gen. Luna, Siargao Island. Mobile number: (0921) 718-2268 (Ms. Donna Grace T. Estrella – Siargao Tourism Coordinator)
How to Get There: Skyjet Airlines has daily, 100-min. direct flights from Manila (NAIA Terminal 4) to Siargao (Sayak Airport). ETD Manila at 6 AM (M8-421), ETA Siargao at 7:40 AM. Return flights: ET Siargao at 8:10 AM (M8-422), ETD Manila at 9:50 AM.
Skyjet Airlines: Manila Domestic Airport, Parking A, Terminal 4, NAIA Complex, Brgy. 191, Pasay City, Metro Manila. Tel: (02) 863-1333 and (02) 823-3366. E-mail: sales@skyjetair.com. Website: www.skyjetair.com.