After our short visit at Port Pilar,we again boarded our respective vans for the short drive to Magpupungko Beach, a favorite destination of tourists.  This small 300 m. long stretch of cream colored sand beach has cottages and shower rooms and, as it faces east towards the edge of the Pacific Ocean, it also has a great view of the sunrise. However, this is not your usual beach.
It was low tide when we arrived, so we were able to walk, in ankle-deep waters and exposed rocks, to its northernmost end which is decorated by amazing rock formations, the largest of which is the iconic Magpupungko Rock that sits on top a flat rock.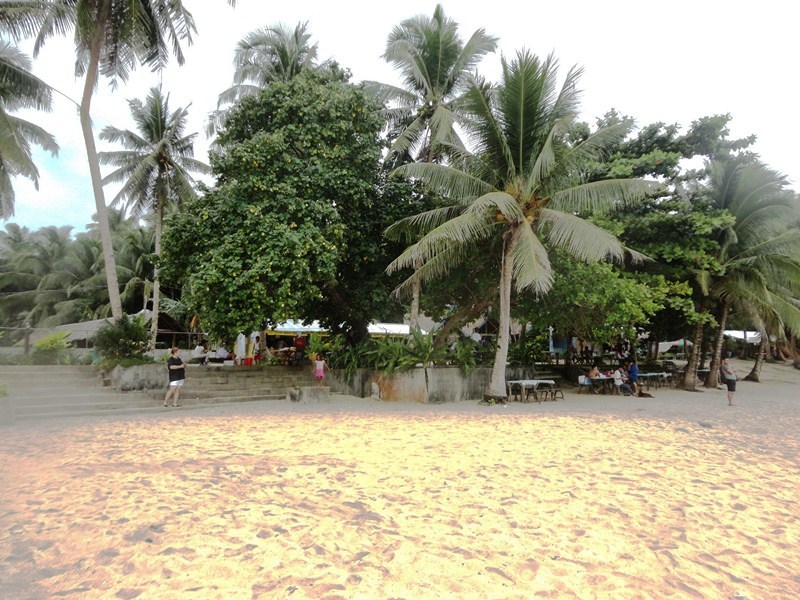 The place was so named because of this rock's squatting position. The word pungko is Visayan for "to squat," "to bend" or "to sit"so, after adding some prefixes, the name became Magpupungko.
The area also hosts one of the Philippines' stunning tide pools, natural pools along the shore that seem like infinity pools, created by enclosed underwater crevices where sea water gets trapped during low tide.
Swimmers in these natural, placid green pools are protected by the strong, crashing waves coming from the Pacific Ocean by wide underwater boulders that serve as a wall. Both rock formations and tidal pools were created by nature itself.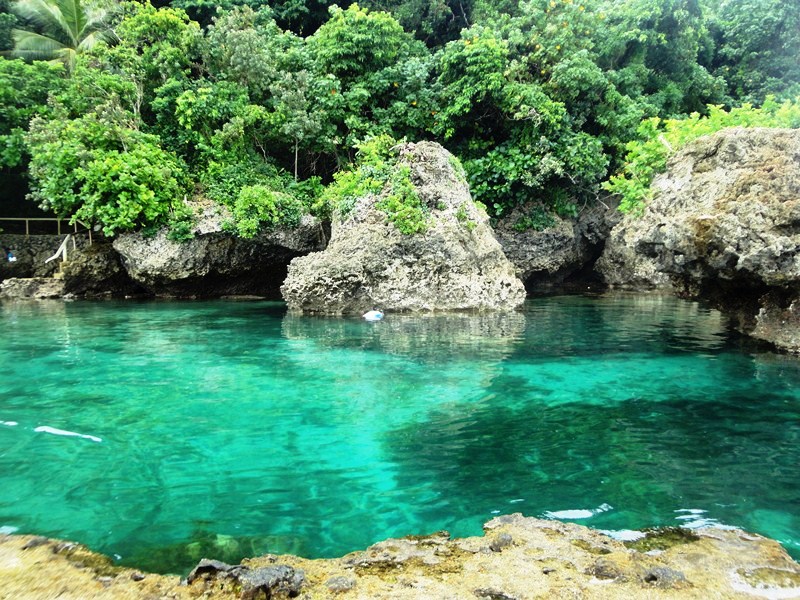 The refreshing pools were too good not to be enjoyed so I dove into one natural, jacuzzi-like pool with clear and gleaming turquoise sea water flowing into it. The other members of my group just opted to take pictures of the rock formations and the strong waves crashing against the rocks.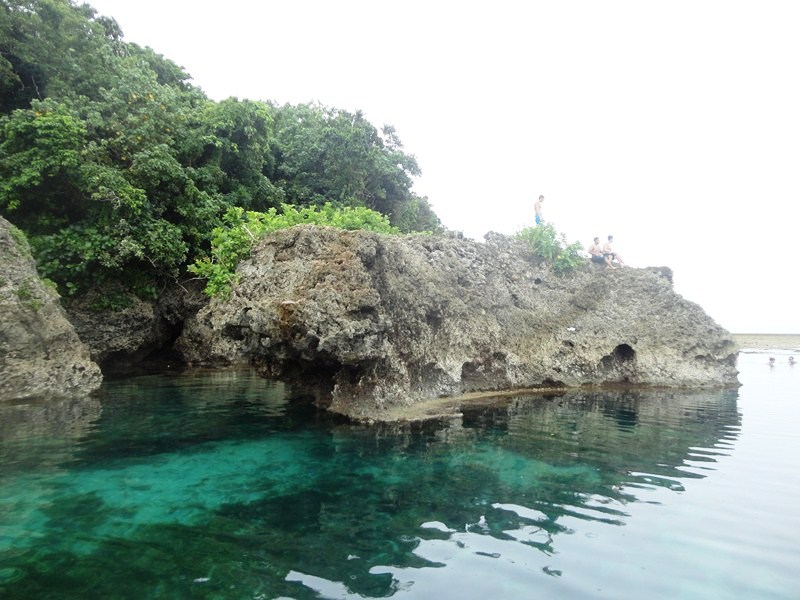 The water seemed shallow because I could see various rocks jutting out from it but, at the farther end of the rock pool, some parts were actually deep, even in low tide.
These alluring, crystal clear tidal pools, hardly discernible during high tide.are indeed unique and a sight to behold. The color of the water is comparable to that of Tangke Lagoon at Isla Gigantes in Iloilo.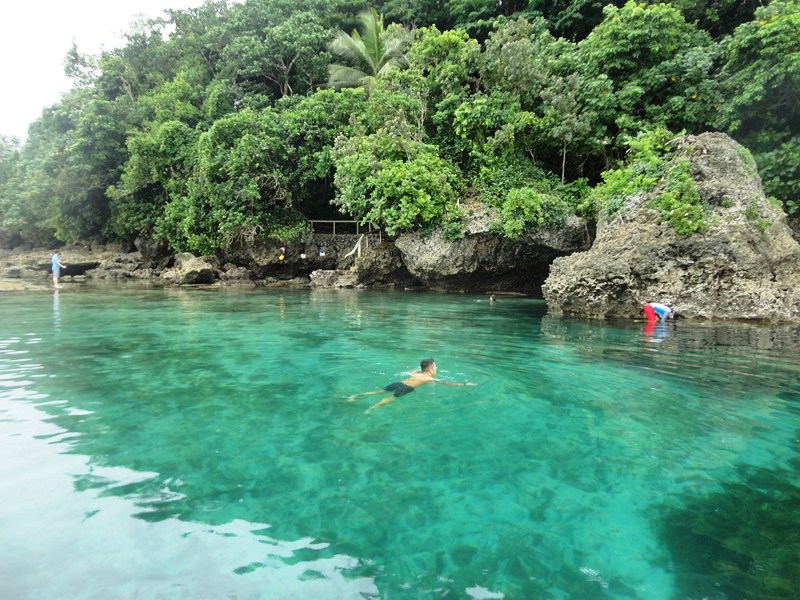 However, most tourists and locals go here for cliff diving, an extreme activity done from one of the islets. Many sections of the pools are deep enough and, thus, safe to dive from.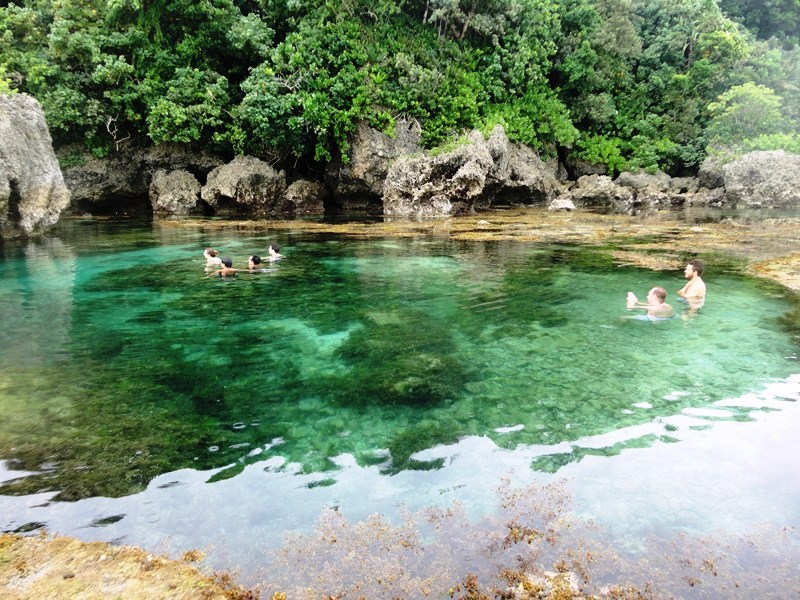 The edge of the tidal flat is also just a few strokes away and, as long as you can swim, there's very little chance of drowning. They climb the rocks beside the pool (which is not easy to do as they're sharp and kind of a long walk), and then jump off to the deep end of the water.
These tidal pools are also perfect for snorkelers, with stout elephant ear corals, providing shelter for many marine organisms that inhabit the pool, growing at the sides of rock outcroppings.
Beyond the Magpupungko rock formation are shallow, sandy tidal pools which are habitats of reef snakes and sea kraits. Though sea snakes are often shy and reluctant to bite, it is not recommended that you swim here.
Magpupungko Tidal Flats & Lagoon: Brgy. Consolacion, Pilar, Surigao del Norte. Beach entrance fee: PhP50/pax. Coordinates: 9.87551N 126.11995E. Besides a toilet, there are no facilities in Magpupungko, so bring food and other essentials if you wish to stay long.
Siargao Tourism Office: Paseo De Cabuntog, Brgy. Catangnan, Gen. Luna, Siargao Island. Mobile number: (0921) 718-2268 (Ms. Donna Grace T. Estrella – Siargao Tourism Coordinator)
How to Get There: Skyjet Airlines has daily, 100-min. direct flights from Manila (NAIA Terminal 4) to Siargao (Sayak Airport). ETD Manila at 6 AM (M8-421), ETA Siargao at 7:40 AM. Return flights: ET Siargao at 8:10 AM (M8-422), ETD Manila at 9:50 AM.
Skyjet Airlines: Manila Domestic Airport, Parking A, Terminal 4, NAIA Complex, Brgy. 191, Pasay City, Metro Manila. Tel: (02) 863-1333 and (02) 823-3366. E-mail: sales@skyjetair.com. Website: www.skyjetair.com.