After a lunch prepared for us by Surigao del Norte District I Cong. Francisco Jose "Bingo" Matugas II and hosted by Del Carmen Mayor Alfredo M. Coro II at Krokodeilos, we proceeded to the nearby Mangrove Protection and Information Center (MPIC). The first of its kind in the Philippines, it was inaugurated last November 15, 2014 as part of the town's and Metro Pacific Investments Foundation's (with the support of the Manny V. Pangilinan group of companies) "Siargao It Up!" program (started in 2009) which promotes environmental awareness throughout the whole country.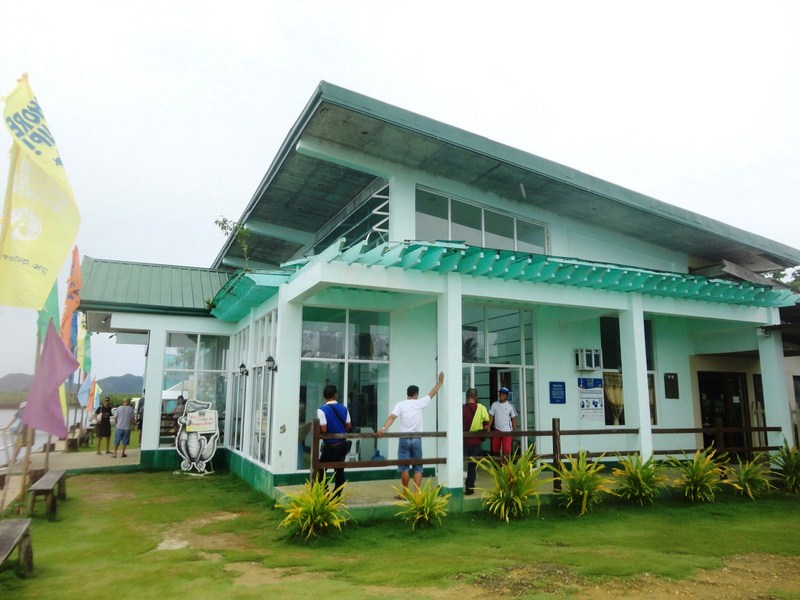 A center for the protection and propagation of mangrove trees in the coastal estuaries, including the rehabilitation of degraded mangroves in the whole island of Siargao, it aims to let locals, tourists and guests know of the importance and benefits of mangroves in terms of biodiversity and its contribution to the safety of the coastal communities.
To date, this program has successfully propagated around 800 hectares of new mangroves. As a result of its efforts, the Department of Environment and Natural Resources (DENR) has conferred on Del Carmen  the Environmental Hero Award.  The town observes its Shore It Up Week every first week of March.
Mangrove forests are sanctuaries to rare and endangered wildlife species such as the Philippine Cockatoo, the Hawksbill Turtle, the Green Sea Turtle, the Golden Crown Flying Fox, Dinagat Gymnure, the Olive Ridley Turtle and the endangered dugong. It also prevents soil erosion, protects coastline from strong winds and waves, and filters off agricultural run-off and pollution. It is also a breeding ground for different marine organisms; is a source of food, medicines and firewood; and supplies dissolved organic matter for nutrient cycle.
According to Mayor Coro, Siargao has an approximately 8,600 hectares of mangrove cover, the second largest in Mindanao, and 4,259 hectares of contiguous mangrove are found in Del Carmen, the largest in the Philippines. Out of the 54 mangrove species worldwide, 44 can be found in Del Carmen, and the Crocodylus porosus, the largest of all living saltwater crocodiles, can be found in the town's mangrove forest. The town's vast mangrove forest has also become a major tourist destination in Siargao, with 21 boat operators doing from three to four trips per day, thus generating income for the local economy.
On display here are educational materials, a collection of sea shells and a complete skeleton of a saltwater crocodile as well as a number of skulls. Outside is a preserved saltwater crocodile. Measuring 14 feet and 9 inches long, and 2 feet and 8 inches wide, it was discovered floating dead, last October 27, 2016, by the mangroves in Brgy. Esperanza, 8 kms. from the town proper.
Siargao Tourism Office: Paseo De Cabuntog, Brgy. Catangnan, Gen. Luna, Siargao Island. Mobile number: (0921) 718-2268 (Ms. Donna Grace T. Estrella – Siargao Tourism Coordinator)
Mangrove Protection and Information Center (MPIC): Poblacion, 8418 Del Carmen, Surigao Del Norte.  E-mail: shoreitup.org@gmail.com. Website: www.shoreitup.org.  Facebook: www.facebook.com/SiargaoMangroveCenter.
How to Get There: Skyjet Airlines has daily, 100-min. direct flights from Manila (NAIA Terminal 4) to Siargao (Sayak Airport). ETD Manila at 6 AM (M8-421), ETA Siargao at 7:40 AM. Return flights: ET Siargao at 8:10 AM (M8-422), ETD Manila at 9:50 AM.
Skyjet Airlines: Manila Domestic Airport, Parking A, Terminal 4, NAIA Complex, Brgy. 191, Pasay City, Metro Manila. Tel: (02) 863-1333 and (02) 823-3366. E-mail: sales@skyjetair.com. Website: www.skyjetair.com.