Upon checking in our rooms in Bluewater Maribago Resort and resting a bit, we were scheduled to experience the Old Cebu Walks of Mr.  Balbino "Ka Bino" Guerrero Jr., the curator of the Cebu City Museum.  Ka Bino's tour draws inspiration from the popular Manila tours such as Ivan Man Dy's Binondo Food Tour and Carlos Celdran's "Walk This Way" tour of Intramuros. It was raining on the afternoon of our first day so Ka Bino brought us to Fuente area for a unique dining experience called pungko pungko.
Check out "Walk This Way With Carlos Celdran"
Not your normal, everyday fine-dining experience, this literally is what I call "street food." Taken from the Cebuano word pungko, which means "to squat" in English, it is a term used to describe a manner of dining or can also refer to small self-service eateries along the road selling these all time-favorite fried foods.
Among the cheap but fairly, gastronomically satisfying Cebuano pungko-pungko favorites are ginabot or chicharon bulaklak (crispy, deep-fried pork innards), lumpiang ngohiong (long or short spring rolls), bola-bola (fried meat balls), hotdogs, hard-boiled eggs, longganisa, taugi (munggo bean sprouts), fried chicken, pork chops, crab meat, fried brains, fried fat, fried spleen, okoy (shrimp cake), buwad nokso (dried fish)  and  chorizo.
We sat on small, low benches that can occupy about 2 to 3 people, with a container or several trays containing a wide array of dishes displayed on tables in front of us. According to Ka Bino, for less than PhP50, customers can just pick at least 2 viands they like to eat, a soft drink and 3 to 4 pieces of puso (hanging rice), paired with a to die for vinegar mix with chili and sliced onions, without waiting for the vendors to serve them.
In the past, their customers were taxi and jeepney drivers, construction workers and students. Now, they include call center agents in the Business Process Outsourcing (BPO) industry and bank employees.  They also cater to hospitals and even families. Pungko-pungko vendors mostly depend on their customers to tell them what they ate and some are not honest enough to count their orders correctly.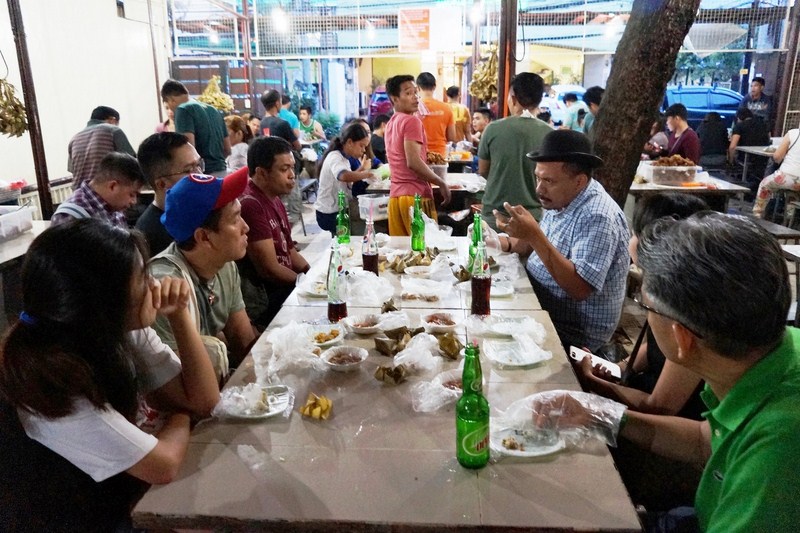 So, if you want to get a quick meal in Cebu City, you don't have to go far! Eat the pungko-pungko way! It might not be the healthiest among recommended Cebuano dishes but they are everywhere and they cater to anyone.
Pungko-Pungko sa Fuente: 52-A J. Llorente St., Cebu City 6000. Mobile number: (0922) 699-6888