Part 9 of the Bluewater Maribago Beach Resort & Spa-sponsored City Tour
This southern Cebu town's present stone and brick church was started by Fr. Juan Alonso (parish priest from 1868 to 1881) and finished by Fr. Enrique Magaz in 1881. Fr. Emiliano Diez was applying the finishing touches when the revolution broke out in 1898.
In 1907, the church was restored and blessed by Msgr. Jeremiah James Harty, Archbishop of Manila, American Bishop Thomas Hendrick and 17 other priests.
On December 2, 2010, a cast-iron national historical marker was unveiled at the church's facade by National Historical Commission of the Philippines (NHCP) Chairman Ambeth R. Ocampo along with Sibonga's parish priest Fr. Leo Cabahug and the Sibonga Ecclesiastical Heritage Commission's president Dr. Noel Ponce.
The solid and beautiful convent was built by Fr. Prospero Puerto (parish priest from 1833 to 1868) following the plans of Bishop Santos Gomez Marañon. The oldest bell, dedicated to Santa Filomena, was installed in 1863. The bell tower was destroyed during the typhoon of November 25, 1877.
The church's simple and bare, Pseudo-Gothic façade, divided into three sections by shallow pilasters, has a flame-like arched main entrance flanked by massive twin bell towers with pyramidal roofs and flame-like arched windows. The Gothic-style triangular pediment has a rose window sporting the Augustinian seal in wrought iron.
The one-nave interior, clearly influenced by Carcar City's Church of St. Catherine of Alexandria, has a wooden colonnade and a mesmerizing series of  ceiling murals at the nave.
Painted in amber and brownish tones by famed Cebuano artist Raymundo Francia (popularly called the "Michaelangelo of Cebu") in 1924, they feature the  Seven Sacraments ("Baptism," "Confirmation," "Extreme Unction," "Penance," "Matrimony," "Holy Communion" and "Holy Orders").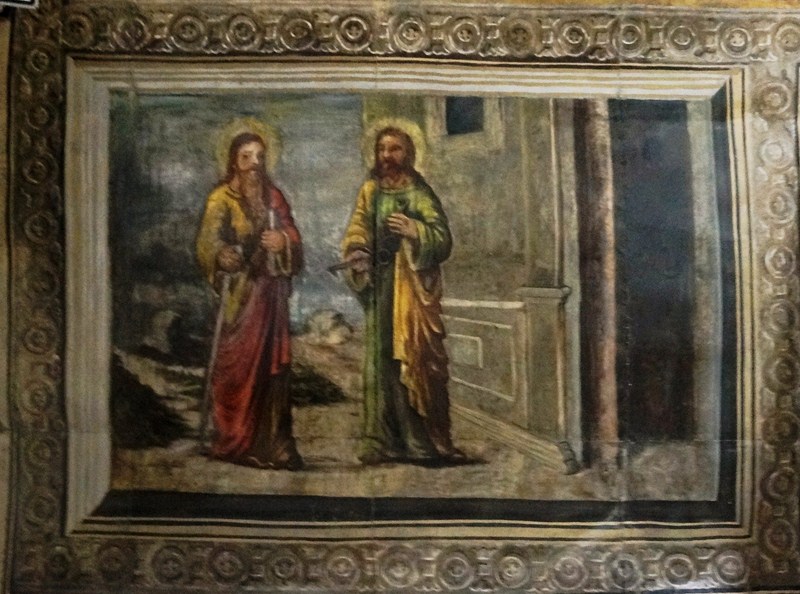 At the entrance vestibule are the ceiling frescoes  "Christians Defending Their Faith" and "Christ Purging the Temple." The "Creation of the World," the mural above the altar, shows the Biblical scene of the seven days of creation (Genesis). The ceiling of the side aisles was expertly painted to create an optical illusion of a coffered ceiling woodwork. 
Church of Our Lady of the Pillar: National Highway, Poblacion, 6020 Sibonga. Tel: (032) 486-9390. Feast of Our Lady of the Pillar: October 12.
How To Get There: Sibonga is located 60.7 kms. south of Cebu City.
Bluewater Maribago Beach Resort & Spa: Buyong, Maribago, Lapu-Lapu City, 6015, Cebu. Tel: (032) 492-0100. Fax: (032) 492-1808.  E-mail: maribago@bluewater.com.ph.   Website: www.bluewatermaribago.com.ph.  Metro Manila sales office: Rm. 704, Cityland Herrera Tower, 98 Herrera cor. Valero Sts., Salcedo Village, Makati City, Metro Manila. Tel: (02) 887-1348 and (02) 817-5751. Fax: (02) 893-5391.