From Sebaste, we boarded our van for the short, 14-km. drive to Pandan town.  Here, we were going to stay at the upscale Pandan Beach Resort, our home for the 2 remaining days of our Antique Tour.  On hand to welcome us was Ms. Gigi Bautista, the resort's owner and Gen. Manager.  Too bad we arrived late to catch the sunset.
Upon our arrival, Gigi booked all of us in single, twin and triple-sharing suites complete with all the modern conveniences hotel rooms in the city carry – airconditioning; combinations of queen, double and single beds; private bathrooms with hot and cold showers; and flat-screen cable TVs.  Some have refrigerators.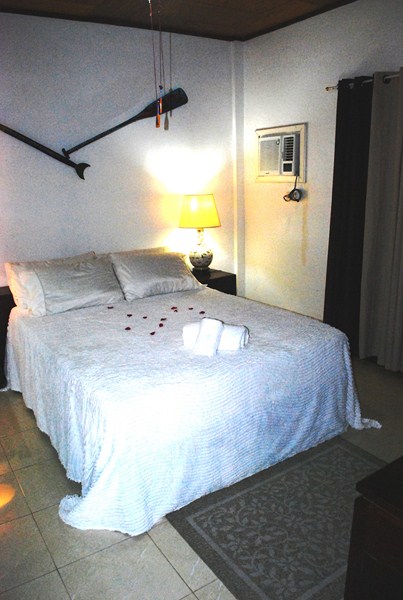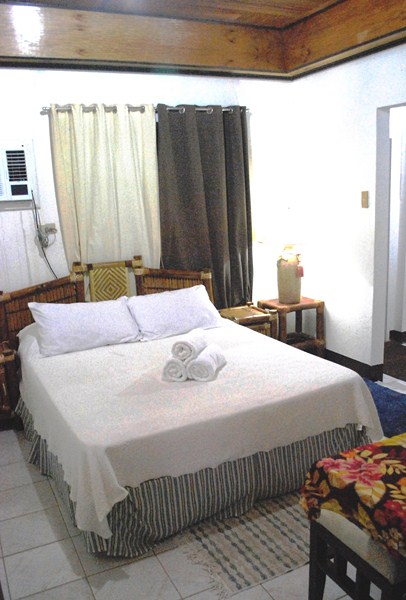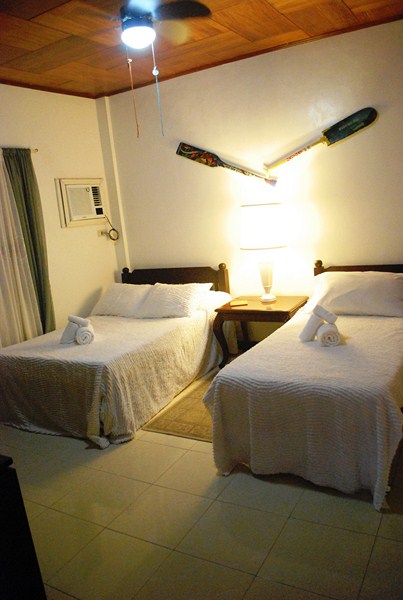 All 7 rooms were named after the 5 Antique (Culasi, Libertad, Pandan, Sebaste and Tibiao) and 2 Aklan (Buruanga and Malay) towns that comprise the Northwest Panay Peninsula Natural Park.  Outside each suite was a tastefully furnished sitting area.  Jandy and I stayed at the Sebaste Suite which had 1 queen-size and 2 single beds, actually good for 4 persons.
After checking in, what awaited us at Marquesa's Bistro Bar & Restaurant was an array of Filipino dishes, prepared by house chef Leo de Guzman, for dinner – binabak, freshwater river shrimps (patuyaw) pounded and then steamed with onions, ginger and buko (tender young coconut meat); inubarang manok, a hearty mix of native chicken and chopped ubud (core of a banana stalk); buttered shrimps; grilled marlin; and adobong pusit (squid) plus a dessert of pinais (cassava suman).
The bar offers a wide selection of cocktails, beer, mixes and wines.  After dinner, we had an audience with young Pandan Mayor Jonathan D. Tan who gave us an overview on what Pandan town has to offer to tourists – trekking, bamboo rafting along the Bugang River, one of the cleanest inland bodies of water in the Philippines; swimming at Malumpati Spring; beachcombing on Antique's only stretch of white sand beach on the mainland and, now, scuba diving.
After dining, some of us, including me, squeezed in a little work on our blogs (the resort provides wi-fi internet access) while others just opted to relax their tired muscles with a delightful and soothing massage at the gazebo.
Pandan Beach Resort: Brgy. Dionela, Pandan, Antique. Tel: (036) 278-9379.  Mobile numbers: (0922) 812-7906 and (0917) 580-9648.  E-mail: info@pandanbeachresort.com and pbrpandan@gmail.com.  Website: www.pandanbeachresort.com.
How To Get There: Pandan is located 123.7 kms. from San Jose de Buenavista, 35 kms. from Brgy. Lipata (Culasi), 30 kms. (a 45-min. drive) from Brgy. Caticlan (Malay, Aklan), 55 kms, (a 1.5-hr. drive) from Kalibo (Aklan), 65 kms. (a 1.75-hr. drive) from Dumaguit Port (Aklan) and 223 kms. from Iloilo City (Iloilo). About 3 kms. north of the town, a road forks, one to Libertad and the other to Kalibo (Aklan).