From the Church of St. Bartholomew, Jandy, Maricar, Violet, Lanny and I left the town proper. Just 2 kms. out of the town is the Baroque-style, 1-hectare Underground Cemetery.  The first and only one of its kind in the country, it was built in 1845 by Franciscan Fr. Vicente Velloc. This would be my second visit, having done so 15 years ago. We parked the Toyota Revo at the Shell service station across it.
The scrollwork-decorated octagonal red brick walls,  18 ft. high arch and 2 elaborate wrought iron gates were still there and remain quite impressive.  The enclosed circular garden is surrounded by 240 (120 on each side) above-ground, apartment-type niches similar to Manila's Paco Cemetery.
The oldest niche is dated 1886 and the last interment was in 1982, nine years (August 1, 1973) after it was declared as a National Historical Landmark by virtue of Presidential Decree No. 260 (with amendments on June 11, 1978 by virtue of Administrative Order 1505). Its historical marker was only unveiled on October 24, 1981.

Traversing the red tiled walkway, we entered the dome-like cemetery chapel, used for requiem or funeral mass, which was built in a strange arabesque style and has blue and  white tiles. Inside is the Sto. Entierro, the glass bier of the dead Christ. The planked ceiling which was water-damaged during my first visit was now partially repaired.
We went down one of the two stairways leading 15 ft. down to the underground crypt which contain 36 tombs (housing the remains of Spanish friars and prominent people), arranged in 4 walls with burial plaques.   Unlike my first visit, I was now allowed to take pictures (but no flash).  Back at the chapel, we signed the customary guest book and left.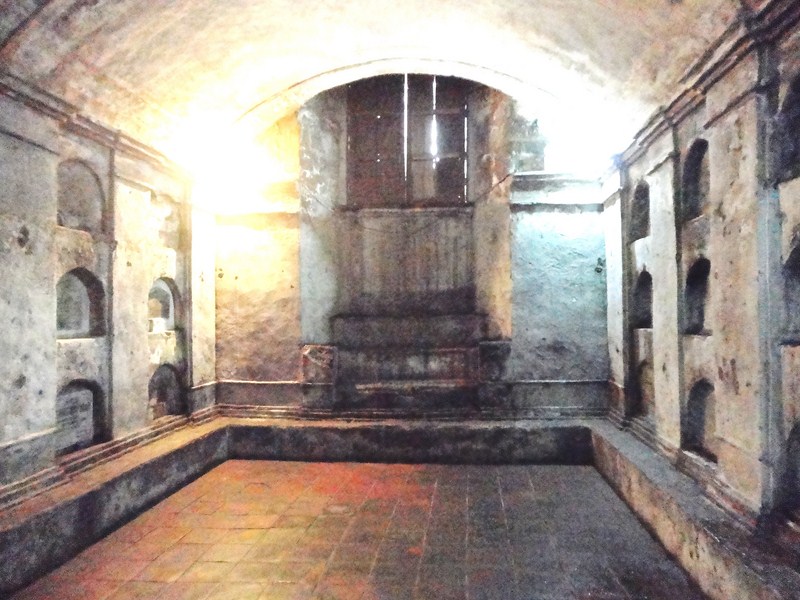 Nagcarlan Underground Cemetery: Brgy. Bambang, Nagcarlan, Laguna.  Open Tuesdays to Sundays. Admission is free.  Donations are needed and welcomed.