Once settled in at my room in Envoy Tours Hostel, I decided to do my first exploration of Old Tblisi.  I was joined by Ruby Bebita, a resident Pinay expat who spoke passable Georgian and, after 3 months in the country, already knows her way around the city.  She suggested we explore nearby Narikala Fortress which is clearly visible above our hostel.  It was still drizzling when we left.
To get there, we walked to nearby Rike Park where we took a plexi-glass cable car (open 11 AM-11 PM, fare: 1 GEL/pax) up the steep hill.  Called the Aerial Tramway, it was just reopened last January 2013 after 13 years of reconstruction. Ruby used her Metro Card (Metromoney) to pay the fare. Entrance to the fortress is free.
This ancient fortress, overlooking Tbilisi and the Kura River, between the sulphur baths and the botanical gardens of Tbilisi, consists of 2 walled sections.  It was established in the 4th century as the Shuris-tsikhe ("Invidious Fort") and was considerably expanded by the Umayyads in the 7th century and, later, by King David the Builder (1089–1125). The Mongols renamed it Narin Qala ("Little Fortress"). Most of its extant fortifications date from the 16th and 17th centuries. In 1827, parts of the fortress were damaged by an earthquake and demolished.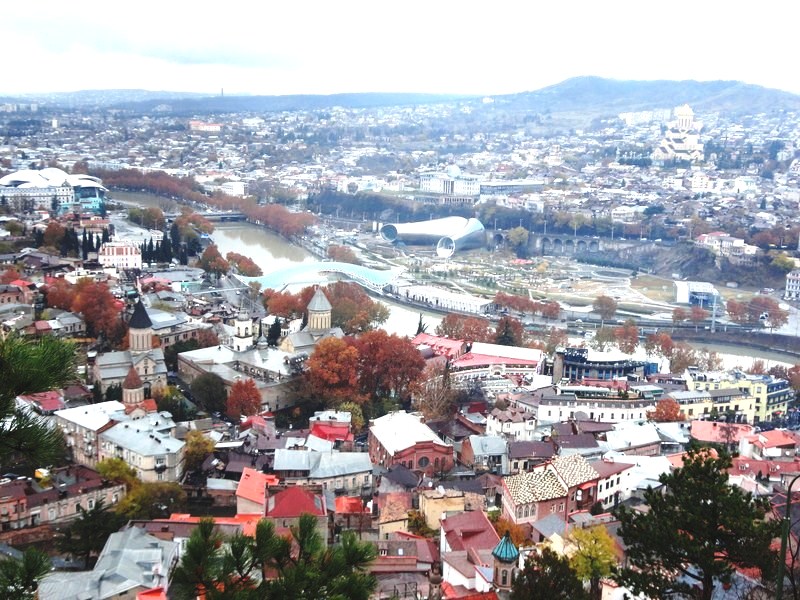 Once on top, I beheld a beautiful view of the city spread out before us, with the Mtkvari River cutting through its middle, making for very frame-worthy photography.  Ruby pointed out the notable sites, both old and new, visible from this vantage point – Tiflis Baths, the Metekhi Church, the equestrian statue of King Vakhtang Gorgasali, the Bridge of Peace over Kura River, the Holy Trinity Cathedral of Tbilisi (Sameba) and the mushroom-shaped Tbilisi Public Service Hall. It was truly a photographer's delight.
Aside from the fortess walls, there are two notable structures within the fortress – the Church of St. Nicolas and the statue of Kartlis Deda ("Mother of Georgia"). The recently restored St Nicholas church, on the lower court, replaced the original 13th century church that was destroyed during a fire. Built from 1996 to 1997, the new church is of "prescribed cross" type, with doors on three sides.  Too bad the church doors were closed as its interiors are decorated with frescos showing scenes both from the Bible and the history of Georgia.
The statue of Kartlis Deda, on the top of Sololaki Hill, was erected in 1958, the year Tbilisi celebrated its 1,500th anniversary. This 23 m. high, aluminum figure of a woman in Georgian national dress, designed by prominent Georgian sculptor Elguja Amashukeli, symbolizes the Georgian national character.  On her left hand she holds a bowl of wine to greet those who come as friends and, in her right hand, is a sword for those who come as enemies.
After our tour around the fortress, we decided to forego returning via cable car and, instead, walk down the winding road from Narikala Fortress to Old Tbilisi, a rewarding experience in itself.   It's quite a tricky walk, on wet stoned paths and stairs, but we were wearing comfortable footwear.
During the day, the fortress exudes a spirit of impregnable character, dignity and endurance and, during the night (when it is beautifully lit), it radiates a sense of inner silence and peace, truly a testament to the world that Tbilisi is a lovely city filled with a rich and historic past.
Qatar Airways has daily flights from Diosdado Macapagal International Airport (Clark, Pampanga) to Tbilisi (Republic of Georgia) with stopovers at Hamad International Airport (Doha, Qatar, 15 hrs.) and Heydar Aliyev International Airport (Baku, Azerbaijan, 1 hr.). Website: www.qatarairways.com.