After lunch, Buddy, Pancho, Melissa, Riva and I, plus our Georgian guide Sopho Makashvili, proceeded on our GNTA-sponsored tour of Stalin State Museum located within Gori town proper.  This museum, officially dedicated to the life of Soviet Union leader Joseph Stalin (who was born Iosef Dzhugashvili in Gori on December 18, 1878), was begun in 1951, ostensibly as a local history museum but was clearly intended to become a memorial to Stalin, who died on March 5, 1953.  It defiantly opened in 1957, the year after Nikita Khruschev's secret speech denouncing Stalin.
In 1989, with the downfall of the Soviet Union and independence movement of Georgia, the museum was "closed," post-perestroika. However, school groups were still being shown around and, now, it has abandoned all pretense of being closed and has since been reopened. Now a popular tourist attraction, it has retained, until recent years, its Soviet-era characteristics and it now highlights the Soviet-era Stalin personality cult. The museum has 3 sections, all located in the town's central square.
We first dropped by the main corpus of the complex, the Exposition Building with a tower at one end.  This large, ornate palazzo, one of the biggest buildings in town, was built in the Stalinist Gothic style. While waiting for our guide at the lobby of this rather typical Soviet-era house museum, we checked out the gift shop.
Some of the "souvenirs" on sale include key chains, mugs, lighters, wine flasks, mini busts and Stalin red wine but the vast majority seemed too kitschy to purchase.  After a short wait, we finally met up with our English-speaking guide – the svelte, friendly and polite Natia Jolbordi.
The museum tours starts at the second floor of the building which may be reached only by a  grand, W-shaped stairway (there are no elevators) whose landing has a life-size statue of Stalin.  This complex of exhibits is divided into six halls, all well laid out in roughly chronological order and most dedicated to Stalin's role in the big patriotic war and his victory over Nazism and fascism.
About 70% of the exhibits are photos (mostly reproductions) of various events, pictures from Dzugashvili's life and of leaders and important events of the Soviet Union. The display also includes artifacts related to Stalin in different periods in his life, illustrations, paintings and newspaper articles headlining his achievements.  Many of the items on display have written English descriptions but most, however, are described in Georgian and Russian and that's why it is so important to have an English-speaking guide.
Our museum guide, Natia went through the very well presented information in a very knowledgeable manner and, after she had finished, was on hand to answer our questions. I was particularly interested in Stalin's personal life: childhood, his early days when he was in school and the information about his own family and children.
I was very enlightened by the story of his eldest son Yakov (from his first wife Ekaterina Svanidze) whom he lost on April 14, 1943 at Sachsenhausen concentration camp, (Oranienburg, Germany) during World War II. I also found the early "revolutionary" years of Stalin especially interesting. Natia told us everything down to the minute detail. She was great.
We also had the opportunity to see display cases containing a couple of Stalin's famous pipes, private things of Ekaterina Jugashvili (Stalin's mother), medals awarded to him and gifts (carpets with the face of Stalin, needlepoints, a tobacco-leave mosaic, a hammer and sickle desk lamp, etc.) from various other nations and made to him over the years during his reign.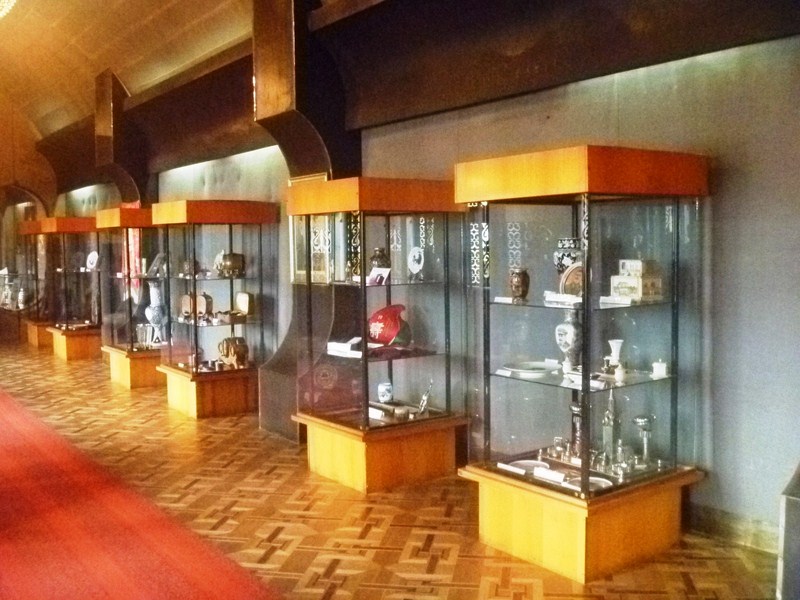 Our journey ended in a darkened room with one of 12 copies of the death mask of Stalin on view, taken shortly after his death and presented in a red velvet ring as if it were a holy relic.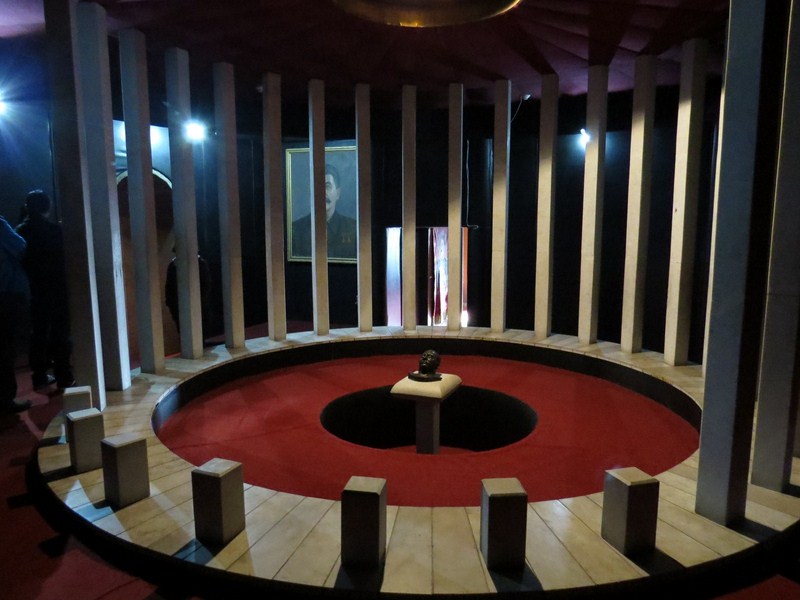 We now all left the main building and moved out, into the sunlight, towards a Greco-Italianate-style pavilion where, enshrined within, is a small wooden duplex hut where Stalin was born and spent his first four years. Stalin's father Vissarion Jughashvili, a local shoemaker, rented the one room on the left hand side of the building and maintained a workshop in the basement. We all took a peek inside to see its sparse furnishings.
Finally, we moved on to check out Stalin's personal green, Art Nouveau
Pullman
railway carriage, parked to one side of the Exposition Building.  The former Tsar Nicolas II's train, it was used by Stalin, from 1941 onwards, for his travel to Allied conferences in Tehran (Iran, November 28 – December 1, 1943), Yalta (Crimea, February 4 – 11, 1945) and Potsdam (Germany, July 17 – August 2, 1945). I
n 1985,
 upon being recovered from the railway yards at 
Rostov-on-Don
, i
t was sent to the museum.  Weighing 83 tons and
armor-plated
(a demonstration of Stalin's acute sense of security), Stalin's Air Force One still had surprising luxury (for that era) as he kept all the trappings of grandeur of his former enemy.  The carriage had Stalin's bedroom, his toilet, rooms for his aides, a kitchen and a conference room at its end.  Stalin is Georgia's most famous though controversial son and, in a culture which reveres strong personalities, that counts for a lot in this small country. The Stalin State Museum, a time warp from Soviet Union times, was truly worth a visit. 
Stalin State Museum
: 32 Stalin Ave., Gori, Georgia. Tel:  995 270 7 52 15.  Open daily except public holidays, 10 AM – 5 PM. Admission:  10 GEL per pax plus an additional 5 GEL per pax if you want to visit Stalin's train wagon. 
Georgia National Tourism Administration: 4, Sanapiro St, 0105, Tbilisi, Georgia. Tel: +995 32 43 69 99. E-mail: info@gnta.ge. Website: www.georgia.travel; www.gnta.ge.
Qatar Airways has daily flights from Diosdado Macapagal International Airport (Clark, Pampanga) to Tbilisi (Republic of Georgia) with stopovers at Hamad International Airport (Doha, Qatar, 15 hrs.) and Heydar Aliyev International Airport (Baku, Azerbaijan, 1 hr.). Website: www.qatarairways.com.