After lunch and freshening up at Ambangeg Country Road Restaurant in Bokod,  we continued on our way back, along winding zigzag roads, to Baguio City.  About 36 kms. (22 mi., an hour's drive) northeast of the city, we made a short stopover at Ambuklao Dam, in Brgy. Ambuklao.
One of Southeast Asia's earth and rock-filled dams, is is one of the oldest power plants in the country and was among the first large hydroelectric power plants constructed in the Philippines. It impounds the waters of the upper portion of the turbulent Agno River (the longest waterway in Northern Luzon) which originates from Mt. Data, and its tributary, the Bokod River.
The adjunct irrigation system on the delta of the Agno River, it was the first in the Philippines to be served from a reservoir dam and it dams the river with 6,504,000 cu. m. of rocks, gravel and cement together with 1,000,000 cu. m. of clay earth at its core.  Its picturesque, manmade lake has a small picnic area along the shore (no restaurants though) and boats can sometimes be hired for pleasure rowing.  It is also teems with freshwater fish such as crimson snapper (maya-maya), tilapia and silver carp.
The dam, once ranked among the world's tallest dams, is 131 m. high, 426 m. long at the crest and has a base width of 565 m..  The elevation of its crest is 758 m. and the roadway that runs through the top of the dam has an elevation of 756 m.. It was once the highest power dam in Asia and the second highest of its kind in the world.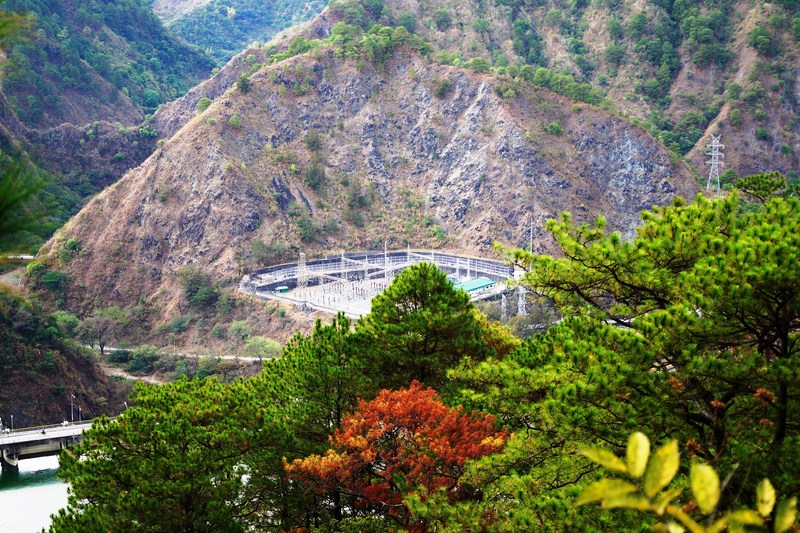 As early as the late 1940s, the development of the Agno River, for purposes of hydroelectric power generation, flood control and irrigation, had been conceived and preliminary investigations for development at Ambuklao and Binga Dam sites were undertaken, under the direction of Pres. Manuel A. Roxas, (in cooperation with Westinghouse International) as early as January 1948.
Started in July 1950, it took 6 years and 5 months, at a cost of PhP132 million, to complete and the operation of this hydroelectric facility finally started on December 23, 1956. Its civil works contractor was the Guy F. Atkinson Company and the engineering consultant was Harza Engineering Company of Chicago. To build this engineering feat, a diversion channel was first cut to allow the Agno River to flow naturally away from ongoing work.  Then the gorge was narrowed through a series of blasts inside a mountain, thus trapping the water and forming a manmade lake.  Its water turbines, loaded on huge flatbed trucks (operating in tandem), was brought up the coast via the Naguilian Rd. and brought down via the specifically-built Ambuklao Rd. from Pacdal (Baguio City).
The dam has 8 Tainter radial gates at the dam's spillway. Each spillway measures 12.5 m. by 12.5 m. and is 127 m. in length. The gross storage capacity of the dam's reservoir is 327,170,000 cu. m. (265,240 acre·ft) and it has a usable storage capacity of 258,000,000 cu. m.. The drainage area is 686 sq. kms. and is 11 kms. long with a maximum width of 1 km..  It once generated 75 megawatts (MW) via three 25 MW generating units placed in an underground 17-m. high, 30-m. long and 9-m. wide power house cut from the solid rock.
On July 16, 1990, a massive earthquake hit Luzon, damaging the dam's spillways, turbines and reservoir, resulting in siltation and technical problems that affected the plant's operations.  In 1999, the Ambuklao Dam was decommissioned.  However, on November 28, 2007, SN Aboitiz Power-Benguet, Inc. (SNAP-Benguet), a joint venture between SN Power of Norway and Aboitiz Power, won the public bid for Ambuklao Dam and Binga Dam, its neighboring power facility in Itogon, which were sold (for US$325 million) as a package under the power sector privatization program of the Philippine government.
In December 2008, SNAP-Benguet began a massive rehabilitation project that restored Ambuklao Dam to operating status, increasing its capacity from 75 MW to 105 MW. The project required the construction of a new intake, headrace and penstock, elevation of tailrace tunnel outlet, de-silting of tailrace tunnel and replacement of electro-mechanical components. On June 1, 2011, Unit 3 became the first turbine unit to go on-line, followed by the other two units. On October 2011, Ambuklao Dam was formally inaugurated. Ambuklao Dam, designed as a peaking plant, is capable of delivering energy and providing ancillary services needed to maintain the grid.
How to Get There: The dam is accessible from the inter-provincial road going cross-country to Cagayan Valley through a scenic 36-km. mountain highway stretching across the crest of the dam to Kabayan.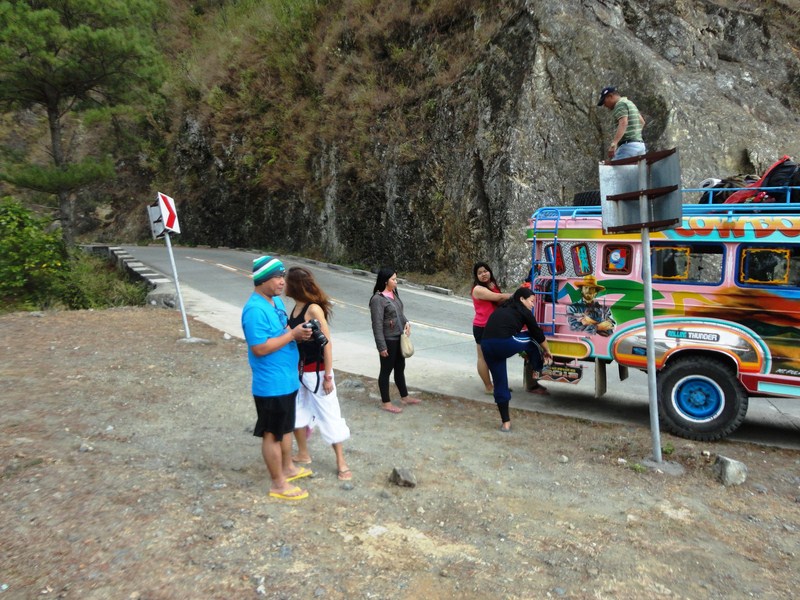 For group tours, you must apply one week in advance at the following:
National Power Corporation: Bonifacio St., Baguio City, Benguet.
National Power Corporation: Agham Rd. cor. Quezon Ave., Diliman, Quezon City.  Tel: (632) 921-3541.  Fax: (632) 921-2468.  E-mail: postmaster@napocor.gov.ph.