After breakfast at EGI Albergo de Ferroca Hotel and Sunday mass at nearby St. Joseph Church, I decided to tour my guests Melissa Tinonas and her children Almira and Albert, all first timers in Baguio, around the city.  As our hotel was right across the Wright Park Riding Circle, it was only fitting that this would be the first place we visit and explore.
The Wright Park Riding Circle is located within the flat and wide triangle below Wright Park. Here, 200 horses are available for hire. Wright Park, one of the many scenic parks in Baguio City, is located at the eastern part of the city and fronts the main gate of The Mansion.
Named after American Gov.-Gen. Luke E. Wright (1906-1909), the park's horseback riding area is often referred to, by children, as "Ride Park" because of the horses.  After all, children have no idea who Luke E. Wright is. Although there are now other riding areas in the City of Pines, the Wright Park Riding Circle is still the most popular venue for horseback riding for visitors and locals alike.
It being a long and sunny Chinese New Year weekend, the place was crowded with residents and tourists.  I am no stranger to the park, having visited it during Christmas vacations with my parents and siblings and, when I got married, with my family.  In the 1970s, the hourly rates for horse rides back then was just Php5.  Four decades later, it was now PhP300 (PhP200 for half an  hour) an hour and another PhP300 for a guide to tour you around.
However, before the horseback riding, Melissa, Almira, Albert and my son Jandy decided to have their photos taken while dress up in full Cordillera regalia (PhP20 per pax) – vests and headdresses for the gents and ladies, shield and spear for the men (without the g-string or bahag) and tapis for the ladies.  We also tried our first taste of strawberry flavored taho.
Then, it was off to the horse riding field. The riding field has an inner circle (best for first-timers) for walking horses and an outer circle for the running horses for more experienced riders who want to make the horse trot or canter. Only the riders and the pony boys (usually the horse owner himself, or his assistant) are allowed within the Riding Circle. So the Riding Circle is NOT a park as only horses, pony boys and riders are allowed in the ring.  All experienced handlers, pony boys lead the horse, walk alongside it or ride behind the child for the latter's protection and enjoyment of a faster ride. Parents and nannies (yayas) can only observe their kids from viewing decks and benches, documenting their kid's ride with photos, using their camera's zoom lens, and videos.
There were lots of horses to choose from. There were horses of different sizes and colors. Some horses wore their natural colors (brown, black, and white or mixed) while others wore artificial colors (pink, blue, yellow, etc). Most of the time, children choose the ones which are in pink or blue. I was surprised to see white ponies with a shock of pink hair (Melissa and Jandy chose to ride on this kind) or, sometimes, a brown one with a bright orange mane.
Pony Boys have noticed, in recent years, that children prefer white horses, thinking they're nicer" or "gentler" (mas mabait) than the brown ones.  To make the white ones even more attractive to customers, the pony boys have taken to dying the horse's mane (but  hardly ever their tails to match the manes), putting a little pink paper flower on their hair, giving them "bangs by cutting off a piece of the tail and attaching the extra hair to the bridle.
After the pony ride, we walked towards and climbed a wide stone stairway leading to the pine-forest preserve of Wright Park itself.  On the way up, we had wonderful views of the place, the horses and the people riding on them. At its end is a pergola-like stone structure or gazebo.
Igorots, dressed in their native attire and regalia, can be found here, willing to pose for a photograph … of course, for a fee of PhP10.  At stalls on the far side of the stairs, you can buy souvenirs such as woven products, key chains, T-shirts, peanut brittle, strawberry jams and a lot more. Beautiful and colorful plants are also displayed and sold here in affordable prices.
The park's main feature is the beautiful and much photographed Pool of Pines, a 100-m. (328-ft.) long and narrow 5-m. (16.4-ft.) wide, shallow and elongated rectangular reflecting pool filled with lotus. Postcard-type photographs are usually taken here.
On the way to the pool, we noticed on the left, a photo booth with the sign "Forevermore" and "La Presa." The fictional La Presa, in reality Sitio Pungayan of Tuba town, some 40 mins. away from Baguio City, is the location where most of the scenes from the popular ABS-CBN hit teleserye "Forevermore" (starring Enrique Gil and Liza Soberano) were shot. There you have it.  
It just so happened that Wright Park, together with Burnham Park and The Manor (which, in the series, is a hotel called Hotel Grande owned by the family of Gil's character) were also featured in the series.
Here, fans get to dress up in native attire and pose for PhP5.At the Pool of Pines, we walked along a walkway lined, on both sides, with tall pine trees, weeping willow trees and decorative street lights.  Native handicrafts are also sold at the Mansion end of the park by a few Igorot peddlers.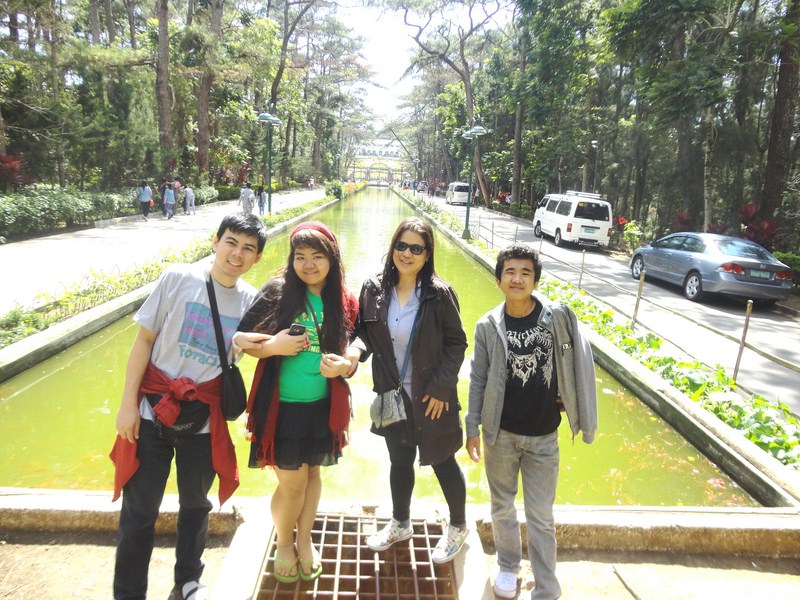 Wright Park: Leonard Wood Rd, Baguio, Benguet.
When going horseback riding, choose a horse that is proportionate in size to your child. It would be better if you asked around first or observed other riders before choosing one. For those who intend to take a pony farther out along South Drive, the Mines View Park area or to Outlook Drive, it is advisable to first agree on the hourly cost to be charged.