After our visit to Wright Park and The Mansion, Melissa, Almira, Albert, Jandy and I all took a taxi for Mines View Park,  an overlook park located on a land promontory  on the extreme northeastern outskirts of Baguio City, about 4 kms from downtown.  The park overlooks the mining town of Itogon.  One of the most popular and most visited parks in the city, it should not be missed when visiting Baguio.
In decades past, I have visited this park every time I was in the city with my parents and siblings during Christmas and, when I got married, with my own family.
During the early 1960s and 1970s, the main attraction here was throwing coins from the uniquely shaped and still much photographed observation gazebo structure, down the mountain ridge, to little boys wearing g-strings who would run like crazy catching them or search for them, even through the rocks and small cracks of the ground below.
Later on, as residential communities started sprouting below the ridge, the children had to be more deft and creative in catching the coins, using homemade cups attached to long poles. This practice has been stopped due to the risk of accidents. Instead, a wishing well was built in memory of the Igorot kids who started this unique attraction in Baguio City.  Also back then, horses from the Wright Park Riding Circle and the Baguio Country Club were allowed to pass the area, allowing riders to actually get off there, have some snacks or do some quick souvenir shopping, get back on their horse and then head back downhill.
It being a long Chinese New Year holiday, there were many visitors when we arrived at the park. At the entrance to the park and at the open parking area at the vicinity of the park are souvenir stalls plus a number of canteens, snack stores and ambulant vendors selling food and beverages such as grilled dried squid, jumbo hotdogs on a stick, fried squidball and corn on a cob (or shredded in a cup).  Across it is Ibay Zion Plaza which sells silver jewelry made by the popular silver shop, Ibay.
One of the charming denizens in this really gigantic tourist trap is a popular, cute, cuddly and friendly but huge St. Bernard dog wearing sunglasses named "Doglas" who is available for picture-taking with tourists (PhP20.00). Other photo op gimmicks include having your picture taken riding a small, lazy, pink-maned (and tail) pony wearing a cowboy hat (PhP10 per shot), pose with or take pictures of (both for a fee) natives in Igorot attire (g-strings, vest and headdress for men, plus spear and shield, and tapis for women), or also rent the aforementioned native costumes and have your photo taken (with your own camera) for PhP10 per shot.
We all walked down the winding stone-covered stairway to the observation deck situated below. From the observation deck, we had a spectacular and breathtaking panoramic view of the abandoned gold and copper mines of the Benguet Corporation, the surrounding Central Cordillera mountains, a glimpse of the Amburayan Valley and the quite disappointing view of homes below. Here, you can rent a binocular (PhP10 for 5 mins.) for a better view. At the promontory, we sat down at benches to rest and enjoy the view.
Later on, we did some souvenir shopping.  The souvenirs stalls here have multiplied over the years.  They now extend to the sides of Gilbraltar Road and Outlook Drive and many are located closer to the ridge itself.  There were some good bargains at the stores and, before deciding to buy a particular item, we checked and compared prices. Stalls here sell native handicrafts such as wood carvings (including the iconic but obscene "barrel" man), locally-made silver products and jewelry (rings, pendants, bracelets, etc.), baskets, scarves, wallets, T-shirts, sweet preserves, tiger grass brooms, sweaters, peanut brittle, native bags, blankets, knitted bonnets and a variety of other items all similar to those found in the dry goods section of the Baguio City Market but only at a much smaller scale.The selections, though, are said to be better here.
For those who love gardening, a variety of plants and flowers such as bromeliads, mums, busy daisy, everlasting, money tree, cactus, and other succulents are also sold along the walkway.
On certain months of the year, plan your visits to the park d earlier during the day as the view may not be visible when the fog starts to move in during the afternoon.
How to Get There By private transportation: From MacDonald's, Sesion Road, climb up and turn at Leonard Wood Road, passing iconic Baguio attractions such as Teachers Camp and Botanical Garden and the Pacdal Rotunda, then go straight up C. P. Romulo Drive, passing Wright Park Riding Circle and The Mansion. Climbing up, the road curves to the left to Outlook Drive.  Once you see Baguio Townhouse on the right, Mines View Park will be at the top.  Do not take the road going straight down to Itogon (Benguet).  A more direct route is to pass Gibraltar Road, to the left of Wright Park Riding Circle. Once you see the Good Shepherd Convent on your left, Mines View Park is just a few meters away.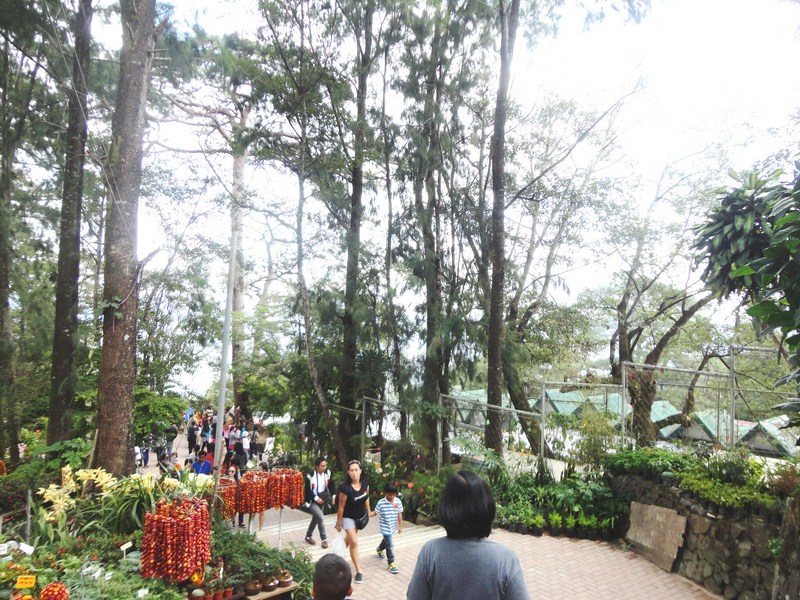 By Public Transportation: Public utility jeepneys (PUJ), using the Plaza-Mines View line, are available along Mabini Street (10 to 20-min. ride). You can also hire a metered taxi to take you there.  Tou can also contract the taxi driver by the hour or for the day. For larger groups, it may be better to hire a jeepney instead.