The monumental  Spanish Steps (Italian: Scalinata di Trinità dei Monti), a stairway of 135 steps (the slightly elevated drainage system is often mistaken for the first step), climbs a steep slope between the Piazza di Spagna at the base and Piazza Trinità dei Monti, was built from 1723–1725 with French diplomat Étienne Gueffier's bequeathed funds of 20,000 scudi.
Designed by the little-known architect Francesco de Sanctis (though Alessandro Specchi was long thought to have produced the winning entry), following a competition in 1717, it links the Bourbon Spanish Embassy and the Trinità dei Monti church (under the patronage of the Bourbon kings of France), both located above at the top, to the Holy See in Palazzo Monaldeschi below.
At the base of the stairway is the  Fontana della Barcaccia ("Fountain of the ugly Boat"), an Early Baroque sculptural fountain built, with travertine as its material, from 1627–29.  It is often credited to Pietro Bernini who, since 1623, was Pope Urban VIII's architect for the Acqua Vergine, an aqueduct from 19 BC which is the source of the fountain's water. His more famous son, Gian Lorenzo Bernini, was recently said to have collaborated on the decoration. According to a legend, the pope had the fountain installed after he had been impressed by a boat brought here by the 1598 flood of the Tiber River.
Made into the shape of a half-sunken ship, with water overflowing from its sides into a small basin, it was built slightly below street level due to the low water pressure (hence no water spectacle) from the aqueduct which flows from seven points of fountain: – the center baluster; two inside the boat (from sun-shaped human faces) and four outside the boat. As a reminder of Pope Urban VIII's ancestry, the fountain is decorated with the papal coat of arms of the Barberini family.
As one begins to climb the steps one can see, at the corner on the right, the house where English poet John Keats lived and died in 1821.  It is now a museum dedicated to his memory, full of memorabilia of the English Romantic generation.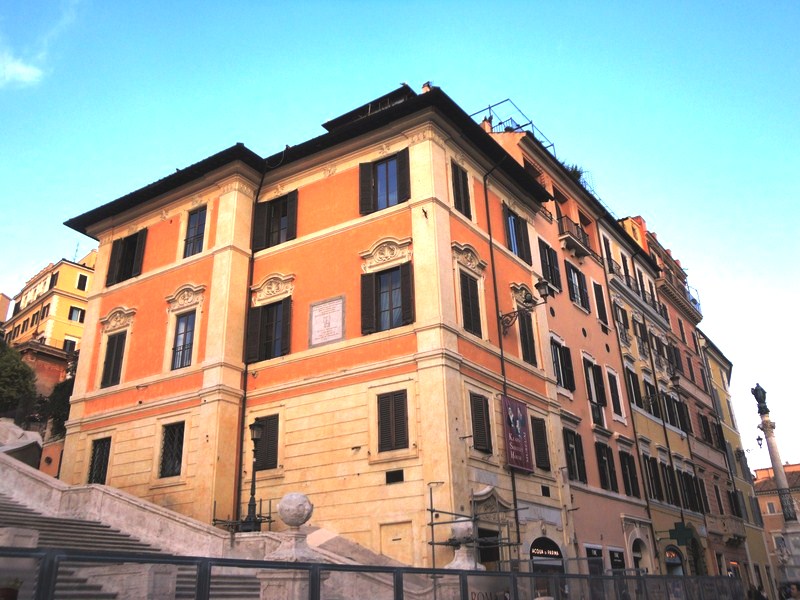 The Spanish Steps was featured in a number of films, TV shows and music albums:
The Spanish Steps have been restored several times, most recently in 1995. 
Spanish Steps: Piazza di Spagna, Rome, Italy