The USS Constitution Museum serves as the memory and educational voice of the still floating and docked frigate USS Constitution ("Old Ironsides") and provides engaging and hands-on experiences for all visitors. An interpretive complement to this still active duty naval vessel (first launched in 1797) but managed separately, it tells the story of the ship and the people who designed, built and sailed her through its collection of artifacts related to the ship's history and interactive exhibits.
Check out "USS Constitution – Old Ironsides"
Part of the Boston National Historical Park, it is housed in a restored shipyard building at the foot of Pier 2, just across the pier from the Constitution, at the end of Boston's Freedom Trail. Highly recommended for naval history fans, both ship and museum are a "must see" for anyone visiting Boston.
Check out "Freedom Trail"
The museum, a Smithsonian Institution Affiliate, was honored to be rated a prestigious 4 stars on Charity Navigator.  It has won many awards including the 2003 National Award for Museum and Library Service, the 2010 Excellence in Exhibition Label Writing Award, the 2011 Leadership in History Award of Merit, the 2011 Muse Award for Online Presence and the Parent's Choice Award.
A private, award-winning non-profit organization incorporated in 1972, the museum opened its doors at its present facility in 1976. Its founding enabled the Constitution to clear its decks of display cases so that visitors who tour aboard would see a frigate ready to sail, rather than a floating museum. It is also home to the Samuel Eliot Morison Memorial Library and includes a comprehensive archival repository of records related to the ship's history.
The fantastic All Hands on Deck: A Sailor's Life in 1812, a permanent all-ages interactive  exhibit (combined with images, sound, theater, artifacts and physical and mental tests) located at the second floor geared specifically toward children, was opened on n July 3, 2009. 
Based on the museum's ongoing historical research into lives of 1243 sailors' and officers' that served aboard the USS Constitution during the War of 1812, it explores the harsh realities of life at sea, through a combination of authentic storytelling and hands-on activities, just as the War of 1812 is declared.
Here, you can discover the unique world afloat as you swing in a authentic canvas hammock that sailors used to bed down, climb onto a scaled model of a yard and work ropes to try to shorten and furl a sail; get on your hands and knees and grab a holy stone to scrub a deck; experience battle and learn how they survived for months, sometimes years at sea.
Along the walls are life-sized cutouts of notable crew members, each with a plaque telling their own unique story aboard the ship.  You can also find out the dramatic twists in the life story of 8 year old David Debias, an African-American boy that joined Constitution's crew in 1812. There are also actual artifacts from the ship including an actual biscuit that a sailor saved as a souvenir.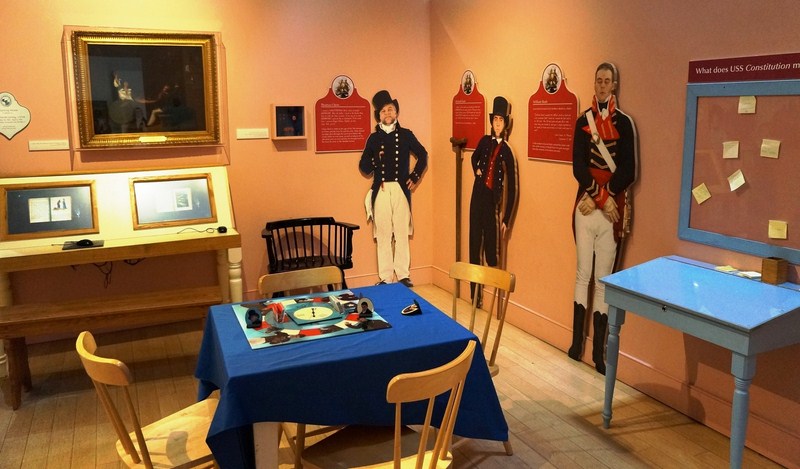 There's also a station where you can test your knot-tying abilities and, at the end of the exhibition, spin a wheel to determine your ultimate fate at sea.
Forest to Frigate, the museum's newest hands-on exhibit, chronicles the ship's first 200 years, how and why she was built, how she earned her fame in the War of 1812, and why the US Navy still preserves the the over two century old wooden frigate as a commissioned warship.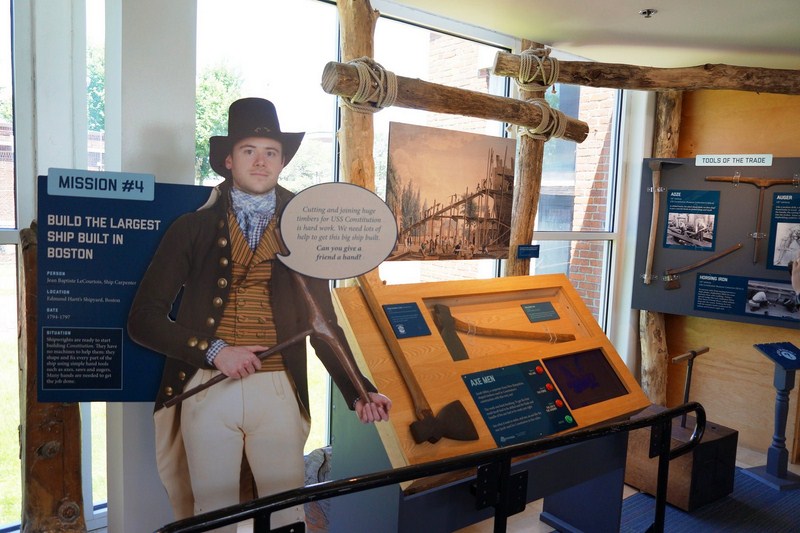 Enter the 1790's to follow the story from the forest in which "Old Ironsides'" timbers grew to her launch as a fully formed frigate.  Decide for yourself what kind of ship to build, meet men like Paul Revere who labored to bring her to life, and test your shipyard skills.
"Old Ironsides in War and Peace" provides an in-depth look at the ship's storied history, including how and why she was built, how she earned her fame during the War of 1812, and why she is preserved at the United States Navy's oldest commissioned warship. The exhibits on the War of 1812 and the Barbary War are especially interesting. Here you can trace the birth of the US Navy during these relatively unknown conflicts.
On display are  scores of artifacts, documents, and photographs illustrating Constitution's decisive and symbolic role in US history.  They include a spike made by Paul Revere's shop and phenomenal period paintings of USS Constitution and her captains. 
"Old Ironsides" War of 1812 Discovery Center, an interactive exhibit designed for families in mind, explains the causes and consequences of the War of 1812 through games, multi-media, books, and other hands-on activities.
"Constitution vs HMS Java" tells the story of the battle between Constitution and HMS Java, through artwork, archival records, and artifacts associated with the battle.
The Model Shipwright Guild, at the ground floor of the museum, operates a workshop, where visitors can see volunteer modelers working on fantastically detailed miniatures of the USS Constitution and other ships.
USS Constitution Museum : Building 22, Charlestown Navy Yard, 88 Constitution Rd., 
Boston, Massachusetts 02129, USA.  Tel: +1 617-996-1954 and +1 617-426-1812.Open daily, 10AM – 5PM. The museum is closed on Thanksgiving Day, Christmas Day and New Year's Day. ​ Admission: free (a suggested donation of US$5 for adults and US $3 for children is welcome). Website: www.ussconstitutionmuseum.org.
How to Get There: The GPS address is 1 Constitution Road, Charlestown. For thos with cars, you can park in the Nautica Parking Garage across from the Naval Yard Visitor Center.  For those taking public transporation, take the MBTA Green Line (to North Station) or Orange Line (to Bunker Hill Community College). Walk east on Causeway Street towards the Zakim Bridge/North End. At the first light (North Washington Street), turn left and cross the Charlestown Bridge. Follow the Freedom Trail red line to the Charlestown Navy Yard and enter through Gate 1.