Dominican Hill in Baguio City is now famous for two things – the century-old, haunted Diplomat Hotel Ruins and the newer, giant Ten Commandments Building. This new tourist attraction in Baguio, right beside the Diplomat Hotel ruins, serves as a symbol that drives away evil spirits.
Check out "Diplomat Hotel Ruins"
This A-shaped, 12.19 m. high "prayer building" has two slanting slabs of stone carved with the imposing 152.90 sq. m. (1,645.8 sq. ft.) Bible's Ten Commandments (a copy of the rules supposedly handed down by God to Moses on Mt. Sinai) that broke the Guinness World Records as the world's first and tallest facility that features the Ten Commandments.
This PhP5.5-million building was commissioned last February 2011 by Nueva Vizcaya businesswoman Grace Galindez-Gupana, chief executive officer of ABS Gen Herbs International Corp. and founder of  the Kingdom of Jerusalem Halleluyah Foundation International (KOJHF, a religious group), and built by contractors from Nueva Ecija. The Ten Commandments building topped her previous world record, attained in 2009, when she built a similar 65 sq. m. tablet on a hill outside Manila.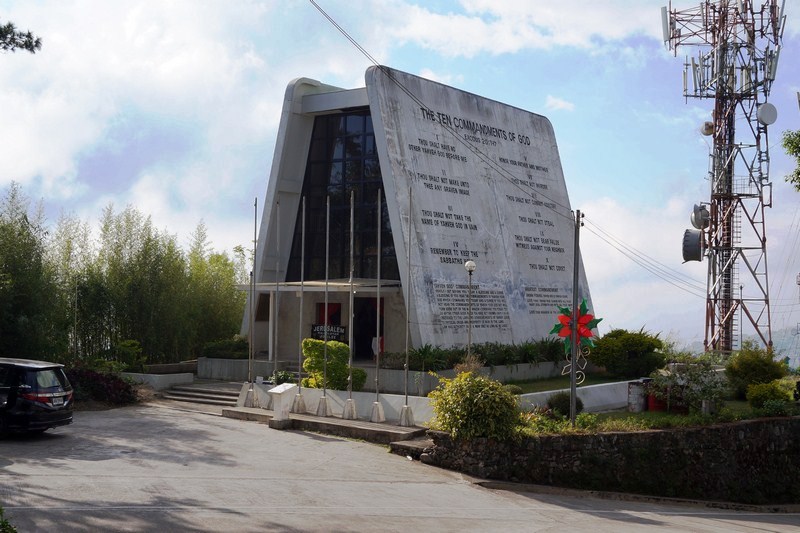 It was turned over to the city government in July 2011 and officially unveiled on October 26 in the presence of  Baguio City Mayor Mauricio G. Domogan, Menashe Bar-On (Israeli Ambassador to the Philippines), Minister Abraham Okoliko of the Nigerian embassy and the Guinness representative Vic Fabellana. The Israeli ambassador also led a "tree planting" of an authentic Jerusalem-grown olive tree in front of the Ten Commandments building. It houses an altar and a replica of the Ark of the Covenant.
Gupana, who seems to have a penchant for setting world records, claims her company now holds seven records, including developing the world's largest national flag (an 18,847-sq. m. Israeli banner which can cover an area of two football fields) unveiled at the Baguio Athletic Bowl; producing the longest banner (composed of giant flags representing the Philippines, Israel and the two Koreas); the longest drawing of the Biblical serpent, dragon and beast mentioned in the Book of Revelations (5 kms. long and 7 m. wide), and the largest blood pressure checkup session that gathered 2,302 people and organizing the largest diabetes screening session for 503 people, the largest blood identification session involving 260 people, and the largest cholesterol test session for 527 people. The authenticity of these world records could not be independently confirmed.
Ten Commandments Building: Dominican Hill Property, Diplomat Road, Brgy. Dominican Hill-Mirador, Baguio City, 2600 Benguet