After our day tour of the cave city of Vardzia, Ruby, Riva and I made our way back, via our hired taxi, to Akhaltsikhe where we will take another marshrutka back to Borjomi.  About 16 kms. before the town, we made a short stopover at the great fortress of Khertvisi, one of the biggest and oldest fortresses in Georgia.
Functional throughout the Georgian feudal period, the fortress was first built in the 2nd century B.C.. The church was built in 985 AD and the present 1.5 m. thick and 20 m. high walls were built in 1354. According to legend, Khertvisi was destroyed by Alexander the Great. According to another legend, a master stonemason and an apprentice entered a competition held by Queen Tamar to see who could build the best tower. The apprentice won and the dejected master stonemason jumped from one of the towers and died impaled on the knife in his belt.
From the 10th to 11th centuries, it was the center of  Meskheti  region and, during the 12th century, it became a town. In the 13th century, it was destroyed by the Mongols and, until the 15th century, it lost its power. In the 15th century, it was owned by Meskheti landlords from the Jakeli family. In the 16th century, the southern region of Georgia was invaded by the Turks and the fortress was captured in 1578 and held for the next 3 centuries.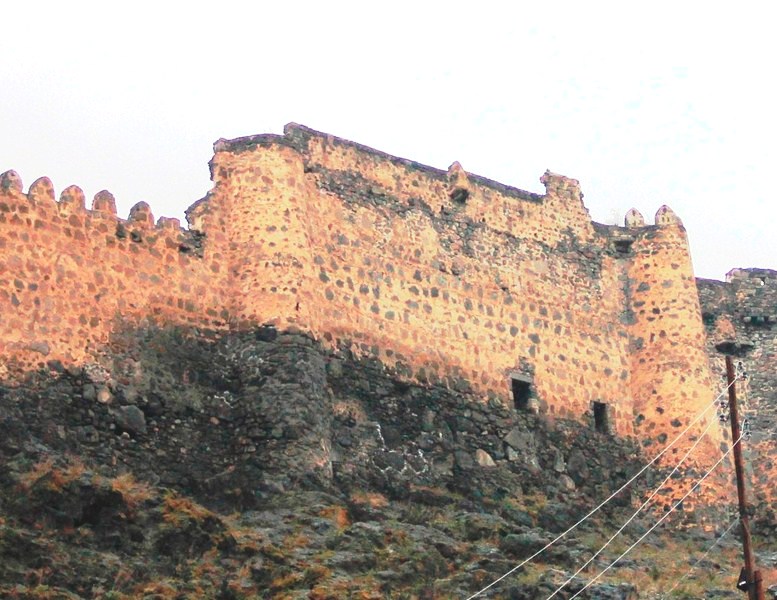 At the end of the 19th century, after the Russo-Turkish War, the Georgian and Russian army returned the lost territories and Khertvisi became the military base for Russian and Georgian troops. Its strategic location guards the road connecting the towns of Akhalkalaki and Akhaltsikhe. Three roads intersect here – one to Turkey, the second to the sea and the third to Tbilisi.
The 150 m long and 30 m. wide fortress, at a narrow canyon at the confluence of the  Mtkvari and Paravani Rivers, is situated high up on a rocky outcrop and, as such, we could only admire it from below.  If we had a little more time and our taxi driver would allow it, we could have walked up on a little path that begins from the road to the fortress.  The fortress is empty though, save for a little chapel, and could be explored in 15 mins..
Khertvisi Fortress: Khertvisi, Aspindza 0500, Georgia.